February 17 marks the first anniversary of Kosovo's declaration of independence from Serbia. Although the heady emotions of that day have subsided, they are still easily conjured by actions as simple as holding a fresh Kosovo passport, identification card, or even a license plate. Hearing powerful politicians from around the world discuss Kosovo as an independent, sovereign country can evoke the same excitement.
It certainly feels good to realize that Serbia no longer has a say in Kosovo's domestic affairs, and is now no more or less than a neighbor.
But many of the hopes of last February remain elusive. Full sovereignty has yet to be won, especially in the northern part of the country.
Ethnic Serbs in the north routinely object to any display of Kosovar statehood, and Kosovar officials rarely set foot there, although they publicly maintain their commitment to maintaining Kosovo's territorial integrity and implementing the Kosovo Constitution throughout the country.
Meanwhile, the international missions working in Kosovo remain stuck in the middle. Publicly they also affirm Kosovo's sovereignty and integrity, but in practice there is little they can do to counter the north's intransigence.
It seems that the only forces powerful enough to bridge the ethnic divide in northern Kosovo are those behind organized crime. "If Serbs and Albanians could cooperate in daily life like they do in smuggling," an international official in Kosovo quipped, "the north would be a model of ethnic tolerance and coexistence."
Things are better in the rest of the country. Albanians and Serbs cooperate and work together; they share concerns such as unemployment and poverty. At the main market in central Kosovo, one can see Albanians and Serbs lined up together to sell their fruits and vegetables to passing customers.
Struggle For Self-Governance
But Kosovo is still battling to govern itself. There are so many international missions operating in Kosovo that it is hard to keep the acronyms straight -- to say nothing of their functions: UNMIK (the UN's Kosovo mission), EULEX (the European Union's rule of law mission), ICO (the International Civilian Office), EUSR (the EU Special Representative), and on and on.
They all represent compromises between the United Nations and the European Union, and are all facing difficulties defining exactly how to function.
Dutch diplomat Pieter Feith is head of the ICO and also the EUSR. As the head of the ICO, his mission is to monitor the implementation of former UN Special Envoy Martti Ahtisaari's package of reforms and agreements on which the terms of Kosovo's independence were based. His role in this capacity is opposed by Serbs both in Kosovo and in Serbia. But, as the head of EUSR, Feith's mandate is to "develop a stable, viable, peaceful, and multiethnic society," while maintaining a neutral approach toward Kosovo's status, since five of the 27 EU member states have not recognized the new state. In this capacity, Feith has offered to facilitate new talks between Pristina and Belgrade on "technical issues."
This initiative is already off to a rocky start. Pristina insists the talks be limited to two neighboring countries discussing the region's joint objectives, such as Euro-Atlantic integration. Belgrade, on the other hand, insists on discussing issues that are status-related.
Nonetheless, as Kosovo celebrates its first birthday on February 17, 2009, the past year has proven that, despite political wrangling, Kosovo's independence is irreversible. Despite the difficulties it faces and the inevitable challenges to come, Kosovo has refuted all predictions that its independence declaration would provoke violence or destabilize the region.
No transition of this sort can be easy, and Kosovo is no exception. But Kosovo has proved it to be possible.
Arbana Vidishiqi is the Pristina bureau chief for RFE/RL's South Slavic and Albanian Languages Service. The views expressed in this commentary are the author's own and do not necessarily reflect those of RFE/RL.
The Divided City Of Mitrovica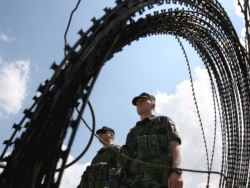 The Divided City Of Mitrovica
Kosovo celebrated its declaration of independence on February 17, 2008. But that historic moment did little to resolve the ethnic tensions in the northern town of Mitrovica, which remains divided between ethnic Albanians and Serbs. Play