RFE/RL correspondent Daisy Sindelar and multimedia producer Margot Buff have been
exploring Mongolia
for a week. -- Eds.
The picture above, from the 1960s, shows a history lesson in progress at Ulan Bator's School No. 23, an elite Russian-language school that produced many of Mongolia's first generation of post-Socialist leaders, including its current president, Ts. Elbegdorj, former President N. Enhbayar, and S. Zorig (pictured on the right in the next to last row), one of the leaders of Mongolia's 1990 democratic revolution.
Zorig's family is a history lesson in itself. His father, Samjaasuren, was Buryat. His mother, Dorjpalan, was an ethnic Russian who had been raised by a Mongolian-Chinese couple after her parents were recalled to Moscow. Her father, a cartographer, had angered Soviet authorities by producing maps of Mongolia with the integrity of its historical borders intact. The Kremlin, which had been steadily skimming territory from northern Mongolia, ordered him and his wife to return; they vanished soon afterward, and were presumably executed or exiled.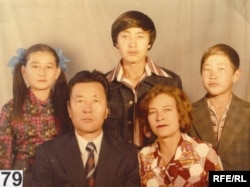 Dorjpalam and Samjaasuren's three children all went on to distinguish themselves in Mongolian politics. Their daughter, S. Oyun, is a former foreign minister and current parliament deputy. Their eldest son, Bayar, is currently the cultural attache in India. Zorig was murdered in 1998, just days before he was expected to be appointed prime minister. The case has never been solved.
-- Daisy Sindelar