With its luxurious beaches, high-end villas, and celebrity visitors, the French resort of Deauville is a far cry from Moldova's grim separatist Transdniester region.
But it was in this swank resort on the Normandy coast where Russian President Dmitry Medvedev raised hopes that after years of gridlock a breakthrough might be possible in the decades-old conflict between Moldova's central government in Chisinau and its pro-Moscow breakaway region.
"As soon as the necessary electoral procedures have taken place," Medvedev said, "I believe we have a good chance to restart the process and achieve results. Russia will support this.
"But I want to draw attention to the fact that the success of this depends not only on Russia but also on the position of Moldova itself. That is the main issue. It depends on the position of Transdniester and of Romania and on the position of the EU. Everyone must play their part."
Bargaining Chip
But while Medvedev's comments suggested that the perennially stalled Transdniester talks could get a boost, many analysts remain skeptical, saying the Kremlin is using the issue as a bargaining chip to curry favor with Brussels and win more influence over the European Union's decision-making process.
Medvedev's mention of Romania as a potential party in resolving the conflict raised eyebrows because Moscow has -- until now -- sought to freeze Bucharest out of the negotiating process entirely.
Two-thirds of Moldova's population are Romanian speakers. Prior to World War II, most of the country's current territory -- excluding Transdniester -- was part of Romania.
It was due to fears that Romanian speakers would push for a reunification with Bucharest that drove the predominantly Russian-speaking Transdniester region to break away from Moldova -- with Moscow's active assistance -- in 1990 -- sparking a short war that ended in 1992.

Invitation To Bucharest?
The current negotiating format, under which talks have been stalled for years, is known as 5+2 and includes Moldova, Transdniester, Russia, Ukraine, and the Organization for Security and Cooperation in Europe. The United States and the European Union are observers in the talks.
It is unclear whether Medvedev's comments were an invitation to Bucharest to join the talks. The Kremlin has not elaborated on the president's statement.
For its part, Romania reacted coolly to Medvedev's pitch. The Foreign Ministry in Bucharest told RFE/RL in a written statement that Romania's position is that the 5+2 negotiations format remains the only viable one for a solution and called for a formal resumption of the 5+2 talks "in the perspective of the OSCE summit in Astana." The statement says that Romania is "involved in the 5+2 format" through its status as an EU member.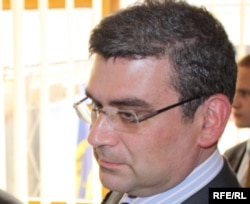 Romanian Foreign Minister Teodor Baconschi
In an interview with RFE/RL, Armand Gosu, an adviser to Romanian Foreign Minister Teodor Baconschi, elaborated, saying, "Romania has for some time offered its services to be included in the negotiations format considering that, as an EU and NATO member state located at the border of these two organizations and at a distance of only 120 kilometers from Transdniester, it has a legitimate interest in resolving the conflict. There are plans which have been worked out by Romanian institutions -- some of them are for implication in the negotiations, others are somehow more nuanced."
'Purely A Diversion'
Political analyst Vladimir Socor of the Washington, D.C.-based Jamestown Foundation says he is skeptical that Medvedev's apparent overture to Romania was sincere.
"Medvedev's remark [about Romania] is purely a diversion," Socor says. "From his remark, we can understand that in the private talks in Deauville, and the discussions before Deauville, the Russians tried to blame Romania for the Transdniester impasse. It is in Russia's interest to introduce the Romanian factor in this equation in order to create confusion and find a pretext to justify its own intransigence. Let's not fall into the trap of talking too much about the Romanian factor."
OSCE-backed negotiations have repeatedly failed to bring a resolution to the conflict, with Transdniester refusing to cede its independence to Chisinau and insisting that the 1,200 or so Russian troops in the region stay on as a guarantee.
Moscow has consistently backed Transdniester economically, militarily, and politically, although it never recognized its independence, as it did with two other separatist regions -- South Ossetia and Abkhazia -- after the Russian-Georgian war of August 2008.
The inclusion of the EU and the United States as observers did little to push forward the stalled talks between Chisinau and Tiraspol. A rare three-way meeting between Medvedev, Transdniestrian leader Igor Smirnov, and Moldova's Communist President Vladimir Voronin in March 2009 in Russia was little more than a photo op.
Less than one month after that meeting, Moldova was plunged into a prolonged political crisis, which appears set to continue at least until the country holds early elections in November.
Reliable Partner
The Transdniester issue resurfaced in June when Medvedev and Merkel met to discuss the formation of an EU-Russia Political and Security Committee. The proposed new body would include Russian and European foreign ministers, as well as EU foreign policy chief Catherine Ashton.
Soldiers of the self-proclaimed separatist Transdniester region take part in a military parade during Independence Day celebrations in Tiraspol on September 2.
In discussing the new committee, Germany called for joint EU-Russian action to end the Transdniester conflict and urged Moscow to withdraw its troops from the region. In exchange, Russia is seeking a greater voice in EU foreign policy decision making. Specifically, Moscow wants a voice in the EU's Political and Security Committee.
Analysts say Germany is pushing Russia on the Transdniester issue to prove to skeptical EU members -- particularly in former communist Eastern Europe -- that Moscow can be a reliable partner.
Socor of the Jamestown Foundation says that while the German initiative might eventually bear fruit with Transdniester, it could also ultimately be poisonous for the EU, which remains deeply divided over its Russia policy.
"This dynamic can lead to a positive result -- the salvation of Moldova -- but from the perspective of general [European] interests it can have a very toxic effect. This is the dilemma," Socor says. "So far, Russia has not come up with a position regarding the German proposal for several reasons, but first of all because the EU has not approved the German initiative. Maybe because this is a German initiative which attempts to implicate the EU, but without the EU's approval."
Position Remains Unchanged
Another reason for Russia's stalling appears to be the upcoming early election in Moldova, where a pro-Western and pro-Romanian alliance (AEI) has been governing for the past 18 months but which has recently become increasingly divided.
Analysts say Moscow appears to have been successful in dividing the four parties that make up the coalition. Meanwhile, the staunchly pro-Russian Communist Party, which is currently in opposition, boasts a formidable infrastructure at the local level capable of turning out rural voters.
Meanwhile, despite appearances to the contrary, Socor says Moscow's position on a Transdniester settlement -- and, crucially, on withdrawing its troops from the region -- remains virtually unchanged.
"Three months after the German proposal, Russia, in private discussions in Brussels, in talks with the EU representative for Moldova [Kalman Mizsei], and in bilateral contacts with the Americans, the Russian positions are the same," Socor says.
"First, a three-way agreement should be reached between Chisinau, Tiraspol, and Moscow on the status of Transdniester, which should be a federal one. Then the agreement should be put to approval in the 5+2 format. Russia also wants Transdniester to take part in domestic and foreign policy decision made by Moldova. Russia wants this principle to be retained, and it also wants Russian troops to stay as guarantors of a future political settlement. Therefore, three months after the German proposal, Russia's position remains the old one."
Radu Benea of RFE/RL's Moldovan Service contributed to this report from Chisinau