In the international world of chess, it's difficult to tell who is the pawn of whom.
The match I have in mind concerns the presidency of the World Chess Federation (called, by those in the know, "FIDE", which is the French acronym for the organization). And both sides have their strategies.
Fierce statements have boiled to the top recently because the 15-year president of FIDE, Kirsan Ilyumzhinov, recently decided to step down as the president of Kalmykia, a small, poor Russian republic on the Caspian Sea.
Kirsan Ilyumzhinov
Ilyumzhinov's opponent -- multiple world champion Anatoly Karpov -- has taken this as an opportunity to renew with vigor his drive to oust Ilyumzhimov. On his campaign website -- yes, chess masters campaign -- Karpov has posted dozens of articles with headlines like "The Truth About Kirsan" and "Kirsan's Shame."
Karpov ridicules Ilyumzhinov, saying his actions and behavior have embarrassed FIDE and brought down the status of chess in the world. In the past, Ilyumzhinov has been mocked in the press for making statements about being abducted by aliens. He has also spent lots of money to turn the capital city of Kalmykia, Elista, into a chess metropolis.
In an interview with RFE/RL's Russian Service, Karpov claimed that Ilyumzhinov and his supporters "use all sorts of tricks" to fix the FIDE elections, keeping Ilyumzhinov in power.
"If Ilyumzhinov is able to trick the world and win, then the game of chess will continue to be in a depressed state for 15 to 20 more years," Karpov warned.
At a May meeting of the Russian Chess Federation (RCF), representatives from various Russian cities voted to nominate Karpov for the presidency of FIDE.
However, the meeting was declared "illegitimate" by Arkady Dvorkovich, a senior Kremlin aide who overseas the organization. Apparently, the location and time of the meeting were changed without his knowledge (a very chessy move).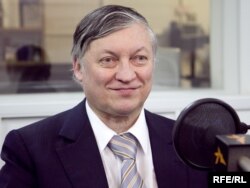 Anatoly Karpov
Should Dvorkovich be able to nullify the meeting, Karpov says he will seek nomination from another chess federation. (He belongs to several federations in Europe and North and South America.)
And then there are the lawsuits.
Ilyuzhimnov has filed a suit in a Moscow court and in a few other international courts against Karpov for "defamation." Karpov has long alleged there to be corruption within the FIDE governing body, but has never provided any evidence of it.
He writes in a letter posted on the FIDE website: "These tactics are reminiscent of the behavior which Karpov and his team, were so content to exploit, during Soviet times."
Ilyumzhinov claims that Karpov and his cohort, former world chess champion Gary Kasparov, are simply seeking a way to get back into the chess limelight.
In turn, Karpov has filed a suit in a Swiss court, claiming that Ilyumzhinov is not a member of the federations -- Russia, Argentina, and Mexico -- that nominated him for the presidency. Should their claim be upheld, it would disqualify Ilyumzhinov's nomination.
The conflict has become so heated that "
The New York Times
" has reported that "elections may not be held" on September 29.
-- Ashley Cleek