A new YouTube video with a contradictory message (above) has deepened the mystery over Shahram Amiri, an Iranian nuclear scientist who went missing about a year ago during a pilgrimage to Saudi Arabia.
In the latest video, the man speaks Farsi and identifies himself as Shahram Amiri, an Iranian national currently studying in the United States. He says he wants to assure everyone that he is free. He says he decided to give an interview to put an end to all the rumors and accusations being made against him.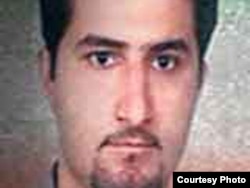 Amiri in an undated photograph
"I am an Iranian and I haven't done anything against my country," says the man, adding that he's not interested in politics.
"I don't believe in weapons research, and I don't have any knowledge and experience in that field," he says, appearing to be reading the text from a TelePrompTer. "I'm just a simple researcher of health physics who studies about the defense mechanism against rays. My program during my time in the U.S. is to obtain my Ph.D. in health physics in order to improve the health of Iranians and the international community.
"If after completing my studies I will have the possibility to safely return to Iran, I hope that my studies here will be useful for Iranians and world scientific societies."
He also says he misses his wife, Azar, and his son Amir Hossein very much.
"I know that the Islamic Republic of Iran will protect and support my family," he says. "I want them to know that I haven't left them, and my wish is to see them again and be with them after completing my studies."
According to Tehran, Amiri was kidnapped by the United States.
In the first
video, released on June 8
by Iran's state-controlled television, another man who also identifies himself as Shahram Amiri says he was kidnapped in Medina by the United States with the help of Saudi Arabia.
The men in each of the videos resemble photographs of Amiri. The man in the latest video appears heavier.
There is no way to verify the authenticity of the videos or the real indentities of the two men.
Iran says the video aired by state television was obtained by the country's intelligence services through "special means." It is not clear who posted the second video on YouTube.
In the video aired by Iran, the man identified as Amiri says: "Today is Tuesday, 17 Farvardin 1389, 5 April 2010." He says he's in the southwestern U.S. city of Tucson. The man in the second video doesn't say where he's speaking from. He also doesn't give the date.
The U.S. television network ABC reported in March that Amiri had defected to the United States and was assisting the CIA in efforts to undermine Iran's nuclear activities
-- Golnaz Esfandiari