Some friends and I have been arguing lately about whether anything would change in this country if a new government comes to power.
Generally speaking, we are divided into two, completely opposing camps. First there are those who are sure that if new politicians like Chisinau Mayor Dorin Chirtoaca or Liberal Democratic Party leader Vlad Filat take over, we'll be living in a land of milk and honey. Then there are those who think that switching the nameplates on government offices is about as useful as putting a cold compress on a corpse. In a nutshell, the latter argue that changing the leadership wasn't enough: We need to change the people.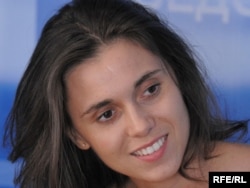 Natalia Morari is blogging for RFE/RL's Moldovan Service
People in the first camp tend to try to prove their point with a negative argument. In eight years of power, they say, the Communist Party hasn't managed to cope with the problems facing the country -- reducing corruption, establishing an independent judiciary and independent media, attracting back the huge portion of the population that has left the country, creating normal conditions for the development of business. (Just an aside: People always mention registering firms "at a single window" in five days and adopting a zero tax on profit, but I think the priority for any business is being able to defend one's interests in court without worrying about whether one's opponent has administrative resources on his side or a powerful father or something like that) -- so maybe some new people can do something. Such an argument makes sense and is what the politicians themselves are saying.
Those in the second camp -- realistic pessimists, as they call themselves -- are a bit more cold-blooded. As long as you are shuffling marked cards back into the deck, you'll never get an honest game, they say. No matter how good the intentions of people like Chirtoaca or Filat are, they won't be able to change a system in which everything will still be decided by connections. That's they way we are and there is nothing to be done about it. If you need to hire someone, you take the niece of a friend. If you need to settle a court case, you can find a judge who is the relative of a relative. If you need some money for a construction project, just turn to your relative in the Construction Ministry. This is the way we have always lived and always will. You can't change yourself.
I wouldn't put myself in either of these camps. Everyone seems right in their own way, but something still seems to be missing.
In mathematics, there is the idea of a necessary but insufficient condition. I think the coming-to-power of new people is precisely this kind of condition.
It's like the desire to live in a civilized, European country. The streets have to be cleaned and the lawns mowed -- and the mayor's office/Voronin/Chirtoaca/the Communists are to blame that this isn't the case here.
But if someone suggests that we stop throwing trash in the streets or spitting on the sidewalks, we say, "No way!" And that's why we don't live in Europe.