There is growing resistance in Kyrgyzstan to having police from the Organization for Cooperation and Security in Europe (OSCE), an organization in which Kyrgyzstan is a member, sent to two cities in the south. The topic is already a hot issue in campaigning for seats in Kyrgyzstan's parliament, even though campaigning has not officially started yet.
Hundreds of people were killed, thousands injured, tens of thousands temporarily displaced, and hundreds of millions of dollars of destruction done when ethnic Kyrgyz and Uzbeks clashed in and around the cities of Osh and Jalal-Abad from June 10 to 14. Local security forces admit they were insufficient in number to contain such a massive outbreak of violence. And tensions are still high more than two months later.
Some help would seem to be in order. The interim government in Bishkek thought so and agreed to allow 52 unarmed OSCE police advisers to be stationed for four months in Osh and Jalal-Abad. The foreign police would be there to help local forces.
Some, especially the Uzbek community in the south, hope for more than just help from the OSCE. The Uzbeks would like someone to oversee the work of local law enforcement officials, nearly all of whom are ethnic Kyrgyz.
Others, mainly the ethnic Kyrgyz community in the south, believe the OSCE force is coming to Kyrgyzstan for a different purpose.
'No Kosovo In Kyrgyzstan!'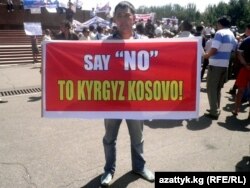 One protester makes the point clear.
In July, Osh Mayor Melis Myrzakmatov questioned the usefulness of foreign police. He asked what they could do without knowledge of the local languages, cultures, and traditions. This argument is more sophisticated than the reason that brings many people out on the streets (and on the square in front of Myrzakmatov's office).
The first protests against sending OSCE police started in Osh at that time, followed by similar demonstrations in the capital, Bishkek. In Osh, some people carried signs reading "No Kosovo" or "No Yugoslavia in Kyrgyzstan!'
Demonstrators, especially in Osh, are convinced the OSCE will send its small force to Kyrgyzstan as a prelude to dismantling the country, just like what happened in the former Yugoslavia. No one will say it aloud, but "No Kosovo" to the Kyrgyz protesters means no autonomous Uzbek region within Kyrgyzstan.
Greater autonomy, but not political autonomy, was one of the subjects Uzbek community leader Kadyrjon Batyrov brought up in May a few weeks after former President Kurmanbek Bakiev was chased from power.
Many now look at such comments as having provoked the conflict that erupted in June because some on the Kyrgyz side took that to mean an Uzbek state within what is currently Kyrgyzstan. Some believe the OSCE will help the Uzbeks, who are nearly as numerous as the Kyrgyz in parts of the south, create just such a political entity, something like Kosovo.
This is what protesters told me when I was there in late July and this is what protesters continue to say on the Kyrgyzstan-based independent television channel K-Plus.
-- Bruce Pannier