North Caucasus Resistance Extends War Into Cyberspace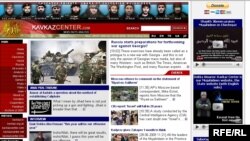 For years, the ideologues of the Chechen resistance have used the Internet to communicate their ideas and their military successes in the ongoing fight against Russia to a broader audience both within Russia and abroad.
In addition to kavkazcenter.com, the official site of the North Caucasus resistance, several of the local military jamaats that have emerged over the past five years have their own websites, which are updated daily. Daghestan's Shariat jamaat has its own website, jamaatshariat.com, as does the Ingush resistance (hunafa.com).
Over the past 10 days, however, the resistance has gone one step further, hacking and temporarily disabling official sites in Daghestan and Chechnya and posting on them statements of responsibility for attacks on senior officials in Daghestan and Ingushetia.
On June 20, Daghestan's Shariat jamaat hacked the Daghestan site of the Russian news agency RIA and posted on it a claim of responsibility for the killing on June 5 in Makhachkala of Daghestan's interior minister, Lieutenant General Adilgirey Magomedtagirov. That claim by the amir of the Gimri sector of the Daghestan Front, Ibragim Gadjidadayev, was originally posted on
kavkazcenter.com
on June 11.
The riadagestan.ru site remained inaccessible for several days while technicians restored it. Then on June 23, it was hacked for a second time, and a statement
posted
appealing to pro-Moscow police and security personnel in the North Caucasus to acknowledge their Muslim identity and join the ranks of the resistance.
That statement, which was also first posted on Kavkaz-Center (on June 10), was signed by the self-styled "Fighting Group 13 of Mujaheds Of The Combined Kabarda, Balkaria, and Karachai Vilayet" of the North Caucasus emirate proclaimed in late 2007 by resistance commander Doku Umarov.
The second website to be hacked and disabled was that of the Chechen Ministry of Information, chechnya.today.com. Late on June 26, a "special operative group of fighters" posted on it a
statement
claiming responsibility for the failed June 22 attempt to assassinate Ingushetian President Yunus-Bek Yevkurov. In addition, it warned Chechen Republic head Ramzan Kadyrov (of whose personality cult chechnyatoday.com is a key component) that "he will be the next" target.
The site was restored within 24 hours, but attacked a second time late on June 27. This time, the hackers posted video footage of resistance fighters denouncing as far from the truth Kadyrov's repeated claims that the back of the resistance has been broken. As of midday June 29, chechnyatoday.com was still not available.
About This Blog
This blog presents analyst Liz Fuller's personal take on events in the region, following on from her work in the "RFE/RL Caucasus Report." It also aims, to borrow a metaphor from Tom de Waal, to act as a smoke detector, focusing attention on potential conflict situations and crises throughout the region. The views are the author's own and do not represent those of RFE/RL.