North Ossetian Prison Imam Accused Of Links With Insurgency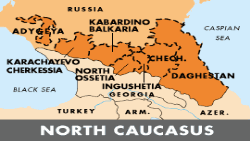 Djimmi Tanduyev, whom Muslim inmates of a North Ossetian jail
selected a year ago
as their imam, has been placed in solitary confinement for three months after being found in
possession
of materials urging Muslims to join the jihad and pictures of Chechen resistance commanders Shamil Basayev and Doku Umarov.
A spokesman for the North Ossetian Muslim Spiritual Board quoted prison inmates as denying that Tanduyev appealed to them to join the jihad, but added that the board will discuss his case with the prison management. The spokesman explained that the board cannot appoint a new imam as the community of believers at the prison is not directly subordinate to it.
Tanduyev, 30, was sentenced in 2003 to 16 years in prison on charges of murder and assault. Two years ago, North Ossetia's mufti estimated the republic's Muslim population at approximately 200,000 people, which is 25-30 percent of the total population.
About This Blog
This blog presents analyst Liz Fuller's personal take on events in the region, following on from her work in the "RFE/RL Caucasus Report." It also aims, to borrow a metaphor from Tom de Waal, to act as a smoke detector, focusing attention on potential conflict situations and crises throughout the region. The views are the author's own and do not represent those of RFE/RL.