Human rights activists and those pushing for democratic changes in the Islamic republic believe they could benefit from improved relations between Iran and the United States. They are encouraged by what they see as a change of tone by Washington.
"The Guardian" reported on January 29 that the Obama administration has drafted a letter to Iran aimed at "unfreezing" relations with Iran and paving the way for face-to-face talks. The letter from the U.S. president is reportedly a reply to a November letter of congratulations on his election victory from Iran's President Mahmud Ahmadinejad.
Rights activists say they are heartened by such moves. They say tensions between Tehran and Washington have hampered their work and some of them have paid a heavy price as a result.
Nasrin Sotoudeh is a respected lawyer and a member of the One Million Signatures Campaign that aims at gathering public support for changes to laws they say deny women in Iran equal rights in matters such as divorce and child custody. The group has come under increasing pressure from the authorities and a number of its members have been summoned to court, detained, and harassed.
Sotoudeh tells RFE/RL that a detente between Tehran and Washington could lead to the removal of some of the obstacles she and other rights activists face in their work.
"When two countries are in war-like conditions, it is natural that [democracy] movements do not grow. During Iran's eight-year war with Iraq, one couldn't see any traces of a human rights discourse in Iran," Sotoudeh says.
She says that it's "still very difficult to talk about human rights" in Iran, but that if tensions between the United States and Iran were to ease, "then we'll be able to promote these issues, even though we might still face difficulties."
Sending A Signal
Iranian officials have in recent years used growing tensions with the United States as an excuse to suppress opponents. They have said that the United States is using campaigners for women's rights, student activists, and others to undermine the Islamic establishment and create a soft revolution.
Earlier this month, Arash and Kamyar Alaei -- brothers who are internationally known AIDS experts and doctors -- were convicted of being involved in a U.S. plot against Iran and sentenced to prison.
The International Human Rights Campaign In Iran has reported that the charges relate to their participation in a scientific conference funded by the U.S. State Department that was held in the United States in 2006. Iran was reportedly aware of the link, and Iranian government representatives attended some sessions.
It means [Obama] should put aside the policy of regime change and deal with the Islamic republic on its 30th anniversary as an establishment whose fate should be decided by its people.
Some have interpreted the case as a signal to Washington from hard-liners in Iran who want to see the new administration adopt a softer approach toward Tehran.
Issa Saharkhiz, an outspoken journalist and former official at Iran's Culture Ministry, believes the Alaei brothers have become victims of the tensions between Tehran and Washington.
Saharkhiz says Washington's past policies toward Tehran have resulted in increased pressure on democrats inside the country. He believes President Obama should engage in policies that are "opposed" to the ones by the Bush administration.
"It means [Obama] should put aside the policy of regime change and deal with the Islamic republic on its 30th anniversary as an establishment whose fate should be decided by its people," Saharkhiz says.
"Most importantly, the U.S. should give up the idea of earmarking democracy-promoting budgets because, in practice, these budgets get into the hands of [U.S.-based] monarchists, and the Iranian people don't need it for achieving democracy."
In 2006, the Bush administration designated $75 million to promote democracy in Iran. Sotoudeh believes similar steps will backfire.
The Human Dimension
"Democracy cannot be exported to other countries, democracy cannot be achieved with financial help, and moral help can be a lot more helpful in achieving democracy," the women's rights campaigner says.
Saharkhiz, for his part, says the Obama administration should instead take steps that could result in a better life for Iranians -- including the removal of sanctions, opening an interest section in Tehran, facilitating travel for Iranians to the United States, and allowing U.S. companies and Iranian-Americans to invest in Iran.
"He should let Iran and Iranians deal with their issues through their development and well-being and a better life," Saharkhiz says. "Such people -- who won't have to worry about day-to-day life issues -- will then more effectively focus on democracy and human rights issues."
He believes that such moves would also result in the lifting of state accusations against activists of being U.S. spies.
Saman Rasulpur is a journalist and rights activist who was recently detained in Iran because of his activities. Rasulpur, who left Iran because of fear for his safety and is currently in the Iraqi city of Irbil, tells RFE/RL that the Obama administration should be vocal about human rights abuses in Iran.
Rasulpur believes that indirect and "nongovernmental" support for democracy campaigners in Iran -- he suggests the awarding of prizes -- could be helpful. He believes international recognition for rights defenders and intellectuals in Iran works as a "shield" against state pressure.
Several former student activists who have been jailed in Iran for months or even years have called on President Obama to give moral support to Iranians who are fighting for more freedom. In a letter, they say, "You ordered the Guantanamo prison to be shut down, in our land we have many Guantanamos in Evin, Rajayi Shahr...where students, women, workers, and the journalists of our country are being held."
The former students say Obama's Iran policies should pay special attention to what they describe as the "main demand of the Iranian nation" for democracy and respect for human rights.
Mohammad Ali Dadkhah, a prominent lawyer and the co-founder of the Center for Human Rights Defenders, also puts emphasize on the importance of human rights in potential U.S.-Iran talks.
Dadkhah says that civil-society activists should be consulted, and NGO members "are the best persons that can comment on whether the government is paying attention to human rights, and their comments should be the basis for judging the government's actions."
He believes that "solving the democracy issue" in Iran will bring a solution to "everything else," including the contentious nuclear issue. Other activists interviewed by RFE/RL agree. For them, the country's transition to a democratic system in the most important issue.
But for the United States, Iran's sensitive nuclear activities apparently remain the thorniest issue.
And while many in Iran say they welcome Washington's overtures, there is skepticism about whether the Iranian establishment is ready for talks.
One student activist who did not want to be named told RFE/RL that Iran's leaders "don't want to have ordinary ties with the U.S. They need the U.S. to remain an enemy for their survival."
He was speaking after Iran's President Ahmadinejad called for "profound changes" in U.S. foreign policy and demanded an apology for what he termed "the crimes" the United States has committed against Iran. The activist said the comments demonstrate that Iran's hard-liners feel threatened by the U.S. openness.
Any decision on a potential dialogue between Tehran and Washington will require the approval of Iran's Supreme Leader Ayatollah Ali Khamenei, who has the last word on all state matters.
Some observers believe Iran's establishment has still not reached a decision on how to respond to Washington's change of tone. Many believe that there won't be any new developments in relations between the two countries before Iran's June 12 presidential election.
The United States broke its ties with Iran following the 1979 revolution and the hostage taking of U.S. diplomats in Tehran.
Iran's Revolution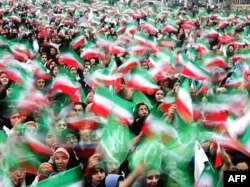 Iran's Revolution
As Iran celebrates the 30th anniversary of its Islamic Revolution, RFE/RL looks at the legacy of the revolution and its effect on Iran and the world. More
Images Of The Iranian Revolution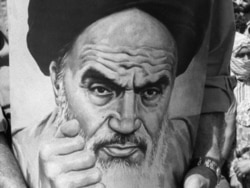 Images Of Revolution
An audio slide show of Reza Deghati's iconic photos of the Iranian Revolution and the hostage crisis that followed. Play