Ten years ago, the decapitated corpse of investigative journalist Georgiy Gongadze was found in a forest outside Kyiv. The "Melnichenko tapes" allegedly implicated then-President Leonid Kuchma's government in the journalist's kidnapping and death.
Five years later, the Orange Revolution brought to Ukraine greater liberties than any of its ex-Soviet comrades, with the exception of the Baltic states. But today, just six months after taking office, the government of President Viktor Yanukovych is turning back the clock on press freedoms, a revanche that poses a stern test for Ukraine's civil society.
In 2009, when Viktor Yushchenko was president, Freedom House ranked Ukraine 108th of 196 countries in terms of press freedom. This was the best score for any ex-Soviet state except the Baltic republics. Russia ranked 175th.
Yanukovych has stated he is "committed to the integration of European values in Ukraine." But his policies are a different story.
Last month, the International Press Institute wrote Yanukovych to "express its concern at the significant deterioration" in press freedom. Reporters Without Borders warns of disturbing recent trends in censorship, political pressure, and physical attacks on journalists, and criticizes "the government's desire to control journalists" in its latest fact-finding report.
Possible Murder
Press freedoms are under attack in many ways. In May, journalists from Channel 1+1 television released an open letter complaining of censorship. In July, after a Ukrainian blogger criticized Yanukovych, the State Security Service interrogated him for allegedly threatening the president's life and insulting him.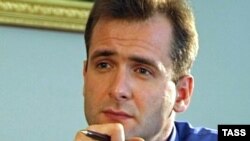 The decapitated body of journalist Heorhiy Gongadze was found in a forest outside Kyiv 10 years ago.
On August 11, newspaper editor Vasyl Klymentyev, a well-known critic of the authorities, disappeared. Soon after, the interior minister admitted that local law enforcement officials may have been involved in the journalist's disappearance, which is being investigated as a possible murder. Hopefully, murders of journalists in Russia and the recent suspicious death of opposition journalist Aleh Byabenin in Belarus will not be repeated in Ukraine.
Most television networks in Ukraine are now owned by oligarchs friendly to Yanukovych. The most-watched Inter channel belongs to State Security Service chief Valeriy Khoroshkovskyy. The nation's top spy also serves on the High Council of Justice, which appoints judges. Both are conflicts of interest incompatible with democracy.
Khoroshkovskyy has maneuvered to expand his media empire through court actions against his competitors, the independent outlets Channel 5 and TVi. In June they were stripped of their broadcast frequencies. A journalists' group, Stop Censorship, demonstrated outside a recent court session that confirmed the decision, and their action was not covered on central television stations.
'One Of The Methods'
For his part, Yanukovych dismisses censorship claims as "just one of the methods of playing politics." He explains possible instances of censorship as "conflicts of media owners' interests in the business environment."
The West is taking more notice of deteriorating press freedoms in Ukraine. Last month, during Yanukovych's visit to Berlin, German Chancellor Angela Merkel was diplomatic but direct. Describing her meeting with the Ukrainian president, she said she "made clear that with regard to certain areas, in particular in the area of press freedom and freedom of opinion, we had certain questions."
In short, Merkel called Yanukovych's bluff. In April the Ukrainian president waxed to the Parliamentary Assembly of the Council of Europe that "it is a free, independent media that must ensure society's unimpeded access to information."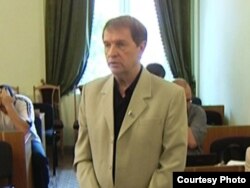 Journalist Vasyl Klymentyev has been missing since August 11.
On September 9, William Burns, the U.S. undersecretary of state for political affairs, told reporters in Kyiv that there are "grounds for concern" about freedom of speech in Ukraine. He added that it is impossible to fight corruption without a free press, saying, "these things are interconnected."
But Yanukovych may have more incentive than just such foreign criticism to boost press freedom. His popularity at home is plummeting, perhaps in part because of his heavy-handed approach to the media. A new poll by the Razumkov center says that in August, 22.5 percent of Ukrainians "completely support" Yanukovych, down from 40.9 percent in April. In February, he was elected with 49 percent of the popular vote.
Hopefully, Merkel's message hits home in Kyiv. Ukraine's new rulers must better understand the value of peaceful free expression in a democracy if they seek broader legitimacy at home and respect abroad.
One way Yanukovych can prove his commitment to democratic freedoms is to conduct a vigorous investigation into who ordered the Gongadze killing, ensuring that any trials are fair and open to journalists and the public.
And let's pray that Klymentyev's disappearance is not a case of history repeating itself.
Alexa Chopivsky is a freelance journalist based in Kyiv. The views expressed in this commentary are the author's own and do not necessarily reflect those of RFE/RL.