Reports from outside Iran's capital from RFE/RL's Radio Farda.


Tabriz, northwestern Iran:
[RFE/RL's Radio Farda has reported: After the announcement of election results, tens of thousands of people marched through Tabriz's main street, Khomeini Avenue, on June 16. One witness told Radio Farda that there were tens of thousands of people protesting between Municipal Square and Khomeini Street. Unrest was also reported at the University of Tabriz.]
Shahram, a University of Tabriz student, speaking to Radio Farda on June 17:"Yesterday, the avenue leading from the city center to the campus was surrounded by security forces, and it looked like a garrison. There were some 1,000 students on the campus shouting slogans against the rigging of elections. They were trying to make their demands heard by passersby on the street. Dozens of Basijis then entered the campus and started to beat up the students. I believe 60 students were detained and taken away."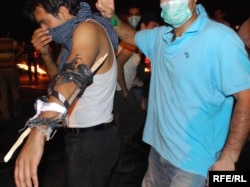 An injured Musavi supporter in Shiraz on June 13

Shiraz, southwestern Iran:
[Radio Farda has reported: Following an attack on dormitories at the University of Tehran by mobs and Basijis that led to the deaths of seven students and the arrest of about a dozen people, students and teachers of the University of Shiraz staged a silent protest on their campus on June 16; an attack on the campus ensued by mobs and Basijis. Dozens of students and teachers were beaten and more were detained and taken away. On June 18, thousands of Shiraz citizens staged a protest.]
a Shiraz resident, speaking to Radio Farda on June 18: "I am on Shah Cheragh Square (Mausoleum), which is crowded almost full. They are wearing black clothes [as a sign of mourning] and are silently walking around the mausoleum with two fingers raised to denote "victory." They are carrying only one transparent, saying, 'Fellow citizen, we will get your vote back,' and they are carrying Mr. Musavi's pictures..."
Isfahan, central Iran:
[Radio Farda has reported: Thousands of people staged protest demonstrations in Isfahan on June 14 and 15. The protesters were attacked by Basijis and mobs armed with guns and batons.]
a nurse from Isfahan, speaking to Radio Farda on June 16: "Yesterday [the hospital] was quite crowded. They brought in some people who had been shot. They also brought in three girls while I was in the emergency ward -- one had pellet wounds on both eyes and the other two had pellet wounds on their eyes and heads. I think the weapon used against them must have been something like a pellet rifle. Some others had wounds from being hit in the arms and legs with real bullets..."
Mashhad, northeastern Iran:
[Radio Farda has reported: On June 15, along with protest demonstrations in Tehran, thousands gathered in Mashhad to protest the announced results of the presidential election.]
a protester describing the June 15 protest to Radio Farda from the scene: "We started to gather at 4 p.m., the same time people in Tehran staged their demonstration. It is a very tight security situation. When I saw your phone number [on caller ID], I moved to a side street to be able to talk to you. We have just started to gather: some 800-1,000 people. But more are joining right now, old and young. The Mellat Park where we have gathered is closed to vehicles and motorbikes. Even bicycles are not allowed in. But the Basijis came driving through on their motorcycles and started to beat people with batons. They hit dozens, and some others simply fled..."
Iran Election Special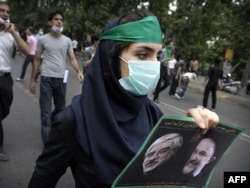 RFE/RL's Full Coverage
Following the disputed reelection of Iranian President Mahmud Ahmadinejad, supporters of Mir Hossein Musavi have taken to the streets to protest.
Click here
for news, blogs, and analysis of the presidential election and aftermath.