In the science of thermodynamics there is a concept called "the bifurcation point." It is defined as the point at which an unstable system has an equal chance of developing into pure chaos or of settling into a higher and more coherent level of order. The Moldovan political system -- although it has nothing to do with the laws of physics -- is essentially at such a point right now.
The confirmation last week of a new government has brought us a little closer to a sort of Rubicon: What will come next? Can we expect the emergence of a democratic paradise in Moldova? Or will we all burn in a liberal hell, as the Communists are predicting?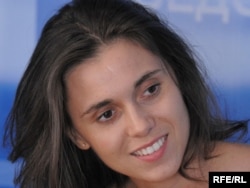 Natalia Morari blogs for RFE/RL's Moldovan Service
We'll have to be a little patient before we really get a sense of what we can expect, but there are already signals that are worth taking into account. Last week, the Russian president's chief of staff, Sergei Naryshkin, flew to Chisinau. Immediately after this official visit, Russian Duma Deputy Aleksei Mitrofanov (of the Liberal Democratic Party of Russia) produced a fascinating obituary on the website of Ekho Moskvy radio station. We all know who the deceased was. I can't resist quoting a few tidbits:
Before our very eyes, a 70-year-old woman is dying: Moldova. In her youth, she was very beautiful and playful. Communist Party General Secretary Leonid Brezhnev himself was in love with her. She sang in the beautiful voice of Maria Bieshu. She embodied the melodies of composer Eugeniu Doga. Her famous father, Stalin, died at his dacha in 1953. In 1992, she suffered a severe heart attack -- the war in Transdniester -- and after that she didn't sing anymore and moved about with difficulty.

We must help her to die with dignity. Chisinau is going to Romania. Transdniester will become an independent state. [Former Communist President Vladimir] Voronin and his son will go to Moscow and buy a nice factory. The sooner all this happens, the better. How long can we keep fooling people?
I don't know whether to laugh or cry. But people in Moscow are convinced that Prime Minister Vlad Filat and acting President Mihai Ghimpu intend to bring Moldova under the Romanian flag and there's no stopping them. But that isn't the main thing. Since they seem to be blessing this course and accepting the Voronin family as factory owners, that must mean that poor dying Moldova must be on the right path. Remember the old saying: When they bury you while you're still alive, that means you'll live a long time. And Russian foreign policy in recent years has repeatedly demonstrated that whenever Moscow predicts the impending death of anyone, that means we can soon expect good news from the "deceased."
Getting back to physics, there are no guarantees that the negative side of our bifurcation point is behind us once and for all. But it's already getting harder to believe that complete chaos awaits us. All we can do now is wish luck to our new government (although I can't say that I consider all the cabinet appointments particularly good ones -- but more on that another time).
It won't be easy for the new government. Given all the expectations, people are likely to ask twice as much of it. We should keep that in mind.