International and local rights groups have issued an appeal to the Council of Europe urging it to take concrete measures to improve the human rights situation in Azerbaijan.
The appeal was signed by the Norwegian Helsinki Committee, the Polish Helsinki Foundation for Human Rights, Article 19, Rafto Foundation for Human Rights, and a number of other regional watchdogs.
"From the Azerbaijani perspective, I understand perfectly that it might seem a total waste [of time] to have another statement on the situation in Azerbaijan," Berit Lindeman of the Norwegian Helsinki Commission told RFE/RL's Azerbaijani Service. "But the counterquestion is: What is the alternative? I think it is important to keep Azerbaijan high on the agenda because it is very easily forgotten. There are so many crises in the world and so many burning issues"
The appeal calls upon the Council of Europe to push the Azerbaijani leadership to conduct crucial judicial reforms in order to ensure the independence of the courts and to remind the government of Azerbaijan about its international obligations in the sphere of human rights.
"We have to remember that the Azerbaijani government has signed onto a number of commitments to undertake dutiful reform to implement freedom of expression, freedom of assembly, democratic elections," Lindeman said. "And they haven't done it. So we need to use institutions to continue pressuring Azerbaijan."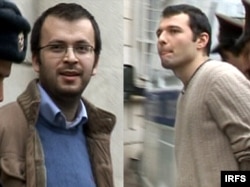 Imprisoned bloggers Emin Milli (left) and Adnan Hajizada
The rights groups also urge the oldest European watchdog on human rights to call upon the Azerbaijani government to drop all the charges against activists and journalists who are behind bars for political reasons.
Among those arrested are two bloggers -- Adnan Hajizada and Emin Milli -- who were sentenced to two and 2 1/2 years in prison, respectively, on hooliganism charges for publicly criticizing the government. Their case made headlines around the world. Despite numerous calls by parliamentarians, rights watchdogs, and government officials to release the bloggers, they remain imprisoned.
But Lenur Kerimov, a representative of the Polish Helsinki Foundation for Human Rights, believes it is worth continuing the calls, as raising awareness often translates into mounting pressure against the regime, which may eventually bring tangible results.
"We perfectly realize that one appeal will not solve the problems in Azerbaijan and won't stop the violation of human rights," Kerimov told RFE/RL. "But it is our role to constantly monitor the situation, and the appeal serves to [mobilize] international public opinion that human rights are constantly under threat in Azerbaijan.
"We won't achieve human rights without a struggle, and that is very long and arduous work."
-- Anna Zamejc