On October 27, Russian President Dmitry Medvedev convened a meeting in the south Russian city of Astrakhan with the presidents of Armenia and Azerbaijan to discuss the Nagorno-Karabakh conflict. The three-hour talks
yielded a formal agreement
on an exchange of prisoners of war held by both sides and the return of the bodies of those killed in recent clashes.
The two sides also agreed on the need for unspecified "confidence-building measures in the military-security dimension." But Azerbaijan nonetheless continues to rule out the one move that, more than any other, would strengthen the cease-fire signed in 1994 -- pulling back its snipers from the Line of Contact that separates Armenian and Azerbaijani armed forces.
The 220-kilometer Line of Contact runs from north to south to the east of the unrecognized Nagorno-Karabakh republic, separating thousands of servicemen on each side. Probes and sniper attacks along the Line of Contact kill several dozen servicemen every year. Ambassador Andrzej Kasprzyk, the Polish diplomat who with his Tbilisi-based staff monitors the cease-fire regime on average twice a month, gave the
number of fatalities in 2007
as 25 and
in 2009
as 19. The
figure for 2008
was 30, the charge d'affaires of the U.S. Mission to the OSCE told that organization's Permanent Council in March 2009.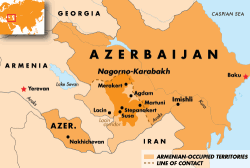 While the snipers are of limited tactical benefit to either side, there is a very real danger that an exchange of sniper fire could easily mushroom into a much more serious conflict, inadvertently precipitating a resumption of full-scale hostilities, as the
International Crisis Group pointed out
one year ago.
During talks in Baku, Yerevan, and Stepanakert in November 2008, and again in Helsinki in December 2008 at the annual OSCE Ministerial Council meeting, the OSCE Minsk Group co-chairs
formally called on "all parties"
(meaning Armenia, the unrecognized Nagorno-Karabakh republic, and Azerbaijan) to pull back their snipers.
The charge d'affaires of the U.S. Mission to the OSCE
expressed "regret"
in March 2009 that "not all of the parties" agreed to that recommendation.
Meeting in September 2010 with Armenian Foreign Minister Eduard Nalbandian, UN Secretary-General Ban Ki-moon
expressed support
for a withdrawal of snipers from the Line of Contact.
Azerbaijani Foreign Ministry spokesman Eldar Sabiroglu, however,
countered
that a withdrawal of snipers would not have any impact on efforts to resolve the conflict. If Armenia wants peace so badly, Sabiroglu argued, it would be better advised simply to withdraw its forces from all Azerbaijani territory they currently occupy.
Speaking to RFE/RL's Armenian Service on October 29, former Armenian human rights ombudsman Larisa Alaverdian
expressed regret
that the Astrakhan agreement did not include an explicit commitment on the withdrawal of snipers.
But Baku's intransigence with regard to its snipers pales in comparison with its ongoing military buildup. The Azerbaijani defense budget for 2011 is in excess of 2.5 billion manats (over $3 billion), an
increase of 90 percent
. Of that sum, 1.1 billion manats (roughly $1.4 billion) is earmarked for "modernizing the armed forces and acquiring new weaponry."
Eurasianet
reported in March
that all three South Caucasus states "have gone on an arms-buying spree." It specifically noted Azerbaijan's purchase from Russia in 2009 of 70 armored personnel carriers of the BTR-80A variety, and its deal with South Africa's Paramount Groups to start producing Matador and Marauder mine-protected vehicles in Azerbaijan.
Azerbaijan has also concluded new contracts for tank upgrades and for the joint manufacture of combat helicopters
with Israel
and
Ukraine
, respectively.
At the OSCE Forum for Security Cooperation in Vienna last month, the European Union
formally registered "concern"
at Bosnia's sale of arms and ammunition to Azerbaijan.
That buildup, and the long-term strategic plans it implies, cast doubts both on President Medvedev's optimistic prediction in Astrakhan that the Basic/Madrid Principles for resolving the Karabakh conflict could be finalized for signing at the OSCE summit in Astana, and on Azerbaijan's commitment to seek to resolve the conflict by exclusively peaceful means.