President Mikheil Saakashvili has accepted the offer by his Russian counterpart Dmitry Medvedev to open the Verkhny Lars/Zemo Larsi border crossing between the two countries and to restore direct flights.
Medvedev
formally announced
that offer in Moscow on December 10, saying that despite the "overt and tough" standoff between the Russian and Georgian governments, he sees "no obstacles" to a move that would serve the interests of "ordinary people" in both countries.
A spokeswoman for Saakashvili said in Tbilisi on December 11 that Georgia is ready to resume direct flights and to reopen Zemo Larsi. That border crossing was closed,
purportedly
for reconstruction, in July 2006. Direct flights between the two countries were suspended in the fall of 2006 when bilateral relations plummeted in the wake of a spy scandal.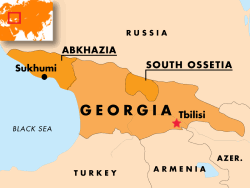 In May 2009, the Swiss Embassy in Tbilisi submitted to the Georgian Foreign Ministry
a proposal
by the Russian Foreign Ministry to reopen Verkhny Lars/Zemo Larsi. Switzerland has represented Russia's diplomatic interests in Georgia since August 2008, when Georgia unilaterally severed diplomatic ties to protest Russia's recognition of Abkhazia and South Ossetia as independent states.
The only other two border crossings between Russia and Georgia are in those two breakaway republics, and therefore outside the control of the central Georgian government.
In recent months, Armenia has mediated proxy talks between Moscow and Tbilisi with a view to expediting the reopening of Verkhny Lars, which was Armenia's only overland route to Russia and Europe. Visiting Yerevan last month, Georgian Foreign Minister Grigiol Vashadze stressed that doing so would be economically beneficial to both Georgia and Armenia.
But residents of Georgia's Kazbegi district, where the border crossing is located, do not want it reopened. Meeting on November 21 with Georgian parliament deputies, they said they
fear
the return of Ossetians who fled to Russia during the August 2008 war, and whose return "could trigger an interethnic conflict." Parliament speaker Davit Bakradze downplayed those apprehensions as unsubstantiated.
A Russian Transport Ministry spokesman
confirmed
on December 10 that Russia is ready to address the question of resuming direct flights if Tbilisi formally requests it.