With just six weeks to go before the April 5 parliamentary elections, Russian Foreign Minister Sergei Lavrov traveled to Moldova on February 23-24, his first visit to that country since taking office in March 2004. The timing of his visit fueled speculation that its real purpose was to underscore Moscow's support for the ruling Communist Party, which is seeking a third successive term in office.
The visit reflects a remarkable turnaround in Russia's attitude to Moldovan President Vladimir Voronin. In the 2005 elections, the Kremlin tried to weaken Voronin as retribution for his last-minute refusal in late 2003 to sign a Russian-drafted plan to resolve the Transdniester conflict. By contrast, this time around, Moscow is letting Voronin play the Russian card to his electoral advantage.
However, the significance of Lavrov's visit is not limited to the upcoming elections. The major, albeit unstated, reason for the visit was to prepare the ground for a trilateral meeting between Russian President Dmitry Medvedev, Voronin, and Transdniester leader Igor Smirnov.
That meeting -- tentatively scheduled for mid-March -- could presage a shift away from the current internationalized negotiating framework for resolving the conflict, known as the 5+2 (Russia, Ukraine, the United States, the European Union, and the Organization for Security and Cooperation in Europe as mediators, plus Moldova and Transdniester), to a Russian-led format, dubbed the 2+1 (Moldova and Transdniester, with Russia as the sole mediator).
Geopolitical Showcase
While both Moscow and Chisinau seem to want this meeting, they have diverging expectations from it and have not yet agreed on its precise agenda, or the desired outcome.
For the Kremlin, progress on the Transdniestrian settlement would constitute a resounding success story and help to repair Russia's international standing in the aftermath of the August war against Georgia. Even the prospect of a Russian-sponsored breakthrough in Transdniester would cast Russia in the role of a benign regional arbiter and serve as a hard-to-miss signal that efforts to accommodate Russia's concerns are rewarded, while unfriendly behavior is punished.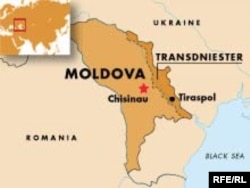 Furthermore, knowing that the Moldovan leadership would benefit from its support during the elections, the Kremlin may think that Chisinau would be amenable to sidelining the current 5+2 negotiating framework -- in which the EU and the United States serve as a counterweight to Russia, which consequently finds it hard to impose its will -- in favor of the 2+1 format, where Moldova would be more susceptible to Russian pressure and cajoling.
By assuming control of the negotiating process, Russia could ensure that the final settlement meets its strategic objectives. In that case, Moldova would end up negotiating with Transdniester under Russia's supervision, and the 5+2 framework would then be required to rubber-stamp the resulting agreement.
Lavrov may have come to Chisinau to do the spadework for institutionalizing this turnaround. Russia may urge Voronin to sign a formal commitment that would legitimize Russia's leading role in the settlement process in exchange for continued support during the final stage of the election campaign.
...Or Political Photo-Op?
Indeed, on the eve of the election it could be hard for Voronin to resist the temptation to take advantage of the electoral benefits that the meeting with Medvedev and Smirnov could bring him. In particular, it could help him to attract a significant number of hitherto undecided voters on the left of Moldova's political spectrum, who tend to lean toward Russia. Their support could determine whether the Communists return to power for another four years or are pushed into opposition.
These voters would probably interpret Voronin's meeting with Medvedev and Smirnov as a clear token of Moscow's endorsement and a breakthrough toward a settlement. This would also defeat the arguments of the left-wing opposition parties that the Communists have done little, if anything, to resolve the Transdniester conflict and improve relations with Russia.
Notwithstanding the importance of these goals for the Communist Party, Voronin is reluctant to make any long-term, strategic concessions in return for Russia's favors. He has learned from experience the perils of one-on-one negotiations with the Kremlin and is concerned about losing his credibility with the West.
While Moscow wants to use the March meeting to force Moldova to agree to direct talks with Tiraspol under Russian supervision, Chisinau does not want to abandon its previous policy of trying to circumvent Transdniester and cajole Russia into a bilateral compromise. Chisinau's approach is best manifested in the so-called package proposal, under which it offered to strengthen its neutral status and legalize Russian property in Transdniester in exchange for Russia's support for a viable settlement.
Moscow has not given a clear answer to that proposal, but has instead increasingly emphasized that Chisinau should treat Tiraspol as an equal negotiating party and stop trying to circumvent it. Lavrov made it crystal clear during his visit this week that the principle of equality between the parties is a fundamental precondition for further talks. In light of this, Moscow sees the planned meeting between the three leaders as an opportunity to force the reluctant Moldovan leadership to negotiate directly with Tiraspol -- under Russian supervision.
But it is precisely the dead-end of direct negotiations with Tiraspol -- which sees such talks as a road toward independence -- that Chisinau has been trying to avoid during the past few years. That is why, in spite of the temptation to play up the meeting with Medvedev and Smirnov to attract more votes, President Voronin is reluctant to commit himself to a Russian-sponsored negotiating framework and pay the full price that Moscow is demanding for its goodwill.
Instead, he would prefer a bilateral meeting with the Russian president, or a simple photo opportunity with Medvedev and Smirnov, but without having to sign any binding agreements or documents. This would be enough to win over hesitant pro-Russian voters without tying his hands after the elections, but it would fall short of Russia's goal of decisively moving the substantive negotiations outside of the 5+2 framework.
The coming weeks will show whether President Voronin will succeed in his risky bet of capitalizing on the planned meeting with Medvedev and Smirnov, or whether Russia will manage to use the Moldovan elections to impose the new negotiating framework.
Andrei Popov is director of, and Vlad Kulminski a senior expert with, the Foreign Policy Association of Moldova (APE). The views expressed in this commentary are their own, and do not necessarily reflect those of RFE/RL