After Russian troops left Gia Koberidze's hometown, he returned to inspect his property and assess when it would be safe to come back for good.
But when he arrived in his native village of Nikosi in the central Gori region, Koberidze discovered it might be a while before life returns to anything resembling normal.
"There is a huge unexploded rocket in my neighbor's yard," Koberidze tells RFE/RL's Georgian Service. "You can see just a small part of it. The rest is underground. It's 3 meters long. Yesterday I showed it to our guys [Georgian soldiers], but I think it will be very difficult for them to remove it. They will probably need to do a controlled explosion. But there are houses all around, so I don't know how they will manage. But of course I will return"
Russia says it has withdrawn the last of its troops from buffer zones around Georgia's breakaway Abkhazia and South Ossetia regions and handed over control to an EU observer mission. The withdrawal was part of an EU-backed cease-fire brokered by French President Nicolas Sarkozy.
Georgia's Foreign Ministry has confirmed that Russian troops have left the areas with one exception, a checkpoint in the town Perevi, located in Georgia proper near the de facto border with South Ossetia.

An Incomplete Pullout
But even as thousands of internally displaced persons like Koberidze stream back to their homes and try to rebuild their shattered lives, Georgian officials say they are unhappy about the extent of the pullout.
They say Russia is in violation of the cease-fire agreement unless it reduces its forces in Abkhazia and South Ossetia to preconflict levels. Tbilisi is also insisting that Russia also withdraw from South Ossetia's Akhalgori district and the Kodori Gorge in Abkhazia -- both of which Tbilisi controlled before the war.
"To pull out from the areas adjacent to the conflict regions does not mean fulfilling their commitments," David Bakradze, speaker of the Georgian parliament, told reporters in Tbilisi on October 9.
"President Sarkozy's six-point plan requires a return to the status quo that existed before August 7. That means pulling Russian troops out of the conflict regions -- Abkhazia and the Tskhinvali region -- as well. This means that Russian and separatist forces need to leave Kodori and Akhalgori and Russia needs to remove all additional armaments from Georgian territory," Bakradze said.
Russia, however, says it plans to maintain a strong troop presence in the breakaway regions. Moscow plans to have 3,800 troops in each Abkhazia and South Ossetia, which it recognized as independent in the wake of the conflict. Before the conflict it had 3,000 peacekeepers in Abkhazia and 500 in South Ossetia.
Moscow also says it has no intention of pulling out of Akhalgori or the Kodori Gorge.
Enter The EU
With the Russian troops out of the buffer zones, more than 200 EU observers are deploying to areas between Georgia and the two rebel regions to monitor the cease-fire. French Foreign Minister Bernard Kouchner arrived in Georgia late on October 9 to assess the pullout.
Asked in Gori if Russia has honored the cease-fire deal, Kouchner told reporters, "I think so, but partly." He added: "This is not the end. This is a process, a long process. And we are at the beginning of the process."
"Now that EU monitors are deployed in the security zones along South Ossetia and Abkhazia's borders with Georgia, we would like them to fulfill their functions in guaranteeing that the current Georgian regime will not use force or attempt a provocation," Medvedev said, repeating an accusation Moscow has consistently made against Tbilisi.
Georgian officials, however, say they are most concerned with getting their citizens back into their homes.
Koba Gorgodze, head of the Refugee Department at Georgia's Resettlement Ministry, says approximately 36,000 ethnic Georgians were displaced by the armed conflict with Russia. Of these, he said, about half will be able to return to their homes immediately. Gorgodze and other officials say the government will assist the rest to rebuild their homes.
"We have asked those whose homes are uninhabitable to temporarily stay with relatives or neighbors so they can oversee the process of restoring their houses," Lado Vardzelashvili, governor of Georgia's Shida Kartli region, says. "Construction crews will begin entering villages in a few days and then we will determine how to proceed."
Nona Mchedlishvili of RFE/RL's Georgian Service contributed to this report from Tbilisi. Goga Aptsiauri of RFE/RL's Georgian Service contributed from Gori
Crisis In Georgia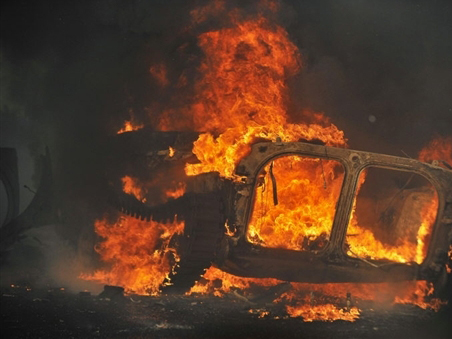 For RFE/RL's full coverage of the conflict that began in Georgia's breakway region of South Ossetia,
click here
.