J.D. Salinger, the reclusive American author of the seminal coming-of-age novel "The Catcher in the Rye," has died at the age of 91.
"The Catcher," with its immortal teenage protagonist -- the anguished, rebellious Holden Caulfield -- came out in 1951 during a time of anxious, Cold War conformity.
The book struck a chord with American teenagers who identified with the novel's themes of alienation, innocence, and rebellion.
But when the novel was translated into Russian during the "Khrushchev thaw," its antihero's tormented soul-searching also reverberated among admirers throughout the Soviet Bloc.
"Nad propastyu vo rzhi" was first published in the Soviet Union in the November 1960 issue of the popular literary magazine "Inostrannaya Literatura" (Overseas Literature).
The translation became an instant sensation, and dog-eared copies of the magazine were passed from reader to reader.
Boris Paramonov, a Russian philosopher and contributor to RFE/RL's Russian Service, says he and his Russian friends and colleagues instantly recognized that it was a book that would endure through the ages.
"Soviet readers back then were identifying themselves of course not with the American teenager [protagonist Holden Caulfield], but they took close to their hearts his rebellion against the conventionalism of the society, against the alienation of people and the artificial social values which one had to follow in their social lives," Paramonov says. "The rebellion was against the society in general, against its hypocritical norms of behavior."
A Literary Staple
More than 60 million copies of the novel have been sold worldwide since its publication in 1951.
It's no coincidence that the publication of the novel in the Soviet Union came in the late 1950s and early 1960s, when an easing of Stalin-era controls was boosting cultural and other contacts with the outside world.
The Russian translation by Rita Rait-Kovaleva became a fixture in the library of virtually every Soviet intellectual.
"Of course the idiomatic expressions of the American adolescents did not correspond to the language of their Russian, Soviet counterparts in those classical Soviet times," Paramonov says. "Back then the genre of street language literature was not at all cultivated in the Soviet Union, as opposed to today when the slang is given the green light and is prominently present in the media and literature."
But Paramonov says Rait-Kovaleva captured the street slang of Caulfield without losing the sharpness and wit of the original version. The feat was especially notable since when she translated Salinger's quintessential American story, Rait-Kovaleva had never even been to the United States.
In the 1960s "The Catcher in the Rye" could even be found in the literary curriculum of some elite Moscow high schools. A favorable review of the novel was published in 1961 in the highly influential "Novyi Mir" literary magazine under the editorship of Aleksander Tvardovsky.
'Revolting' Development
Anthony Georgiev, the publisher of the English-language "Vagabond" magazine in Bulgaria and the author of two novels, was first exposed to "The Catcher" in 1977, when as a 13-year-old he smuggled an English-language copy of the book back to communist Bulgaria from his first trip to Istanbul. He recalls it casting a spell over him and his friends.
"It appealed to our sense of adolescence, to our sense of being teenagers at the time, teenage boys and girls," Georgiev says. "We were revolting against our parents just like Caulfield did. We were critical of the system, we were critical about our school system and our educational system just like Caulfield was. That was what mattered, we identified with Caulfield."
Particularly thrilling, he says, was the knowing slang that Caulfield spoke in.
For well-read Bulgarian teenagers, Georgiev says the novel was a "fascinating window" into contemporary American culture, with all its inadequacies and shortcomings.
"It wasn't until a few years [later] that I realized that the Soviets had been publishing this book because they considered it to be critical of the American society and of Western values written by an American," Georgiev says.
Like her Russian counterpart, Bulgarian translator Nadya Sotirova accurately captured the teenager's voice and eloquence without having ever stepped foot on American soil.
Somehow, J.D. Salinger had written a character that people around the world instinctively understood.
Shunning Attention
Jerome David Salinger had lived in a life of profound privacy since 1953 in the small town of Cornish, New Hampshire. Over the years, he became as famous for his reclusive ways -- he never attended literary events or gave interviews and was said to flee if anyone recognized him on the street -- as he was for penning "The Catcher In The Rye."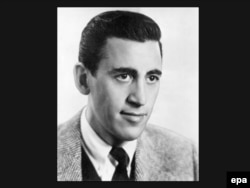 A 1951 photo of Salinger
It is difficult to overstate Salinger's impact on the landscape of American literature and culture.
Through antihero Caulfield and a few other characters in stories he published before 1965, Salinger tapped into a universal experience of adolescent angst that transcended geographic borders and political ideologies.
"[Salinger's] significance is that he was a new voice, the new sensibility in the American literature," Ross Posnock, a professor of American literature at New York's Columbia University, says. "You can define it as precocious, Jewish, urban aesthete, and that really had never been heard before. It's a kind of a brilliant adolescent voice that's very different than his contemporaries like John Updike and Philip Roth, Jack Kerouac, for instance."
In Caulfield, Salinger created a 16-year-old character who is about to be kicked out of boarding school and decides to run away to New York City. For three days, Caulfield roams the city, encountering a cast of bizarre characters, including a prostitute, a former teacher, and an elevator operator. His experience leaves him convinced that the world is run by "phonies."
His solo adventure triggers struggles of self-identity and a search for the true meaning of love and sex. Ultimately, he finds salvation in the form of his younger sister, Phoebe.
Salinger's last published work was a prose piece titled "Hapworth 16, 1924" which was published in the June 19, 1965 issue of "New Yorker" magazine.
Posnock says Salinger created characters who caught the imagination of readers.
"He wrote about very precocious, precious, highly sensitive, gifted people who were tormented by their existence," Posnock says. "He made it very funny and witty and amusing, but they weren't people who had a great deal of durability, and that was part of their charm."