The institution of international election monitors is undoubtedly a necessary and extremely useful thing, particularly when the monitoring is done in systems that are still capable of being democratized.
But there are monitors and then there are monitors.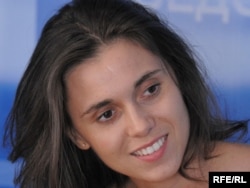 Natalia Morari is blogging for RFE/RL's Moldovan Service
What's the point of those who arrive a day or two before the voting, watch the ballots being cast, and on the basis of what they see draw conclusions about the election process? Everyone knows that the majority of violations don't take place during the voting but in advance: Voter lists are "corrected"; political competitors are cut off from access to the national media sometimes years (!) in advance of the voting; official statistics on the number of deaths in the country show a sharp decline; and so on.
After all, elections are a lot more than election day; rather, they are a long process leading up to the voting.
Of course, it's another question why international monitors should have to haul the garbage out of our house anyway.
It's time for us to learn how to do that ourselves.