Students in Uzbekistan's Ferghana Province are busy these days working on an unusual homework assignment: Teachers have instructed them to make at least 200 paper funnels each, add soil, and plant cotton seeds inside them.
"They told us to take sheets of notebook paper, glue both sides, and leave its narrow end open," one 11-year-old tells RFE/RL's Uzbek Service, adding that he's spending most of his spare time these days making the things. "We made some the other day, but they told us to make more, and to make them differently."
It's the latest in a long line of unorthodox experiments in cotton farming by a government that is no stranger to controversy over its labor practices. Last year, in response to international criticism and boycotts by Western retailers, Uzbekistan officially banned the use of child labor in its billion-dollar cotton industry.
But with pressure on farmers mounting as a result of unfavorable weather during the planting season, rights activists say kids are back at work in the fields -- and at home, too, under the guise of "homework."
Critics say the brazen manner in which Uzbek authorities are disregarding the child-labor ban is troubling, and sets the bar dangerously low in Central Asia's most populous country and the world's second-leading cotton exporter.
Toil And Trouble
Ferghana officials have confirmed to RFE/RL that school and college students, as well as public sector workers, have been ordered to grow cotton at home so that the seedlings can eventually be replanted in cotton fields. The measure is intended to help Ferghana farmers make up for heavy rains this spring that washed away freshly planted seeds.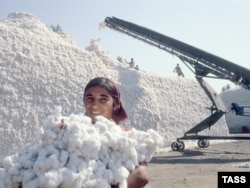 Child labor has long been used throughout the nine-month process from seed to market. (file photo)
Human rights activists, however, have condemned the move as a continuation of Uzbekistan's longstanding practice of using forced child labor in its cotton industry.
Cotton is a key export commodity for Uzbekistan and those proceeds are a main source of hard currency.
At harvest, Uzbekistan's government-controlled cotton industry depends heavily on traditional methods -- requiring millions of laborers to toil in the fields, weeding and tending to the plants by hand.
It takes up to nine months from when seeds are sown until the crop heads to market, and child labor is routinely used throughout.
Harvest season, which lasts from September through late November -- or even into December -- is the hardest of all. Schools and universities commonly cancel lessons, and students are recruited to pick cotton. They often work overtime -- from early morning to sunset --with no weekend breaks. Hours are spent working under the sun in dusty fields that have been sprayed with hazardous chemicals.
The backbreaking work is rewarded with meals consisting of bread, tea, and vegetables. Nights are spent in shelters with minimum hygiene provisions.
Empty Promises?
Officially, Uzbek law prohibits the use of forced labor and the use of children for any work that damages their health.
The Uzbek government long ignored international criticism over its use of child labor in the cotton industry until the repercussions began to hit the country's pocketbook. Last year, a number of major Western retailers, including Tesco, Gap, Marks & Spencer, and Wal-Mart, boycotted products containing Uzbek cotton.
Such action by key players down the supply chain prompted the Uzbek government to issue a decree in September 2008 officially banning the use of child labor in the cotton industry.
Tashkent pledged to implement the International Labor Organization's conventions banning child labor, and the government set up a special body to watch for any violations of the ban.
Those moves were welcomed by children and parents alike.
But according to Uzbek rights activists, in reality the practice never really stopped.
Karim Bozorboev, a human-rights campaigner in Uzbekistan's Sirdaryo Province, says child labor is still very much part of the country's cotton industry.
"Laws, instructions, and orders are not always implemented here," Bozorboev says. "During the 2008 cotton-harvest season, we had information that the deputy of the provincial governor, who is in charge of agricultural issues, told people that 'if you don't send your children to cotton fields, you will be declared enemies of the nation.'"
No Shortage Of Hands
With the potential for fallout from major retailers, critics wonder why adults would not be employed in the cotton fields instead of children, particularly in a country with rampant unemployment. After all, with the largest population in Central Asia with 28 million inhabitants, Uzbekistan has an ample adult work force.
Sources say children get as little as $.03 for every kilogram of cotton they pick. (file photo)
Uzbek farmers say the answer is simple: Child labor is preferred because it's cheap. Children receive as little as $.03 for every kilogram of cotton they pick.
Ferghana-based rights activist Bahodir Elboev says the pay is so low that it cannot compare to the money adult men can earn working as seasonal laborers abroad.
"If a grown-up man works casual jobs he makes at least $6-7 a day and can earn some $200 a month," Elboev says. "Farmers never pay anyone $200 a month!"
Considering such realities, Elboev says, official decrees and instructions alone are not enough to eliminate the practice of child labor in Uzbekistan.
He adds that even if officials were to stop recruiting children for cotton farming, widespread poverty would lead many families to send their children to the fields anyway.
Many Uzbeks believe that unless farmers receive decent payment for their work, making the cotton industry a lucrative source of income not only for those who sell the product abroad but also for those who work in the fields -- the practice of child labor will remain entrenched in Uzbekistan.
RFE/RL's Uzbek Service contributed to this report