Talks this week in Geneva between Russia, Georgia, Abkhazia, and South Ossetia reached a minor milestone with an agreement on "incident prevention" mechanisms intended to give international monitors access to the entire zone of conflict following last year's Russia-Georgia war.
But EU sources say it remains unclear whether Moscow and the Russian-backed authorities in Abkhazia and South Ossetia have a genuine desire to see the deal work.
The scheme commits both sides to cooperate on preventing security incidents in and around the breakaway regions of South Ossetia -- where Moscow and Tbilisi fought a war in August -- and Abkhazia.
Any accord is seemingly fragile, with the two sides still deeply mistrustful of each other. It is also far from certain that cooperation will be forthcoming from officials in either South Ossetia or Abkhazia, both of which have declared independence with Moscow's backing.
Speaking with RFE/RL's Georgian Service ahead of the Geneva talks, Russian military analyst Pavel Felgenhauer said the situation along the cease-fire line in Georgia remained extremely volatile and warned another war was "very likely."
"[As long as] the cease-fire regime stays as it is, provocations, or what both sides understand as provocations -- clashes, exchanges of fire, in other words an undependable cease-fire arrangement -- it means there is a very high likelihood that all this could spill over into an armed conflict," Felgenhauer said.
Trip Wires
Armed clashes are reported frequently within the Georgian-Ossetian cease-fire zone. Felgenhauer speculated that any clash resulting in Russian fatalities would constitute an immediate casus belli for Moscow.
Privately, some Western diplomats in Tbilisi say they fear the same applies to Georgia. Tbilisi, they say, remains as highly strung as it was in August, when repeated provocations by South Ossetia prompted President Mikheil Saakashvili to authorize military operations -- with devastating results for Georgia.
Georgian officials deny such fears. Defense Minister Vasil Sikharulidze told RFE/RL's Georgian Service he does not think a conflict is imminent. But he did say Georgia is ready to respond to any Russian attack. "The Russian aggression and subsequent occupation of our territories, obviously affects our security situation in a very negative way," Sikharulidze said. "At the same time, we have to be ready to respond to and repel any possible Russian aggression."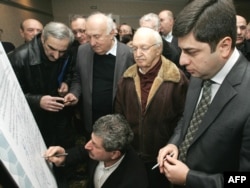 Georgian opposition members sign a call for President Mikheil Saakashvili's resignation in late January.
Georgia's military was left in a parlous state by last year's war, and Tbilisi knows it presently has nothing to gain from a contest of strength with Russia. But some Western observers say Moscow would not find Saakashvili's hand difficult to force, and that even a skirmish along the Ossetian or Abkhaz border involving even a relatively small number of Georgian fatalities could be enough to spark new fighting. Such a provocation could prove even more effective, they add, if it were timed to coincide with possible opposition protests in Tbilisi in the spring.
Meanwhile, the Geneva deal holds out the promise of at least some insurance against provocations from either side. But despite their public optimism, EU officials privately admit the mechanisms are flawed.
Technically, they give EU, UN, and OSCE monitors access to Abkhazia and South Ossetia. However, it is understood international observers will only be allowed to conduct supervised trips jointly with Russian monitors -- something one EU diplomat described as "Potemkin visits."
In another sign of the depth of distrust among the parties, Russia and South Ossetia refused outright to grant international humanitarian aid agencies access to South Ossetia.
Representatives of both delegations argued in Geneva that no aid is needed. In his interview, however, Felgenhauer spoke of food shortages and other deprivations which are seriously affecting both the local population and Russian troops in the region. He added that traffic through the Roki Tunnel in the north is badly disrupted by avalanches, hampering the main supply route into South Ossetia from Russia.
Moscow's Strategy?
What appears to disturb the EU most is what one diplomat described as Russia's "mixed messages" at the Geneva talks. Moscow did reportedly force recalcitrant Abkhazia and South Ossetia into concessions during the talks.
But such steps may prove of little consequence if Moscow pursues a "divide-and-conquer" strategy -- wanting the United Nations to take charge of Abkhazia, the OSCE to deal with South Ossetia, and the EU to take responsibility for Georgia -- that could severely limit the West's effectiveness in the region.
Cynics might argue that Moscow is playing for time. Felgenhauer certainly takes that view, predicting that another Russia-Georgia war is merely a question of time.
The first war -- which Felgenhauer predicted long before its onset -- was seen as recompense for Russia's antipathy toward Georgian President Mikheil Saakashvili and his determined pursuit of NATO membership. But Felgenhauer says there is more to Moscow's long-term strategy: "[Russia] may not like Saakashvili, we may not like NATO, but there is also another thing: Armenia is cut off; [Russian] troops in Armenia are cut off. There's no transit by land. That means technology cannot be taken out of there for repairs or modernization, and technology cannot be taken in, other than by air. Such a situation cannot last long."
The Armenian bases are important to Moscow, Felgenhauer argues, as a symbol of Russian ambitions in the South Caucasus. Armenia is a close Russian ally, but its isolation could cause Yerevan to "start looking the other way," Felgenhauer says. Russia's subjugation of Georgia would remove that threat, and would in turn isolate Azerbaijan, which is currently resisting Russia and putting out feelers to the EU and the United States.
Felgenhauer predicts that the next Russian assault on Georgia will be a "war to a victorious end." He predicts its main theater could be the road between Gori and Mtshketa just outside Tbilisi. But, Felgenhauer says, Tbilisi itself would not be the Russian army's top strategic objective: "What is important is not so much Tbilisi. But west of Tbilisi there is the Tbilisi international airport [and] many airfields." This is important, Felgenhauer said, "because right now in South Ossetia we do not have a single permanent airstrip, as the terrain is highly uneven."
The closest Russian air base is currently in Beslan, in North Ossetia.
The best time for war, according to Felgenhauer, would be between June and August, when high mountain passes are free of snow. He said Russian forces would also need at least two months in hand to wind down operations before winter returns in October.
Felgenhauer discounts the eventuality of an intervention on the part of the United States. He notes President Barack Obama's main goal is victory in Afghanistan, to effect which he will need to transit supplies and men through Russia and countries in its sphere of influence. In exchange, the thinking in Moscow goes, the United States will be willing to trade its interest in Georgia.
Thus, to Felgenhauer's mind, a war is all but inevitable. "The only way you could avoid it," he says, "is if there's regime change in Tbilisi -- or regime change in Moscow."
Eka Tsamalashvili and Koba Liklikadze of RFE/RL's Georgian Service contributed to this story