Perched on a sidewalk along Tbilisi's central Rustaveli Avenue, a large makeshift billboard features a photograph of a beaming Irakli Alasania standing with his wife, Natia. The city pictured in the background? Not Tbilisi, but the glittering skyline of Manhattan.
As passersby look on curiously, they are approached by a television journalist and asked a single question: "Should the family of a candidate for mayor of Tbilisi live in New York?"
A woman comments that he shouldn't because "his attentions will be diverted" and "his heart and mind should be focused here." A man chimes in that "it would be better if his spouse stood by his side and took part in things together with him."
The segment, aired by Real TV, a private channel with close ties to President Mikheil Saakashvili's government, was part of a broadcast that aired shortly before Christmas attacking Alasania, the main opposition candidate in Tbilisi's May mayoral race. The program depicted Alasania, Georgia's former ambassador to the United Nations, as a cosmopolitan elitist who prefers to keep his family safely ensconced in New York, and is out of touch with ordinary Georgian voters.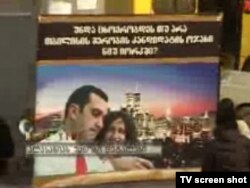 A video grab from Real TV shows the Alasania billboard with New York in the background.
"The global metropolis [of New York] is now preparing for Christmas celebrations, and presumably, Alasania's family is not an exception," the voiceover says over footage of a New York apartment building with Alasania's name on the doorbell.
"Alasania's wife and children have been living the American dream for 11 months already -- and it seems like the United States remains their most desirable place to live."
The program, one of several broadcasts that Alasania's supporters describe as an overt mudslinging campaign, sidestepped an important bit of context. When Alasania resigned as UN ambassador after nearly three years in the post and returned to Tbilisi in late 2008 to enter politics, he was reluctant to uproot his two young children, who were attending public school in New York. So for now, Alasania's wife and children remain in the United States.
Tbilisi's mayoral election is four months away, and the battle to shape public perceptions has begun with a vengeance. And the playing field is anything but level. Incumbent Mayor Gigi Ugulava, a close ally of Saakashvili and a member of the ruling United National Movement, enjoys wide and positive exposure on Georgia's pro-government broadcast media outlets, which regularly portray him as a competent, hands-on city executive.
By contrast, in the rare instances when Alasania appears on television, he is usually being mocked. In an interview with Echo of the Caucasus, RFE/RL's Russian-language broadcasting to South Ossetia and Abkhazia, Alasania says this is a sign that the current authorities see his mayoral bid as a critical challenge.
"I think the government and the Georgian National Movement see us as a very serious competitor," Alasania says. "And what they are doing is motivating us to continue our battle for fair elections, and to win those elections."
Show Us Your Watch!
The reason for the intensity surrounding the Tbilisi mayor's race is that the election is widely viewed as a dress rehearsal for the 2013 presidential vote that will determine Saakashvili's successor. Analysts say Saakashvili's team is pulling out all the stops to make sure the next president will be a handpicked successor -- possibly the incumbent Tbilisi mayor, Ugulava. And that means they need to stop Alasania's mayoral bid in its tracks.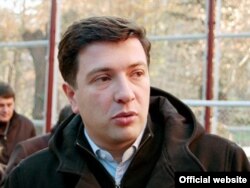 Tbilisi Mayor Gigi Ugulava
"There is no question that the present authorities don't want Mr. Alasania to become mayor because it would automatically make him a leading candidate for president," says Lawrence Sheets, head of the International Crisis Group's Tbilisi office. "The existing authorities want to hang on to power, [and] Alasania would be a formidable opponent if he were the candidate of the united opposition. No question about it."
Real TV is a nominally private television network. But like much of Georgia's private media, it has its links to the state. Real TV's ownership structure is opaque, but it is widely believed to be under the control of Georgia's powerful interior minister, Vano Merabishvili, one of Saakashvili's closest allies.
The Real TV program about Alasania's family was just one in a series the network has broadcast in recent weeks. Some have been rebroadcast on Imedi, another nominally private but staunchly pro-government television channel. Natia Koberidze, a producer at Imedi, denies there is any political motive behind the station's rebroadcast of the Real TV programs.
Representatives from Real TV could not be reached for comment.
Some of the programs have a mischievous air. When Alasania was greeting voters on a Tbilisi street, a group of Real TV journalists
ambushed him and asked on camera
to see his watch and mobile phone. A nonplussed Alasania complied, holding up a professional but relatively pedestrian variety of accessories.
Denied a "gotcha" moment, the program nevertheless pushed forward with its preferred narrative.
"Alasania takes a more expensive watch and telephone to his important meetings," a voiceover says. "According to our sources, foreign PR consultants advised Alasania to have an inexpensive telephone with him when meeting ordinary people, and made him wear the watch that was given to him by his father as a gift."
'Character Assassination'
Other broadcasts have taken on a decidedly mean-spirited tone. In a recent program, Real TV
conducted a mock interview with a life-size mannequin
made to resemble Alasania. The interviewer asked a series of accusatory questions, suggesting that Alasania was alternately a Russian agent, a drug dealer, and a former member of a violent and murderous youth gang. The Alasania-like dummy sits silently throughout the mock grilling.
Alasania denied the Real TV allegations outright in an interview with RFE/RL, calling them "character assassination" and an attempt to distract him from his mayoral campaign.
"These allegations have no grounds whatsoever. In due time, when we have faith in the court system in this country, I will address this in court," Alasania says.
"Of course, there is nothing close to these things in my past," he added. "I've been working for the government for 15 years. My background checks have been made and remade. Of course, I have been faithful to my country."
It is unclear what effect the broadcasts are having on Alasania's standing with the Georgian public, as polling in the country is notoriously politicized and often unreliable. Nor is it clear how successful Alasania has been in securing the support of Georgia's famously fractious opposition.
Alasania has united two opposition parties, the Republicans and the New Rightists, in his Alliance For Georgia movement. But opposition figures like Nino Burjanadze and Levan Gachechiladze, who see Alasania as a threat to their own ambitions, remain wary of him and analysts say he has struggled to expand his base beyond the Tbilisi intelligentsia.
For his part, Alasania says he is preparing to step up his campaign in the coming months.
More Than A Local Election
Meanwhile, many observers say the mudslinging campaign might actually help Alasania. Giga Zedania, a professor of philosophy at Tbilisi's Ilia Chavchavadze State University, says he is skeptical of Alasania's strengths as a politician but that the slew of attacks, which he calls "a clumsy mixture of low moral standards and sheer stupidity," is evoking sympathy for the former UN ambassador.
"I think the owners of Real TV underestimate the intelligence of the Georgian population, and the end effect will be the opposite of what they wanted," Zedania says. "This absolutely biased 'coverage,' or whatever it is called, is making him even more popular, because he comes across as a victim."
Likewise, Sheets of the International Crisis Group says Georgia "is a country where people do not inherently trust authority" and where voters are much more savvy than politicians give them credit for. "In this country, people know the political allegiances of the various television networks. They are very well aware of it," he says. "This sort of thing is bound to backfire. It is very inept political operating."
The media campaign against Alasania follows the passage by parliament of a controversial amendment to Georgia's election legislation, lowering the threshold to win in the Tbilisi mayoral election in the first round to 30 percent.
Critics called the move a clear attempt to help the incumbent Ugulava avoid a runoff against Alasania. Most observers expect Ugulava to win the most votes in the multiple-candidate first round of the election, scheduled for late May. But analysts also say that due to the strong pro-opposition vote in Tbilisi, Alasania would likely have the upper hand in a head-to-head runoff.
Alasania says he views the mayoral race as the first stage of the post-Saakashvili transition and a crucial test of Georgia's future democratic development. "This is not a game. Georgia's fate is being decided," Alasania says. "This is more than just a local election. This is a referendum on Georgian democracy."