Tatar Police Colonel Named Karachayevo-Cherkessia Interior Minister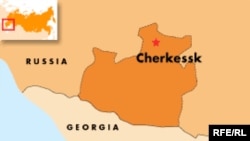 Russian President Dmitry Medvedev on May 31 named Zhaudet Akhmetkhanov to head the Karachayevo-Cherkessia Republic (KChR) Interior Ministry. Akhmetkhanov, who is 42, has spent his
entire career
in the police force and has held leading positions in the criminal police in Kazan and the Criminal Investigation Department of Tatarstan's Interior Ministry.
Akhmetkhanov succeeds Nikolai Osyak, a Slav who was fired in February following the release from detention of a key suspect in the murder in January 2009 of Islam Krymshamkhalov, a Karachai opposition parliament deputy who was nonetheless close to KChR President Boris Ebzeyev.
Ebzeyev
said at the time
of Osyak's dismissal that the next head of the Interior Ministry should be "intelligent, highly professional, energetic, and honest." A group of KChR parliament deputies drafted, but
reportedly
did not send, an appeal to the Russian leadership to name as Osyak's successor someone familiar with conditions in the republic.
Akhmetkhanov does not meet that criterion. But as KChR parliament deputy Akhmad Ebzeyev pointed out to "Kommersant," he is a Muslim from a multiethnic republic, which is an important advantage.
Meanwhile, the KChR remains without a prime minister following the shooting last month of Fral Shebzukhov, a Circassian whom observers considered the
most likely candidate
to succeed Vladimir Kayshev.
About This Blog
This blog presents analyst Liz Fuller's personal take on events in the region, following on from her work in the "RFE/RL Caucasus Report." It also aims, to borrow a metaphor from Tom de Waal, to act as a smoke detector, focusing attention on potential conflict situations and crises throughout the region. The views are the author's own and do not represent those of RFE/RL.
Latest Posts