Ukraine's two presidential candidates appealed to voters in their final campaign appearances ahead of a pivotal election on Sunday that's being overshadowed by accusations of possible vote-rigging and threats of mass street protests.
Prime Minister Yulia Tymoshenko and her rival, Viktor Yanukovych, staged opposing rallies within sight of each other in central Kyiv this evening.
Under a light snow and with temperatures dropping toward minus 10 degrees Celsius, several hundred Tymoshenko supporters shivered under blue and yellow Ukrainian national flags listening to church chorus singing in front of the golden cupolas of St. Sophia's cathedral.
When she appeared, the Orange Revolution heroine pushed the religious theme. Dressed in a long white fur coat, she spoke of the importance of love and appealed to voters to pray to God for Ukraine's unity.
"I appeal to God to bless our native state in these difficult times," she said.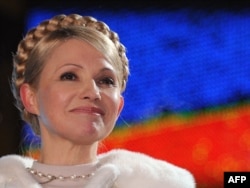 Yulia Tymoshenko appeared at her own rally nearby in central Kyiv.
Drum beats from a concert at Yakunovych's rally, in front of another cathedral, could be heard during Tymoshenko's pauses.
Groups of tough-looking young men wearing plastic rain covers bearing Yanukovych's name stood on the periphery of his rally as one singer criticized Tymoshenko by announcing, "I'm tired of female hysterics!"
When he appeared on stage, the burly Yanukovych said Sunday's election would be a "time of reckoning."
"Our hour of victory is approaching," he said.
Some would say Tymoshenko needs to pray for victory after trailing her pro-Moscow rival by 10 percent in the first round of the election last month. She hopes to rally a fractured Orange electorate, but voter apathy -- together with predicted snow and further dropping temperatures -- is expected to lower turnout. Analysts say that would probably hurt Tymoshenko's numbers in the predominantly rural areas that support her.
Uncertainty over the election is erasing hopes Ukraine has turned a chapter since the disputed election of 2004 that sparked the Orange Revolution.
President Viktor Yushchenko, Tymoshenko's former Orange Revolution ally,
yesterday amended the post-2004 election law
to allow local authorities to remove party representatives from polling stations on election day. Tymoshenko says the legislation, initiated by Yanukovych's Party of Regions, is meant to enable regions it controls -- in predominantly Russian-speaking eastern Ukraine -- to carry out massive vote fraud.
Tymoshenko's campaign filed suit against the new law in the constitutional court.
Tymoshenko representatives in some eastern regions say officials and Yanukovych supporters have threatened their houses would be attacked if they go to the polls on election day. Local media in the eastern Donetsk region say there have been reports of broken windows and slashed car tires.
Yanukovych lost the presidency five years ago after initially winning the rigged election that sparked the Orange Revolution. Tymoshenko on Thursday appealed to Ukrainians to take to the streets in a second Orange Revolution if there's evidence the polls are rigged again.
Both sides are preparing for action after the election. Many believe the losing side will contest the result in court, while the authorities said the Party of Regions has submitted a permit application for a 50,000-strong rally on Monday.
Officials said Yanukovych supporters have been bused to hotels around Kyiv. President Viktor Yushchenko today ordered police to secure the Central Election Commission building, which has been surrounded by hundreds of Yanukovych supporters manning tents.
Acting Interior Minister Yury Lutsenko also said 2,000 former security officers have arrived in Kyiv to provide muscle for Yanukovych, saying their presence has raised worries over possible unrest.
Lutsenko, a close Tymoshenko ally, was fired by parliament last month in a move spearheaded by Yanukovych's Party of Regions. Tymoshenko immediately reinstated his control by appointing him deputy minister.
A court later overturned Tymoshenko's decision but has yet to deliver its order to the ministry. The byzantine maneuvering is typical of the kind of partisanship that's paralyzed the government, including the court that would rule on any election dispute.
Tymoshenko supporters are taking some comfort in their belief the police and military will remain loyal to the prime minister. But at her rally today, supporters said they would take to the streets if asked.
-- Gregory Feifer in Kyiv