It isn't true that Lenin said, "For us, cinema is the most important art form." That phrase was uttered by someone quite different. It was Benito Mussolini, paraphrasing Lenin's statement: "The most important art forms for us are cinema and the circus."
It was only later that Soviet ideologists seized on Mussolini's more recent statement and attributed it to Lenin. At that juncture, it seemed that the circus had had its day, whereas cinema was just beginning to acquire that ideological weight which the Bolshevik Lenin and the fascist Mussolini alike considered indispensible.
It would seem that the days of ideology in the cinema have passed. Since movie tickets today are expensive, you would think that cinemagoers would never agree to spend their hard-earned cash on ideological nonsense. However, reality proves otherwise.
Cinema...is one of the cornerstones of the Russian power vertical.
Recently, a young and very cool Russian film director was busy working on a fantastic new action movie. The film was partially financed by the Russian state.
One day, this young and cool director received a letter from a "friend" who works in the Kremlin, asking him to consider giving the forces of evil and dictatorship featured in his film American characteristics. Obviously, there was no need to show the American flag; that would be going too far.
But therein lies the mastery of the true artist, to suggest gently and unobtrusively that the world portrayed in the film is not Russia, but a completely different country.
At the end of the letter, the "friend" made clear that if the director refused to follow these suggestions, he could not count on receiving state financial support for his future films.
We must give the director his due. He ignored the letter rather than humiliate himself. But this episode speaks volumes. Cinema -- including the 31st Moscow International Film Festival, which ends June 28 -- is one of the cornerstones of the Russian power vertical.
Less Difficult Than It Seems
How can a film festival with hundreds of foreign stars and thousands of viewers and guests buttress state policy, you may ask. Apparently, it is less difficult than it seems.
First, a person with impeccable ideological credentials must be placed at its helm -- in this case, "Russia's main director," Nikita Mikhalkov. Then the festival must be publicized on official state TV channels, underscoring that this is the festival that really counts. And to make sure that members of the cinema community understand this fully, state TV shows the opening of the festival, with Russia's top leaders cutting the opening ribbon.
There should be no doubt. This is the festival that has official state support.
It is inevitable that such a discriminatory attitude toward other festivals, which attempted to strengthen their standing with help from sponsors during the 1990s, would give rise to dissatisfaction within the cinema community.
In theory, the Cinematographers' Union should work to minimize such discrepancies, but that union is still headed by none other than Nikita Mikhalkov, who through scandal, administrative manipulation, and the Russian courts once again managed to cling to that post despite a concerted effort to replace him.
Those union members who opposed that appointment, including the head of the union's film criticism section, Victor Matizen, were simply expelled. Publications that dared to question Mikhalkov's appointment, such as the journal "Isskutsvo Kino" (Art of the Cinema) and its editor in chief Danyil Dondurey, have been forced out of the office space they occupied within the union's headquarters.
As a result of all this, Russia's cinema community is plagued by mutual distrust, which is exactly what the powers that be were hoping for.

Ceremonial Rituals
What sort of connection could there possibly be between Nikita Mikhalkov and Chechen President Ramzan Kadyrov? A very simple and direct one. Kadyrov was put in place to control Chechnya, and Mikhalkov to control cinema in Russia. As long as there are no problems for Russia in Chechnya, Kadyrov can rule as he pleases. Similarly, Mikhalkov faces no constraints in his cinema kingdom.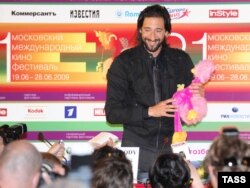 Actor Adrien Brody during the visit to the Moscow Film Festival
These situations call for certain ceremonial rituals, however.
For example, several times a year Kadyrov says something cloyingly grateful about Russian Prime Minister Vladimir Putin. Mikhalkov, too, delivers his due. On the occasion of Putin's 55th birthday, Mikhalkov produced a laudatory television program, "55," which carried a very clear message: If it wasn't for Putin, Russia would cease to exist.
When critics accused him of excessive adulation, he replied with perfect candor that he really does consider Vladimir Putin the savior of Russia,
Holding the Moscow Film Festival in such an atmosphere will inevitably have repercussions.
Odessa-based director Kira Muratova (a retrospective of her films is on this year's program) is boycotting the festival, as are Aleksey German Jr. and Ivan Dukhovichny. Those who voted against Mikhalkov's continued presidency of the Cinematographers' Union will also certainly not be attending any film screenings.
The presence of the actor Adrien Brody will doubtless make the absence of these local luminaries less noticeable, but the festival will come to an end and Mikhalkov will be left with his daily routine of courts, evictions, patriotism, and contempt for his opponents.
Why Georgia, Why Now?
In a stunning display of cynicism, this year's festival features a retrospective of Georgian films.
Why Georgian films, and why now, when flights to and from Georgia have been canceled, when Georgian actors and directors are denied visas to Russia, and when Moscow has annexed Abkhazia and South Ossetia?
One shouldn't marvel at this paradox; this is the power vertical in action. The Kremlin is simply using the Moscow Film Festival to convey a political message: We love Georgia, but without its president, Mikheil Saakashvili. And this retrospective is for a foreign, not a domestic audience.
Cinema really does continue to be the most important art form for Moscow. The Kremlin can control it with the same methods it uses to control politics -- a heavy hand, administrative manipulation, and by silencing opponents and creating myths for foreigners.
This is, unfortunately, particularly true in the case of the Moscow Film Festival, which began its existence as a celebration of cinema but degenerated long ago into a celebration of obedience.
Matviy Hanapolsky is a publicist and a journalist with the radio station Ekho Moskvy and a regular contributor to RFE/RL's Ukrainian Service, for which this commentary was written. The views expressed in this commentary are his own, and do not necessarily reflect those of RFE/RL