Slide show: Editorial cartoons by Hozhaber Shinwary


Afghanistan's Hozhaber Shinwary says he's always had a pen in his hand since he was a little boy, "drawing anything on everything." A broadcaster for RFE/RL's Radio Free Afghanistan, Shinwary is also one of his country's best-known editorial cartoonists. His bold black-and-white pen drawings, as well as more sophisticated, digitally created color illustrations, have appeared in a variety of publications in Afghanistan and abroad.

Speaking of his ambitions when he sits down to draw, Shinwary says, "I would like to encourage people to stop for a second, think, and be aware of what is happening all around them."



Political Humor Across The Region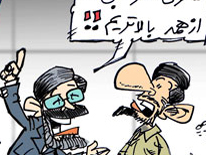 Satire Across The Region
In countries throughout RFE/RL's broadcast region, humor plays a special role for writers and artists seeking to shed light on corruption, violence, and repression. These editorial cartoons offer a cross-section of perspectives on issues from energy politics to press freedom. Play