The last time Iraqis went to the polls, they really had very little idea who they were electing. The hastily organized 2005 elections -- the first since Saddam Hussein was toppled in 2003 -- required them to cast their ballots for party lists; the parties that got the most votes appointed members for seats.
But this time around, things are very different.
Throughout all 14 of the provinces holding elections on January 31, there are billboards and posters of smiling, stern-faced, pensive, or beckoning candidates.
The posters are on buildings, walls, and the ubiquitous bomb blast-shields around public buildings. So much so that the gray cement blast-shields have turned from the dullest to the some of most colorful features of the Iraqi cityscape.
Voters are choosing from among individuals, whether they are running in a party list or as independents. This "partial open list system" has turned what were faceless elections four years ago into very face-to-face ones today.
But the missing faces in the publicity war have been female candidates. Women will be on the ballot everywhere, but they were nearly invisible as campaigns unfolded.
Slanted
Playing Field
Sundus Abbas, director of the Women's Leadership Institute in Baghdad, says women are keeping low profiles regardless of their political orientation or background.
"There is a noticeable trend here in Iraq: Most women -- even those running on a bloc or party ticket -- prefer not to have their pictures used," Abbas says. "There have been some exceptions, even in the southern governorates such as Al-Basrah, but there is no widespread emphasis on the women candidates in the campaigns, whether the involved party is liberal, Islamist, or whatever."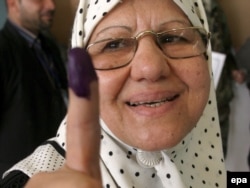 Hospital patients, like this woman, as well as prison detainees and security forces were able to vote early.
Women compose nearly 30 percent of the 14,431 candidates competing for the 440 provincial-council seats. But as election day approached, it was uncertain whether they would manage to hold onto the quota of 25 percent of seats originally set for them under Iraq's election law.
The provincial election law was hotly contested ahead of its eventual ratification but, unlike the Iraqi Constitution, includes no quotas based on gender.
It was unclear how the Iraqi Election Commission would interpret its obligations if the compromise "partial open list system" ran squarely up against Iraqi legislation on the question of female representation.
"As for the quota set aside [for women], it is inapplicable if the entity contesting the election is a single individual," Hamdiya al-Husseini, a female member of the Election Commission, tells Radio Free Iraq. "This goes even for those entities that win two seats."
But despite al-Husseini's statements, the commission has suggested it would award seats based on gender, with reports variously suggesting the commission would seat women in every third or fourth seat won by any given party.
Some women say that even this approach is discriminatory because many parties might consist of only one or two local leaders, and such local leaders are seldom women. As a result, critics say, in some provinces there could be no "third" seat winners -- and many fewer female provincial legislators once the vote is over.
Posters are not the only way candidates are reaching out to the public. In a major departure from four years ago, many are also meeting directly with voters in public meetings and debates.
At one campaign event last week, 13 candidates competing for seats on Baghdad's provincial council jointly fielded questions for three hours from a roomful of voters.
That kind of town-hall meeting was almost unthinkable previously due to security concerns. But the level of violence has declined steadily since the summer of 2007 and now is at a four-year low.
Still, there are dangers. Gunmen killed three political candidates in separate attacks on January 29 in Baghdad, Mosul, and Diyala province.
First-Timers
The provincial elections, which are taking place everywhere except in the largely autonomous Kurdish area in northern Iraq and the disputed province containing Kirkuk, feature all the religious parties that currently dominate Iraqi politics.
But the polls are also attracting many newcomers. Among the most visible are tribal leaders eager to regain a share of the power and patronage they lost to the political parties in 2005.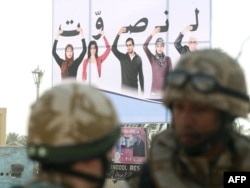 British soldiers against a backdrop of election posters in Al-Basrah, in southern Iraq, on January 27.
As they crafted their messages to voters, some tribal leaders have sought to use tribal symbols during the campaign. The hope among such aspirants is that voters will be swayed by the prospect that personal ties through tribal affiliation will bring greater benefits than under the more anonymous apparatus of the religious parties.
Salam al-Samir, a professor of media at Baghdad University, calls the tribal symbolism -- like the religious symbolism that dominated the 2005 election campaign -- a reminder of Iraqi society's traditional roots. But he speculates that many voters are looking for candidates with professional qualifications after four years of disappointment with simple party loyalists, so religious and tribal identity may be less important than before.
"The Election Commission has forbidden the use of religious symbols, but one way or another, and through resorting to the power of suggestion, some of the religious blocs and parties specifically are in fact using religious symbols, while some are using tribal symbolism since these are not banned by the commission," al-Samir says. "In my opinion, however, and given the voters' previous experiences, they are no longer attracted by these factors. So I don't think that the use of religious and tribal symbolism is as widespread today as it was previously."
Roughly 70 percent of the more than 400 political blocs competing in the provincial elections are newcomers to the field. A much smaller number of independents are also taking part.
The provincial councils have the power to pass local laws so long as the practices do not contradict federal laws or the constitution. They also have authority over local security forces and public facilities.
But the councils emerging from the January 31 voting will also enjoy freshly conferred powers, including selecting and removing governors and other senior provincial officials, establishing priorities and otherwise setting out development priorities, as well as ratifying budgets submitted by their respective governors.