On October 13, 2005, some 150 to 200 highly motivated but poorly trained and prepared young local Muslims launched multiple attacks on police and security facilities in Nalchik, capital of the Kabardino-Balkaria Republic. The raid, seven months after the death of Chechen President and resistance commander Aslan Maskhadov, was not a success. The attackers killed 35 police and security personnel and 14 civilians, but lost 92 of their own. Many of the survivors were apprehended and are currently on trial.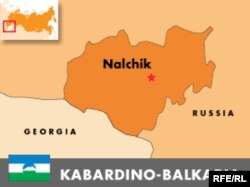 Yet despite that setback, and the deaths the following year of two key Chechen resistance figures, the Islamic resistance across the North Caucasus is today stronger, more organized, more ideologically cohesive, and more deadly than it was three years ago.
The Nalchik raid was not the first the resistance launched outside Chechnya.
In June 2004, a combined group of Chechen and Ingush fighters under the overall command of veteran Chechen field commander Shamil Basayev launched comparable, and far more successful, multiple attacks in Ingushetia, killing at least 88 police and security personnel while incurring minimal casualties.
But it was the Nalchik attack that served to underscore two key developments: first, the extent to which the armed resistance against Russian police and security forces had already spread from Chechnya to other North Caucasus republics, primarily Ingushetia, Daghestan, and Kabardino-Balkaria; and second, the degree to which Islam had supplanted the Chechens' pro-independence aspirations as the motivating force.
Nine 'Fronts'
Those two trends have become even more pronounced over the past three years. The nine territorially based "fronts" that then-Chechen President and resistance commander Doku Umarov established in the late summer of 2006 included Volga and Urals fronts. Earlier that year, a hitherto unknown jamaat (unit of Muslim fighters) comprised primarily of ethnic Nogais clashed with security forces in Stavropol Krai, and an Ossetian jamaat warned of its intention to target "occupying Russian forces" in North Ossetia.
It remains debatable how many of the men who continue to join the resistance ranks do so purely out of religious conviction.
The decimated Yarmuk jamaat in Kabardino-Balkaria retrenched following the Nalchik debacle, and in late 2007 was subsumed into a larger fighting unit that now operates both in Kabardino-Balkaria and neighboring Karachayevo-Cherkessia. In Daghestan, where militant attacks were for years concentrated in the north and central regions, a jamaat emerged in early 2008 in the southern town of Derbent. One fighter affiliated with the resistance in southern Daghestan, Ilgar Mollachiyev, is reported to have crossed into neighboring Azerbaijan with the imputed aim of extending resistance activities there.
As a result of that geographical expansion of military activities, Chechens no longer constitute a majority among the resistance ranks. And Russian has become the lingua franca in which the members of the various jamaats communicate with Umarov and among themselves.
The official rationale and ideology of the resistance was redefined in late 2007 when Umarov proclaimed an independent North Caucasus emirate, or Islamic state, of which he designated himself ruler, and vowed to expel the Russians from the region. That proclamation effectively constituted the defeat and eclipse of those predominantly Chechen moderate resistance figures, both in Chechnya and abroad, who advocated an independent Chechen state. The amirs (commanders) of the various fronts pledged loyalty to Umarov; several of them have also authored manifestos, posted on the website kavkazcenter.com, on the ideology of jihad.
Religious Conviction
Yet it remains debatable how many of the men who continue to join the resistance ranks do so purely out of religious conviction. This may hold true for law-abiding young Muslims in the Kabardino-Balkaria Republic (KBR) and Daghestan who have for years been subjected to persistent harassment and victimization by police. (In December 2007, kavkazcenter.com quoted unnamed KBR officials as estimating the number of young men who had joined the resistance over the past two years at over 500. The population of the KBR is a little over 901,000.)
The abortive Nalchik attacks nonetheless marked a turning point in terms of military strategy.
But other political and economic factors may also be in play across the region, including the conscious rejection of a corrupt political system and the lack of employment opportunities. In a prescient analysis, presidential envoy to the Southern Federal District Dmitry Kozak warned then-Russian President Vladimir Putin in the early summer of 2005 that high-level corruption, clan ties, cronyism, incompetence, economic stagnation, unemployment, and poverty in the North Caucasus could lead to a sharp rise in radicalism and extremism across the entire North Caucasus and parts of Stavropol Krai.
Some of the young Ingush who participated in the June 2004 attacks said at the time that they joined the resistance after their male relatives disappeared without a trace after being arbitrarily detained by local security services. In Chechnya, dozens if not hundreds of men, and some women, still join the resistance forces every year. Threats by Chechen Republic head Ramzan Kadyrov to hold responsible the parents of young men who do so have failed to stem the outflow. "The New York Times" reported on September 29 that the Chechen authorities have launched savage reprisals, such as torching the homes of fighters' families. The paper also quoted Grozny Mayor Muslim Khuchiyev, a close associate of Kadyrov, as warning that the authorities will not permit families to bury slain insurgents.
The abortive Nalchik attacks nonetheless marked a turning point in terms of military strategy. Since then, the resistance has eschewed spectacular large-scale operations in favor of a lower-level war of attrition targeting primarily local police and security personnel, but also increasingly local government officials and representatives of the pro-establishment clergy.
There are several possible explanations for that decision. The first is that the heavy casualties suffered by the Nalchik attackers, and the large number (more than 100) of innocent civilians injured in the crossfire highlighted the risks of launching such attacks by largely untrained fighters in an urban environment.
The second is the generational change within the upper echelons of the resistance command following the deaths of Maskhadov, in March 2005; of his successor, Abdul-Khalim Sadullayev, in June 2006; and of Basayev, in July 2006.
Attacks On A Grand Scale
Maskhadov had repeatedly impressed on his men the need to abide by the Geneva Conventions and to avoid civilian casualties. Basayev was the last senior field commander with tactical experience in planning and implementing attacks on a grand scale. It was Basayev who masterminded the Budyonnovsk hostage taking in June 1995; multiple attacks in June 2004 on police and security facilities across Ingushetia; and the Beslan school hostage taking in September 2004. He also claimed responsibility for the October 2002 hostage taking at a theater in Moscow.
True, Umarov, now aged 44, who succeeded Sadullayev as Chechen president and resistance commander in June 2006, is a veteran of the 1994-96 war, during which he fought under, and presumably learned much from, Basayev. But the remaining commanders of the various fronts and sectors are men in their 20s and early 30s. With the exception of the Ingush Amir Magas (Akhmed Yevloyev), who took part together with Basayev in the attacks in Ingushetia four years ago, their combat experience is limited to small-scale ambushes and hit-and-run operations. Only in Chechnya does the resistance still periodically mobilize up to several hundred fighters to take on local armed units loyal to Kadyrov.
Finally, the resistance has demonstrated it is capable of inflicting comparable casualties at far less risk to its own men by systematically targeting either police patrols or small groups of police or Russian troops. The death toll among police, Russian Interior Ministry forces and other security personnel in Ingushetia since January this year has already exceeded 50.
RFE/RL Russia Report

SUBSCRIBE For news and analysis on Russia by e-mail,
subscribe to "RFE/RL Russia Report."
RFE/RL Caucasus Report

SUBSCRIBE For weekly news and in-depth analysis on Armenia, Azerbaijan, Georgia, and Russia's North Caucasus by e-mail,
subscribe to "RFE/RL Caucasus Report."