BAKU -- Isakhan Ashurov is one of the most prominent defense lawyers in Azerbaijan, yet he has very few successful cases in his portfolio.
In fact, most of his clients are serving prison terms.
"The number of cases I have lost in Azerbaijani courts is not important to me," Ashurov says, "since I know the verdicts are decided before the cases have been launched."
What matters, he says, is "whether I am able to defeat the propaganda machine of the government and save the reputation of the person [I am defending], who is facing not only a corrupt court but also a mostly government-controlled media, which tries to justify the unfair court decisions. It is much more important to win the process, no matter what the sentence is."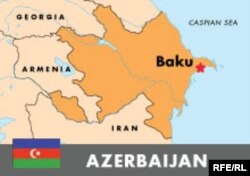 Azerbaijan may be rich in oil and natural gas, but it's seriously lacking in its commitment to democratic practices, human rights, free speech, and an independent press.
In its latest country reports, the U.S. State Department criticizes the former Soviet republic for pervasive corruption in the judiciary and in law enforcement, and for its deteriorating commitment to media freedom, freedom of assembly, and political participation.
In such an environment, Ashurov, currently chairman of the League for Independent Lawyers, often defends controversial, high-profile clients who have been turned away by other lawyers, either because there's no money to be made in their cases or because of possible risk to their careers.
Or their lives.
Ashurov, 53, routinely receives death threats due to his choice of clients and his willingness to speak out.
A former police chief famous both for his honesty and his short temper, Ashurov has also become known as a critic of corruption in law enforcement, a stance also unlikely to win him many friends.
"Who likes Ashurov?" asks political analyst Hikmet Hajizadeh, director of the pro-democracy FAR Center. "Almost everyone does, except those who have heard from him the truth to their face. He is unlikely to compromise his principles. These days, there is a deficit of these type of people. But if we have too many Ashurovs, the system may collapse."
Angered Muslims, 'Betrayed' The Motherland
Ashurov recently took on two controversial, and challenging, cases.
In April 2007, he defended two Azerbaijani journalists, Rafiq Tagi and his editor, Samir Sadagatogulu, who were accused of insulting Islam and the Prophet Muhammad in an article titled "Europe and Us." An Iranian ayatollah issued a fatwah against him.
Ashurov acknowledges the article was offensive, but says, "I believe journalists should not be put in prison for what they've written."
Who likes Ashurov? Almost everyone does, except those who have heard from him the truth to their face.
Tagi was found guilty and is now serving a three-year prison sentence. Sadagatogulu was sentenced to four years in prison. Both men were pardoned by President Ilham Aliyev on December 21, 2007.
In another media-freedom case, in May 2007, Ashurov defended Eynulla Fatullayev, editor of the Russian-language weekly "Realniy Azerbaijan." Fatullayev was accused of insulting the country's military forces by publishing an interview with an Armenian military officer, who accused Azerbaijani forces of responsibility for a 1992 massacre of hundreds of ethnic Azerbaijani civilians in the settlement of Khojaly during the Nagorno-Karabakh conflict.
Fatullayev was found guilty and sentenced to two-and-a-half years in prison.
He was subsequently sentenced by another court to eight years in jail on charges he incited terrorism by noting that the Baku-Tbilisi-Ceyhan oil pipeline could be targeted if Iran was attacked by the United States.
"April and May [2007] were difficult," Ashurov recalls. "In one case, I had to face angry Muslims calling me a kafer [infidel] and accusing me of defending kafers. In another, a group of refugees, orchestrated by the government, called me a betrayer of the motherland for defending Eynulla Fatullayev."
A Man Of Integrity
Such insults against Ashurov amuse Chingiz Tanriverdiyev.
Tanriverdiyev served in the Azerbaijani police force for more than 20 years and first met Ashurov in 1978 when Ashurov was a police investigator in the district of Qazax, on the border with Georgia. Tanriverdiyev served under Ashurov when the latter became Qazax police chief in 1992, just as the war over Nagorno-Karabakh was escalating and many villages in the district were coming under fire.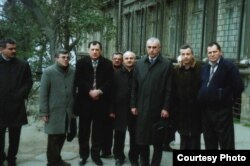 Ashurov (third from right) poses outside a Baku courtroom in April 2007 with Rafiq Tagi's brothers (on his left and right) and other friends and colleagues of the defendant.
Tanriverdiyev says Ashurov made it clear to his officers that he would not tolerate violence against civilians, regardless of their ethnicity.
"I remember his first conversation with us as police chief in 1992, when he said he wanted us to help restore the image of the police force," Tanriverdiyev says. "After the war started, he said he would punish anyone who harmed Armenian civilians. He would say, 'You fight against those who have arms.' "
Ashurov remembers the case in 1992 when one OMON special police officer brought him a "gift."
Isakhan is one of those who do not tolerate injustice. Sometimes he reacts with his right fist, but he is much more successful in legal battles.
"It was a human ear in a cigarette pack," Ashurov says. "I found out that the officer had cut off the ear of an Armenian peasant and had brought the person, with his bleeding head, as a prisoner. He explained that this was the least he could do in return for what Armenian soldiers had done to Azerbaijani villagers. That was awful.
"I apologized to the peasant in front of the whole police staff. The person who did that was arrested, so no one would ever dare to think about harming civilians in retaliation for what the armed forces had done."
Even today, many citizens in Qasax say Ashurov's tenure as chief was the only period when they really respected the police.
"I remember that when we'd ask our children who they would like to be in the future, they would answer, 'I will be Ashurov,' " says Qazax resident Ilaha Gadimova. "Not the police, [but] Ashurov."
"The image of police is very bad in the country," says Shahbaz Khuduoglu, editor in chief of "Law" magazine. "To many, a policeman is the person who beats up the opposition, takes the bribe, and never helps to solve a problem. So it is difficult for a police officer to establish a good reputation in Azerbaijan. But Isakhan Ashurov managed to do so."
'Definition Of A True Public Servant'
Isakhan and Shahla Ashurov's marriage in 1981 was an arranged one. After being introduced to each other by their families, Shahla says she found Isakhan to be kind and honest. Later, when the twins Ayan and Kanan were born, in 1982, Shahla says Isakhan revealed himself to be a caring father. However, she says, "never in his life, in a choice between his principles and the family's benefit, was [a decision] made in the family's favor."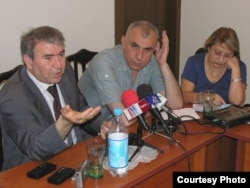 Ashurov with Leyla Yunus (right), chairman of the Institute for Peace and Democracy, and opposition deputy Jamil Hasanli at a meeting in Baku of human rights activists on the issue of political prisoners.
The couple also has a daughter, Turan, 22, and a son, Tahsin 21. Tahsin, who is currently studying International Studies at the City University of New York, says the family never used Ashurov's connections to gain special treatment or privileges.
In fact, Ashurov seems to go out of his way to be tough.
In December 2006, when Tahsin returned home after two years away, his father did not hug him, but only shook his hand.
When Kanan graduated from university and was looking for a job, Ashurov told him, "A diploma in international relations does not mean you are too good for a regular job." Kanan worked at a furniture factory until he found a better job.
"He never treated his children like the way other parents would in Azerbaijan," Tahsin says. "Our choice is more important to him than his responsibility. He would talk about the importance of education, but he never told us to make good grades. I have learned a lot of manners from my father, by observation mostly."
"He has standards, and we want to live up to them," says Kanan, 25.
I remember that when we'd ask our children who they would like to be in the future, they would answer, 'I will be Ashurov.' Not the police, [but] Ashurov.
Shahla is proud of her husband, but says she has prayed many times, asking God to make him less idealistic.
"Having four children is a challenge," she says. "I want to have a decent life. I want to give my children a decent living. When I complain, he says everything will be fine. Even when we had money, he would never allow me to buy jewelry. He said, 'Don't you see how people suffer from poverty? Why should we live differently from others?' I argued, but he managed to have the children take his side."
The family's main concern today is that Ashurov spends his weekends visiting former and current clients and journalists in prison.
"He comes home tired and carries [with him] all of the problems of the people suffering in prison," his wife says. "When we say he needs to be home, he says we would not ask that if we knew how much he is needed there, by those people."
Shahla says she knows her husband is sacrificing lucrative commercial jobs in order to focus on human-rights cases. "He is supporting society by defending democrats for free," Shahla says.
Tahsin says, "To me, my father is the definition of a true public servant, who also happens to live with us."
Takes Injustice Personally
Ashurov was born and grew up in Georgia -- one of some 600,000 Georgian Azeris -- and attended Baku State University, where he is remembered as an outspoken student.
"He refused to learn communist [theory]," says Elton Guliyev, an Azerbaijani defense lawyer and a classmate of Ashurov's. "In 1973, it was very dangerous, but Isakhan stood up and said that this was a fairytale and he was not going to waste his time on this subject."
In 1977, Guliyev recalls, he and Ashurov, while doing military service after university, were sent to Banka, a desolate island in the delta of the Kura River.
"Isakhan would never complain about the heat, which would reach 50 degrees Celsius, or the lack of drinking water, but he would always talk about the unfair punishment of soldiers," Guliyev recalls.
"Once," Guliyev continues, "he came back from a holiday and found out that I and some others were in the guardroom after being arrested several days earlier. He beat up several guards and released all the prisoners."
Ashurov recalls one case during his tenure as police chief when he lost his temper and used excessive force. "The person I beat up was a pimp who used to sell teenage girls to men, who would then rape them," Ashurov says. "I caught him at the very moment when the victim was being raped. I lost control."
Hajizadeh of the FAR Center describes Ashurov as someone who feels physical discomfort in the presence of injustice. "Isakhan is one of those who do not tolerate injustice," he says. "Sometimes he reacts with his right fist, but he is much more successful in legal battles."
Image As A 'Political Lawyer'
Ashurov's reputation as a lawyer precedes him. Colleague Elton Guliyev says many potential clients simply don't consider hiring Ashurov.
"Some have been told that if Ashurov appears in court, [their] case will be considered political," Guliyev says. "Besides, in most cases, well-paying clients are looking for a lawyer who is able to negotiate bribes because people do not believe that the legal mechanisms work in the courts."
He never treated his children like the way other parents would in Azerbaijan. Our choice is more important to him than his responsibility.
Ashurov's image as a "political lawyer" has been built not only on the cases he has chosen to argue. Since 1996, he has been an outspoken member of Musavat (Equality), Azerbaijan's main opposition bloc.
Ashurov came under fire in the party when he defended Farhad Aliyev, Azerbaijan's former minister of economic development. Aliyev was arrested in October 2005, shortly before parliamentary elections, on charges of attempting a coup. He was sentenced to 10 years in prison in October 2007 for economic crimes.
"When Farhad Aliyev was in power, he was one of those who Ashurov was opposed to, but now he is defending his rights," says Hajizade. "He is not defending Farhad Aliyev as a person. He is defending his rights."
'He's Gained Our Respect'
Ashurov's opponents in the courts are reluctant to talk about him publicly, but off the record they are quick to praise his legal acumen.
One official in the State Prosecutor's office calls Ashurov a tough opponent. "We have to admit that he's gained our respect," he says. "He knows what he's talking about, but sometimes he goes too far quoting the European Convention on Human Rights." All 47 member states of the Council of Europe, including Azerbaijan, are signatories of the Convention.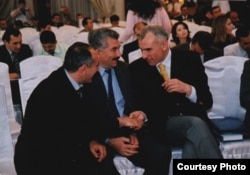 Ashurov (right) attends a meeting of the Lawyers Forum, an independent organization aimed at instituting reforms in Azerbaijan's judicial system.
Ashurov has filed a dozen cases to the European Court of Human Rights (ECHR) in Strasbourg.
The first, in 2005, was against the government of Azerbaijan on behalf of Mahira Muradova. Muradova was one of thousands of activists who went to Baku's Azadliq Square on October 16, 2003, to protest the results of the country's controversial presidential election. The vote saw former President Heydar Aliyev's son, Ilham, assume the presidency in a landslide victory criticized as falling short of international standards.
Muradova was injured by riot police and lost one eye. The case is under consideration. A decision is expected very soon.
The ECHR is also considering the cases of the journalists Tagi, Sadagatoglu, and Fatullayev.
Ashurov says the ECHR is "where the battle for justice ends."
"I hope one day," he says, "that the authorities will understand there is an institution higher than the corrupt court system in Azerbaijan."
About "On The Front Lines"
"On The Front Lines" features in-depth profiles of men and women in RFE/RL's broadcast area who have dedicated their lives to the causes of freedom, democratic values, and human rights.
More
What Do I Believe -- Isakhan Ashurov
What Do I Believe?
We asked Isakhan Ashurov about the core beliefs that guide him in his life and work. Play
Side Lines -- Isakhan Ashurov
Side Lines: Isakhan Ashurov
Favorite books or authors?
"The Moon and Sixpence" by William Somerset Maugham and "Ali and Nino: A Love Story" by Kurban Said. I love books more than authors.

How do you relax?
Reading, walking, sports. When I am angry, I relax by walking.


When will you know you've succeeded?
I succeed every hour, every day. Success is not about global tasks. Success is the process of struggle, the competition of ideas.

What is your worst vice or extravagance?
I tend to believe people with no reason.
What is your biggest fear?
I don't know. I just know that there is nothing I am afraid of losing.


What was the best day of your life?
I never separate days between good one and bad ones.
What is your biggest challenge or obstacle?
Injustice and conformism; slave psychology.


Where do you see yourself in 10 years?
Where God decides. I see myself working for human rights, in the struggle for equality and democracy.


What do you wish you were better at?
I would like to be more kind, to learn foreign languages, to be able to read more, to have more time for sports, and to dress better.


What is your greatest regret?
In the Soviet period, I regret that I arrested many people due to laws that were in place at the time. Those laws were not fair.
Making Contact -- Isakhan Ashurov
Want to get in touch with Isakhan Ashurov? Here's how:

E-Mail: isakhan@azeurotel.com

Address: 87/25 Neftchiler Avenue
Baku
Azerbaijan