RFE/RL Russian Service correspondent Veronika Bode spoke to Muscovites about their view of Russia's place in the world.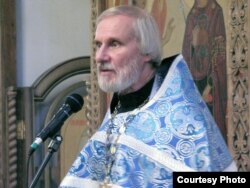 Aleksandr Borisov, priest, Moscow's Church of Kosma and Damian:
"What does Russia want to become? Two Russian empires have already collapsed: one in 1917, which led to millions of victims, and the other one in 1990. [Does Russia want to] create another empire, so it collapses again?
"We need to think not about a sphere of influence, but about working together to make people's lives better, combatting terrorism and other senseless evil and destruction. I think this is a much more productive path for Russian, and a much better alternative to trying to undo the bloodless dissolution [of the Soviet Union] in 1991 and restore something like [the Soviet Union] now."
Fyodor Rovinsky, driver:
"In spite of everything that has happened to our country in recent years, despite being picked on and slandered, despite the war that we had and other internal troubles, our country has made the right decision, and that is important. It is time for Russia to rise from its knees after all. We should simply be able already to stand up for our interests.
"It's obvious that Georgia's government is following orders from the outside in its policies. Of course, it is in my interests not to have foreign missiles stationed around my borders. One should be a patriot of one's own country. Maybe Russia has its shortcomings; many things are not the way they ought to be. But one should always be proud of one's country. It's very alarming for me as a Russian to hear about the current events in the international arena."