Chechen Republic head Ramzan Kadyrov has called for police and security forces in Chechnya, Ingushetia, and Daghestan to coordinate their efforts to hunt down and kill Islamic militants. But Daghestan is reluctant to comply, while some analysts have questioned how effective such coordination would be.
Is Kadyrov's proposal part of a long-cherished desire to extend his control to Ingushetia? Or is he simply trying yet again to demonstrate to Moscow that he personally holds the key to stability in the North Caucasus?
In mid-April, Kadyrov hailed the
announcement
of the formal end of the "counterterror" operation in Chechnya as evidence that "we have won a victory in the battle with Wahhabism and terrorism." But just weeks later, on May 17, Kadyrov declared that it is imperative for the Interior Ministries of Chechnya, Ingushetia, and Daghestan to coordinate their efforts to fight "militants" and "illegal armed formations."
The apparent catalyst for Kadyrov's U-turn was a shoot-out late on May 16 near Alkun, in the extreme west of Chechnya close to the border with Ingushetia and North Ossetia, between Russian troops and a group of up to 50 militants believed to have just entered Chechen territory from Ingushetia.
Over the past two years, the North Caucasus resistance has scaled down its attacks in Chechnya while intensifying its activities in Ingushetia and Daghestan. Consequently, the number of resistance fighters based in Chechnya may well be only a fraction of the total resistance strength, although it is almost certainly higher than Kadyrov's most recent estimate of 50-70 fighters. Moreover, both the commander and the deputy commander of the North Caucasus resistance forces are Ingush, not Chechens.
The day after the Alkun shoot-out, Kadyrov travelled to Magas, the capital of the Republic of Ingushetia, for talks with his Ingushetian counterpart, President Yunus-Bek Yevkurov. Those talks culminated in the announcement that from now on, the two republics' Interior Ministries will coordinate their efforts to hunt down and kill resistance fighters.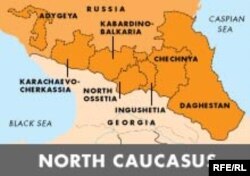 Kadyrov named his close relative, State Duma Deputy Adam Delimkhanov, to oversee those coordinated actions. Interpol has issued an international arrest warrant for Delimkhanov in connection with the apparently unsuccessful attempt to murder a prominent former pro-Moscow Chechen military figure.
Until now, police and security forces in each North Caucasus republic have (at least theoretically) confined their activities to their own territory, although there have been several notorious violations of that unwritten rule by Chechen police and security forces. For example, in the summer of 2007, Chechen security personnel abducted two young Ingush cousins in Nazran and transported to them to Chechnya where they were beaten, and then released.
Ingushetian Interior Ministry spokeswoman Madina Khadziyeva
said
on May 20 that the aim of the ongoing counterterrorism operation in western Chechnya is to destroy totally "illegal armed formations" that, she said, include a number of foreigners, among them citizens of Azerbaijan. But that may not necessarily be Kadyrov's primary objective.
Announcing on May 17 the agreement to coordinate the efforts of Chechen and Ingushetian law enforcement agencies, Kadyrov reportedly added, "I have been waiting for this day for a long time." That comment is open to several interpretations, none of which bode well for Yevkurov.
In the summer of 2006, one of Kadyrov's closest political allies floated the idea of combining Chechnya, Ingushetia, and Daghestan into a single federation subject. Then-Ingushetian President Murat Zyazikov rejected that proposal outright, and Kadyrov swiftly distanced himself from it.
But in summer 2007, Kadyrov accused Zyazikov of being unable to rein in "criminal elements," and he affirmed Chechnya's readiness to offer assistance to the "fraternal Ingush people" in restoring "order." Kadyrov repeated that offer of help in an interview published on September 10 in "Komsomolskaya pravda," and again on September 15 during a meeting in Grozny with Federation Council Chairman Sergei Mironov.
Kadyrov has almost certainly been monitoring closely Yevkurov's efforts since he was named president seven months ago to halt or even reverse the spiraling violence in Ingushetia. After an initial lull late last year, attacks by Islamic militants on police and security personnel and arbitrary reprisals by the latter against suspected militants and their families have again become a daily occurrence.
Kadyrov may have concluded that the time has come to highlight Yevkurov's inability to cope with the violence in the hope of persuading Moscow that, given the chance, he and the security forces subordinate to him could do so far more effectively. Kadyrov stressed on May 17 that the joint operation is to be carried out primarily by police officers from the two republics, rather than Interior Ministry personnel deployed temporarily to Ingushetia from elsewhere in the Russian Federation.
North Ossetian President Taymuraz Mamsurov issued a
statement
on May 18 welcoming the decision by Kadyrov and Yevkurov to join forces in "restoring order" in the North Caucasus. That reaction is logical insofar as the involvement of Chechen personnel in punitive operations in Ingushetia could serve to dilute the conviction of many Ingush that North Ossetian security forces engage in the abduction and killing of young Ingush men in retaliation for the long-standing Ingush territorial claims on North Ossetia's Prigorodny Raion.
By contrast, Daghestan's leadership initially ignored Kadyrov's call for three-way cooperation. Then on May 20, Interior Ministry spokesman Colonel Mark Tolchinsky told
kavkaz-uzel.ru
that his ministry knows nothing about that proposal. He said his ministry "can fight terrorists and extremists without Kadyrov's help," and implied that the methods employed to do so are more selective and persuasive and less brutal than those of his Chechen colleagues. The counterterrorism operation launched in western Daghestan last week, however, centered on a route that resistance fighters use to enter Daghestan from Chechnya.
Konstantin Kazyonin, deputy director of the Russian news agency Regnum, pointed out on May 18 that Daghestan's President Mukhu Aliyev tends to coordinate his actions with Moscow, rather than with the leaders of other North Caucasus republics. At the same time, Kazyonin also noted that Kadyrov can, and on occasion does, simply ignore Aliyev and deal directly with the heads of those districts of Daghestan that border on Chechnya. Those leaders include Khasavyurt Raion head Saygidpasha Umakhanov, long viewed as the head of a putative anti-Aliyev alliance.
Whether coordinated actions by the Chechen and Ingushetian police will succeed in stemming the violence in Ingushetia is more than questionable. In a May 10 interview with
Ekho Moskvy
, Ingush oppositionist Magomed Khazbiyev warned that "as long as the security forces and death squads continue to force their way into people's homes and take away young lads who then disappear without trace, as long as they go on shooting young men on the street in broad daylight, this violence will continue. There will be counterattacks, bombings, acts of terrorism, and young men will continue to head for the forest" to join the ranks of the armed resistance.