Well, I guess it's still too early to start counting our unhatched chickens, but we still need to take note of the fact that at this moment -- after eight years of Communist monopoly -- that party has lost control over power.
Forty-eight seats for the Communists -- and considering the way the vote from abroad seems to be breaking, that figure might be 47 -- as opposed to the 60 they had in the last legislature is a far cry from the 80 percent support that President Vladimir Voronin was bragging about just yesterday.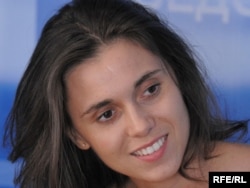 Natalia Morari is blogging for RFE/RL's Moldovan Service
Of course, we can't say that these elections were fair. After all, the Communists controlled all the main media in the country. There were problems with the voter lists. Moldovans abroad were practically disenfranchised. But despite all this -- despite the fact that this was the dirtiest election campaign in Moldova's history, despite the documented violations -- the Communists were unable to achieve the victory they had promised.
Now the question on everyone's lips is: Which side are you on, Marian Lupu? If it turns out -- God forbid -- that the Communists together with Lupu's Democratic Party control the magic 61 seats in parliament, will Lupu be able to resist the temptation to realize his ambition of becoming president?
The opposition, with which he has so far promised to form a coalition, cannot offer him that chance yet. But an "opposition coalition" that includes the Democrats would be able to choose a prime minister, form a government, and select a speaker of parliament. That means that before the next snap elections, which would be held early next year, the opposition would have time to create the conditions for holding the first-ever free and fair elections in the country.
In any event, the Communists can no longer claim that the youths who took to the streets in April were deceived by the opposition.
You can deceive a few thousand people, maybe, but you can't deceive all the voters who this time refused to cast their ballots for the Communists.
I congratulate all of us.