The political situation in Daghestan is arguably both more complex, and more difficult to comprehend, than that in any other federation subject. That complexity derives less from the ongoing battle against the Islamic resistance than from the constant jockeying for power and influence among and within the largest of the republic's 14 titular nationalities: the Avars, Dargins, Kumyks, and Lezgins.
That rivalry has emerged as a key factor in the ongoing deliberations over whether incumbent President Mukhu Aliyev should serve a second term, and if not, who should succeed him.
On November 19, United Russia Chairman Boris Gryzlov presented to Russian President Dmitry Medvedev a list of five potential presidential candidates. (The usual number is three.) That list includes Aliyev, an Avar, whose term expires in February 2010, but not two other prominent political figures who have been identified as possible successors to him: Makhachkala city Mayor Said Amirov (a Dargin), and the reclusive Moscow-based billionaire Suleiman Kerimov (a Lezgin). Three of the candidates were nominated by the Daghestan chapter of United Russia, the remaining two by the party's General Council.
In addition to Aliyev, the other four candidates are: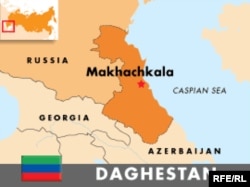 Magomed Abdullayev, a 48 year old Avar whom Aliyev named a deputy prime minister in late October. A lawyer by profession (he and Medvedev were fellow students at the law faculty at St. Petersburg University), Abdullayev has spent his entire career in academia and has little administrative experience. The lawmakers' jibe about candidates who lack experience may well have been aimed at him.
Magomed Magomedov, an Avar businessman who formerly represented Smolensk Oblast in the Federation Council, and is now an adviser to Federation Council Chairman Sergei Mironov. In addition, Magomedov is said to be on good terms with an impressive number of other senior Kremlin officials, including the first deputy head of the presidential administration, Vladislav Surkov. Political commentator Khadjimurad Kamalov
describes
Magomedov as experienced, exceptionally well-educated, pragmatic, and capable of making tough decisions.
Magomedsalam Magomedov, the only Dargin among the five candidates, is the son of Aliyev's predecessor as president, Magomedali Magomedov, and a former parliament speaker. His inclusion on the list is presumably pro forma, so there is at least one Dargin candidate given that, for whatever reasons, Amirov was omitted.
Saygidguseyn Magomedov, an Avar, heads the Daghestan subsidiary of the federal treasury. He too is said to have close ties to the Kremlin; specifically, he is believed to enjoy the support of National Security Council Secretary and former Federal Security Service (FSB) Director Nikolai Patrushev.
In addition, according to State Duma Deputy Khizri Shikhsaidov, he has a
profound knowledge
of Daghestan and its various ethnic groups. In the last years of Magomedali Magomedov's presidency, Saygidguseyn Magomedov enjoyed the support of a group of prominent local Avar leaders in northern Daghestan, including Khasavyurt Mayor Saygidpasha Umakhanov, who constituted the domestic opposition to Magomedov. Saygidguseyn Magomedov was on the shortlist of candidates to succeed Magomedali Magomedov in 2006.
At its last session for the current year, Daghestan's parliament
adopted
on November 26 by a vote of 46 in favor (51 deputies were present of the total 72) an appeal to Medvedev to hold further "consultations" about the most suitable candidate for the post of republican president.
The parliament members argued that not all five candidates listed possess the authority, experience, and the track record of achievement required by a future president. But within 24 hours, at least some of the deputies backed down: Nikolai Alchiyev, who heads the United Russia Daghestan parliament faction, posted a statement on the party's website late on November 27 affirming his conviction that President Medvedev will reach a "correct and wise decision."
This was reportedly only the second occasion since the abolition in 2004 of direct elections for federation subject heads that a regional parliament has taken issue with the list of possible candidates and
appealed
to the Russian president to amend it.
Behind-closed-door talks in Makhachkala on November 29 failed to yield a consensus on the most appropriate candidate, or on adding further names to the list. But on December 3, parliament speaker Magomed Suleymanov released a statement denying that the Daghestan parliament deputies' appeal to Medvedev was intended as an "act of defiance," and affirming that they will endorse whichever candidate Medvedev proposes.
Makhachkala Mayor Amirov, who is confined to a wheelchair as a result of injuries received during one of several failed assassination attempts, is an experienced manager and undoubtedly one of the most influential political figures in the republic. He is also one of a very few Daghestani politicians to criticize Aliyev publicly, most recently during the panic that gripped Makhachkala in August in the wake of a string of murders of police officers by the resistance.
But the municipal authorities' chronic inability to provide the city's population with uninterrupted energy supplies is a black mark against him: Russian Prime Minister Vladimir Putin
criticized
him for that failing two months ago.
Some Daghestani political figures nonetheless consider Amirov more capable of imposing some semblance of order than Aliyev, who is 69 and, rumor has it, a heavy drinker. In early November, Daghestan's deputies to the Russian State Duma reportedly sent a formal appeal to Gryzlov arguing that "only a decisive and influential politician with authority and trusted by the people" can change the situation in the republic for the better, They
named
Amirov as the most qualified candidate. But several of the eight deputies said to have signed the appeal subsequently denied any knowledge of it.
There is no consensus among experts as to the most likely decision. Some think Medvedev will back Aliyev for a second term rather than risk exacerbating the already precarious status quo; others believe that Medvedev might reject all five proposed candidates and instead opt for a relative unknown from the "power" ministries, as he did last year when selecting Yunus-Bek Yevkurov to succeed Murat Zyazikov as president of Ingushetia.
Cynics suggest that the amount any would-be candidate can pay in sweeteners to Kremlin fixers is more likely to influence Medvedev's final choice than candidates' qualifications.