BELGRADE -- In the autumn of 2004, the bodies of two Serbian soldiers were discovered on the grounds of the Topcider army base in the capital city.
Investigators hastily ruled that Dragan Jakovljevic and Drazen Milovanovic had died in a fight while standing guard, with one of the men shooting the other before turning the gun on himself.
Jakovljevic's father, Jarko, a farmer from the northwestern town of Sabac, has spent five years navigating the tangle of official reports and contradictory private claims on the incident.
He now says a conversation he had with cafeteria workers on the base at the time of the tragedy have convinced him that the young men were both killed by a third party -- possibly to protect the identity of a top-secret guest.
Jakovljevic says that one of the workers told him: "'I was a waiter. There was a party. Ratko Mladic was walking around freely. He went in and out of the guard brigade's headquarters."
The incident took place at a time when Belgrade was coming under intense international pressure to cooperate with The Hague war crimes tribunal.
Mladic, who as head of the Bosnian Serb forces was considered responsible for some of the worst atrocities of the 1992-95 Bosnian war, had been indicted by the tribunal for genocide and crimes against humanity. But he had eluded capture for years, despite frequent sightings in Belgrade and elsewhere.
Jakovljevic says the death of his son and Milovanovic came as the army elite were growing increasingly fractious. He suspects their killings may have marked the moment Serbia came closest to acknowledging that Mladic enjoys special protection from the country's special forces.
"I can't even imagine what they went through," Jakovljevic says. "They probably knew a lot about everything that was going on. Perhaps they even saw something."
Satisfying The Hague
Today, with Serbia
formally applying
to join the European Union, many are questioning whether the Balkan state will finally deliver Mladic to The Hague tribunal more than 14 years after his indictment.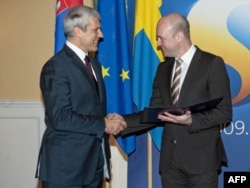 President Boris Tadic (left) submits Serbia's application form to join the European Union.
Serbian President Boris Tadic, speaking at a news conference in Stockholm today, pledged that his country would finally track down the two remaining Hague indictees, including Mladic. "If they are on Serbian soil, they will be captured," he said. "This is our obligation."
Tadic said his government would "continue all our efforts to finish that and to capture the last two indictees -- Mr. Ratko Mladic and Goran Hadjic. When that is going to be -- this is a hypothetical question. But we are doing everything that is possible to capture them tomorrow."
But if there were any remaining doubts that Serbian officials are physically unable to track down Mladic, as they frequently claim, they were largely dispelled last year when Radovan Karadzic was arrested in Serbia, where he had been living freely under an assumed identity.
Today, Serbian officials like war crimes prosecutor Vladimir Vukcevic suspect Mladic is doing much the same.
"I had my own suspicions that he was hiding in Serbia, based on certain facts that had come to light," Vukcevic says. "But no one can make that claim with certainty."
Experts believe the issue will prove an unavoidable stumbling block as Serbia pursues membership talks. Several EU countries, particularly the Netherlands, have routinely sought to withhold incentives from Belgrade until cooperation on Mladic is seen.
In a recent poll conducted by the Organization for Security and Cooperation in Europe (OSCE), 64 percent of Serbs said they opposed Mladic's arrest. Some 56 percent said they believe Mladic is not guilty of the crimes listed in The Hague indictment, and 72 percent said they had a negative view of The Hague tribunal.
Secretive Services
But on an official level, there have been signs of a shift. Rasim Ljajic, the president of Serbia's national council for cooperation with The Hague, recently announced he would resign from his post if Mladic were not arrested by the new year.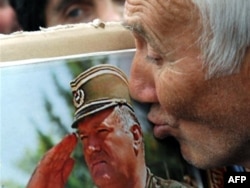 About two-thirds of Serbs oppose Mladic's arrest.
The pledge appeared to suggest confidence on the part of Ljajic and others that Mladic's whereabouts were known, and that he was vulnerable to capture. But seasoned observers say they doubt that Serbian officials will be able to break through the impenetrable defense that the Serbian secret police have built around Mladic.
Danica Draskovic, the wife of former Foreign Minister Vuk Draskovic, has spent years investigating the special services, which remain largely unreformed since the regime of Yugoslav President Slobodan Milosevic.
Draskovic's brother, opposition official Veselin Boskovic, was killed in a suspicious road accident in 1999, and her husband -- himself an opposition leader -- survived several assassination attempts. She spent years attempting to tie the incidents to the Milosevic regime, and claims his secret police continue to work in much the same way today as they protect Mladic.
"I am absolutely certain that Rasim Ljajic doesn't know where Ratko Mladic is, or when he might be arrested," Draskovic says.
"You have to believe me, though I know it sounds paranoid, that the secret services are in charge of Serbia. The people in power are being manipulated by them in one way or another."
Under Milosevic, the secret police were responsible for recruiting paramilitary fighters who became notorious for ethnic crimes and political assassinations in Bosnia-Herzegovina, Kosovo, and Croatia. The Balkans, which remain plagued by rampant corruption, are still controlled by crime networks created under Milosevic, and whose roots stretch even further back, to the Tito regime.
The Department of State Security, as it was known, was renamed the Bureau of Security and Information (BIA) after Milosevic's arrest in 2001. But it remains inscrutable to most Serbs.
Military analyst Ljubodrag Stojadinovic says the secret behind Mladic's 14 years of freedom lies inside this agency.
"I believe that the forces at work here are to be found precisely within these unreformed secret services, whose ideological imperatives and raison d'etre are essentially unchanged since the time of their creation," Stojadinovic says.
"It seems obvious that Ratko Mladic is not being projected by individual accomplices or groups ready to use force to defend him. Rather, he is being kept safe by the withholding of crucial information by precisely those operative centers that should be helping bring him to justice."

Hiding In Plain Sight
Since 2005, 13 people have been brought to trial for allegedly helping Mladic evade justice. But all were either acquaintances or relatives of the fugitive army commander -- none were from the BIA.
War crimes prosecutor Vukcevic says he does not rule out the possibility that certain members of the BIA may be responsible for actively protecting Mladic.
He says an investigation is currently under way involving allegations that members of the secret police had helped to hide him on a Serbian military base in June 2002 -- seven years after The Hague indictment, and 15 days after a warrant for his arrest was issued in Belgrade.
"We will do our best to find out what happened. We will determine who had been hiding him for two weeks or so," Vukcevic says. "Everything that is begun has to be brought to a close. All those found guilty will be charged and brought to trial."
Ratko Mladic dances at a wedding in the video footage broadcast by Bosnia's FTV.
The international community was outraged earlier this year when a Bosnian television station aired what it said was recent video footage of Mladic freely enjoying life with friends and family.
One video showed Mladic walking in the mountains and joking with his wife. Another showed him dancing happily at a local party attended by scores of guests. Experts at the time suggested some of the footage was no more than a year old.
Such incidents have led experts to dismiss speculation that Mladic, in fact, has sought refuge farther afield. A report this year, later discredited, speculated that Mladic was working as a diving instructor in Kenya. But military analyst Stojadinovic says he is certain that Mladic is much closer to home.
"If you recall, just prior to Radovan Karadzic's arrest there appeared to be strong and supposedly reliable indications that he was in fact hiding somewhere else, including Latin America," Stojadinovic says.
"In the end, it turned out that the very same people who had urged him to grow a beard and turned him into Dragan Dabic had also been the ones to turn him in."
In the end, Stojadinovic says, Mladic is likely hiding in plain sight -- and will only be captured when his protectors decide it is in their and Serbia's interest.
"I simply think that it is unavoidable that someone in the structures of power must know where Ratko Mladic is, and that's why Mladic always knows ahead of time when a search is authorized," Stojadinovic says.
"Experience shows that in the 25, 26 searches that have taken place according to my records, on every single occasion, Mladic was nowhere near the place being searched."