The three candidates in the preterm ballot on August 26 to elect a successor to deceased de facto Abkhaz President Sergei Bagapsh
signed a formal pledge
at the start of the election campaign last month to ensure the ballot is free and fair, and to refrain from unfair criticism of each other. And they have largely abided by that pledge in a closely fought campaign that most observers assume will go to a second-round runoff.
But the
publication by a Moscow newspaper
last week of allegations that one of the three, acting President Aleksandr Ankvab, served as a covert Georgian agent during the 1992-93 war has been widely construed as a deliberate violation of that pledge. Those allegations may rebound on one of Ankvab's rivals, even though there is no evidence that he played any role in their publication.
The three presidential candidates are:
Abkhazias Vice President Aleksandr Ankvab
Aleksandr Ankvab
Ankvab, 58, a career Interior Ministry official who served as prime minister during Bagapsh's first presidential term (2005-09) and since then as vice president. Dour, humorless, and sarcastic, Ankvab is nonetheless respected for his zero tolerance of crime and corruption. That single-mindedness is the most likely reason why he has been the target of no fewer than four assassination attempts in the past six years.
Ankvab is backed
by the ruling United Abkhazia party that dominates the republic's parliament and the Amtsakhara union of war veterans.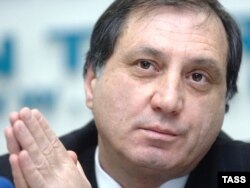 Sergei Shamba, Abkhaz foreign minister
Sergei Shamba
Shamba, 60, articulate and politically sophisticated, who during the 12 years he served as foreign minister tirelessly sought to persuade the international community to recognize Abkhazia as an independent state. But his track record as prime minister over the past 18 months has been less impressive.
Shamba's
presidential program
includes a pledge to completely rejuvenate the government bureaucracy to bring in "fresh blood," and dismiss anyone suspected of corruption, one reason why most youth organizations are supporting him. He also plans a
10-year program
to develop the agricultural sector. He is the most unequivocally pro-European of the three candidates.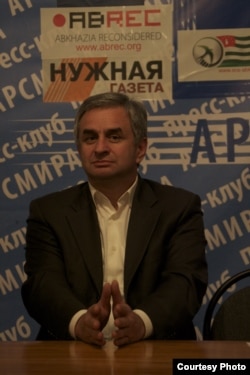 Raul Khadjimba
Raul Khajimba
Khajimba, 53, began his a career in the KGB, then served as defense minister and later prime minister under Bagapsh's predecessor as president, Vladislav Ardzinba. Moscow almost provoked a civil war by openly backing Khajimba against Bagapsh in the 2004 presidential ballot; the crisis was averted when Bagapsh and Khajimba
ran as a team
in the second round.
Khajimba stepped down as vice president in the summer of 2009, and reinvented himself as head of the radical opposition Forum of National Unity of Abkhazia. In that capacity, he coordinated repeated criticism of Bagapsh's allegedly over-conciliatory policies towards Russia. Observers say he has recently become more polished and measured and less strident.
The differences between the three candidates' programs are not huge, making the choice one between personalities rather than ideologies. All agree the republic's most pressing problems are striking the optimum balance in relations with Russia, and economic development to eradicate the lingering consequences of the postwar economic blockade imposed by Georgia.
Ankvab has gone furthest in reaching out to Georgia, but there was no official response from Tbilisi to his recent offer of talks without preconditions. All three recognize the need to address the current prohibition on the sale of real estate or land to noncitizens, despite fears by many Abkhaz that allowing such sales will push prices up far beyond their means.
RFE/RL's Ekho Kavkaza concluded that the first two weeks of the campaign were unique in terms of the intensive activity of the candidates, the balanced media coverage of their activities, and the fact that they
refrained from overly undermining each other
. In that respect, the campaign initially compared very favorably with elections in many CIS states. At a joint press conference in Sukhumi on August 12, the candidates even
agreed to stage televised debates.
The atmosphere has now been irrevocably poisoned, however, by the damning allegations of collaboration with Tbilisi leveled against Ankvab by former Georgian National Guard commander and Defense Minister Tengiz Kitovani. It was Kitovani who together with paramilitary commander Jaba Ioseliani forced the resignation in early January 1992 of Georgia's first elected president, Zviad Gamsakhurdia. In early March, the two men invited former Georgian Communist Party First Secretary and Soviet Foreign Minister Eduard Shevardnadze to return to Tbilisi to give desperately needed legitimacy to the new regime.
In mid-August 1992, Kitovani sent the National Guard into Abkhazia and launched an attack on the capital, Sukhumi, triggering a war that ended 13 months later with the loss of Georgia's jurisdiction over the breakaway region.
In his interview with "Moskovskaya pravda," Kitovani claims Shevardnadze co-opted Ankvab (then Abkhaz interior minister), who served as Tbilisi's undercover agent within the Abkhaz leadership for the duration of the war. The interview is accompanied by a facsimile of a directive, dated August 18, 1992, and bearing what appears to be Shevardnadze's signature, formally appointing Ankvab to the State Council of which Shevardnadze was then chairman.
Kitovani claims Ankvab systematically channeled information about Abkhaz troop movements to Shevardnadze over the next 12 months and facilitated Shevardnadze's legendary escape from Sukhumi just hours before the fall of the city in September 1993.
Efforts by RFE/RL's Georgian Service to contact Shevardnadze, who is reportedly seriously ill, for comment on Kitovani's allegations have been unsuccessful.
Ankvab's campaign staff initially stopped short of implicating Shamba. One of them was
quoted as saying
"Sergei Shamba is a decent man and I don't think this was done at his behest."
Shamba himself has
categorically denied
any part in the publication of Kitovani's revelations.
But on August 15, Shamba's campaign staff screened outside the Philharmonia building in Sukhumi a video clip in which Kitovani repeated his allegations. The audience of approximately 800 Shamba supporters called for a formal investigation. In an interview the following day with Interfax, Ankvab said he had known in advance that "Shamba's staff are preparing a provocation," and he
implicitly threatening
to discredit Shamba in turn.
Shamba denied that his campaign staff were engaging in "black PR." He went on to lambaste Ankvab for not responding to Kitovani's allegations and instead
accusing Shamba's camp
of "trying to destabilize the situation."
Khajimba for his part issued a
cautiously worded statement
appealing for calm, but not mentioning the Kitovani interview or the reaction it triggered.
Who, if not Shamba, used Kitovani to undermine Ankvab is open to speculation. In light of Ankvab's stated intention to seek rapprochement with Tbilisi, Moscow is the obvious suspect, despite affirmations by Russia's envoy in Sukhumi, Semyon Grigoriev, that Moscow does not have a strong preference for, and
will not seek to engineer
the election of, any of the three candidates.
How Kitovani's allegations are likely to impact on the outcome of the election is impossible to predict, given that none of the candidates currently appears to have sufficient support to garner the required 50 percent plus one vote needed for a first round win. Interfax on August 6
quoted a poll
commissioned by Shamba's staff as giving his support as 30 percent, compared with 26 percent for Ankvab and 8 percent for Khajimba.
The question of who orchestrated the Kitovani interview is therefore likely to overshadow the second-round runoff.