One morning, residents of Baku, famous for its lack of queuing, witnessed an oddity. A group of young people were setting up artificial lines in front of ATMs and bus stops, and patiently "waiting" for their turn and distributing educational leaflets to passersby (see video in Azeri
here
).
Counting on the power of example, these young people were trying to advocate standing in queues. This was an action held by a new youth group -- one aimed at positive change.
The group, also called Positive Change, grew out of the election campaign of a young candidate for the Azerbaijani parliament, Baxtiyar Haciyev (aka Bakhtiyar Hajiyev).
Haciyev, a Harvard graduate, went into the recent parliamentary elections with a campaign based on his U.S. experience and with the slogan of "Positive Change." He lost to a pro-government challenger in a process widely deemed fraudulent.
But unfrustrated by the defeat, around 50 young volunteers working for Haciyev's campaign decided to set up a new youth movement to continue their advocacy for much-needed positive change in Azerbaijan.
They wanted to preserve their unity and sincere relationships based on positive ideas, even after the election campaign ended, Mahmud Nasirov, a member of the group told RFE/RL's Azerbaijani Service.
Making Democratic Elections Possible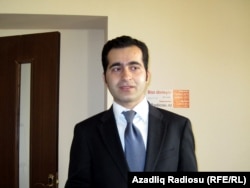 Baxtiyar Haciyev
The new group also allowed Haciyev to fulfill his dream of taking part in democratic elections -- he was the head of a commission that oversaw the elections to the group's ruling bodies.
"It is possible to conduct democratic elections in Azerbaijan. But for now, only at the level of a small organization," Haciyev said after the vote.
Moreover, Positive Change has chosen voting as a crucial element in their organization and put it behind every activity, whether to choose the ruling board or a name for an upcoming event.
It's no surprise it stresses elections and voting, as the group wants to revitalize people's perception of this democratic institution.
"We participated closely in the latest elections and we saw how a big part of society has lost its hope in elections, they don't come to vote," a member of Positive Change tells RFE/RL's Azerbaijani Service.
-- Ali Novruzov