Azerbaijani Theologian Faces 12 Years For Allegedly Spying For Iran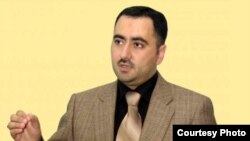 Two years after he was first arrested, the prosecution has demanded a 12-year prison term for respected Azerbaijani Shi'ite theologian Elsan Mustafaoglu on a charge of spying for Iran that he says was falsified and to which he pleads not guilty.
Mustafaoglu, 41, was sent by Azerbaijan's Education Ministry to study in Iran, and defended his dissertation in 2007. In 2001, he founded the public organization Spiritual Purity, and in 2005 a research center. He also anchored a series of religious programs on various Azerbaijani TV channels. After two years studying in Norway, he returned to Baku in early 2014 and worked with the Spiritual Board of Muslims of the Caucasus. Fellow theologian Ilqar Ibrahimoglu, who heads the Center for the Defense of Freedom of Conscience and Belief, characterized him as "a very worthy and decent human being."
Mustafaoglu was arrested in December 2014 and remanded in pretrial custody. His lawyer, Afqan Mamedov, said when the trial opened in July 2016 that his client was accused of having been recruited by Iranian intelligence in Iran in 1992. At that time, Mustafaoglu would have been just 17. Mamedov said Mustafaoglu did not travel to Iran that year, and the prosecution had not produced any evidence that he had. Mustafaoglu was subsequently said to have received unspecified instructions from Iranian citizens who travelled to Azerbaijan for that purpose. The prosecution's case, Mamedov said, was based on vague statements by eight people who had not witnessed any crime committed by Mustafaoglu.
Both Mamedov and human rights campaigner Oqtai Gyulaliyev make the point that Mustafaoglu was detained, and the charges against him formulated, by Azerbaijan's powerful National Security Ministry. Mamedov suggests that the ministry's staffers must have been supremely confident that the prosecution would not question the details of the case, knowing the origins of the charges. Mamedov and Gyulaliyev each allege that the motivation of the ministry personnel in question was to earn a promotion by virtue of having unmasked an Iranian spy.
Serious doubts about the competence and objectivity of the National Security Ministry surfaced in the fall of 2015, when Minister Eldar Mahmudov was fired, followed by some 20 other senior personnel, on suspicion of abuse of their official positions, illegal pressure on businessmen, and other crimes. Since then, the entire ministry and its operations have been subjected to intense scrutiny, and some 50 people identified as victims of wrongdoing on the part of its staff.
Elsan Hasanov, who heads the Center for Monitoring Political Prisoners, notes that Mustafaoglu would not be the first person to face apparently fabricated and unsubstantiated charges of spying for Iran. He recalled the trial in 2007 of 15 members of a group headed by Said Dadashbeyli who were found guilty of plotting a coup d'etat at the behest of Tehran, and jailed for up to 14 years.
The views expressed in this blog post do not necessarily reflect the views of RFE/RL
About This Blog
This blog presents analyst Liz Fuller's personal take on events in the region, following on from her work in the "RFE/RL Caucasus Report." It also aims, to borrow a metaphor from Tom de Waal, to act as a smoke detector, focusing attention on potential conflict situations and crises throughout the region. The views are the author's own and do not represent those of RFE/RL.