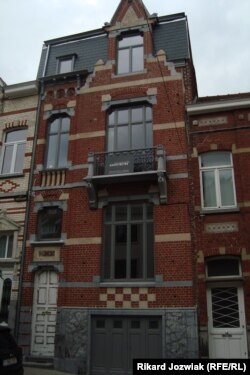 Pyotr Wrangel's former home in Brussels
No, it's not
Will Smith
, and Brussels is a far stretch from the luxurious Los Angeles suburb.
But on Avenue Bel-Air in the southeastern part of Belgium's capital, lived and died one of the best-known Russian generals, Peter Wrangel. Nicknamed the "black baron," Wrangel commanded the anti-Bolshevik White Army during the latter stages of the Russian Civil War and evacuated the remnants of his forces from Crimea to Constantinople in 1920.
Seen by many as the leader of the Russian opposition in exile, Wrangel tried in vain to assemble a new army to attack the newly created Soviet Union during his years abroad. He finally settled in Brussels in 1926, like many other White Russian émigrés, but died a very sudden death two years later.
This prompted speculation that persist to this day that he was poisoned by his butler's brother, who lived in the household some time before the general's demise. The brother worked as a Soviet sailor, and that two of Wrangel's predecessors were abducted by Soviet agents a decade later further fueled the myth surrounding the general's death.
Today, there is not even a commemorative plaque on the pittoresque three-story building that now houses an architectural firm. Apparently, the old baron wasn't too happy with the house anyways, in which he had to cram in his whole extended family and a legless Cossack without any relatives who lived underneath the staircase.
--Rikard Jozwiak