The Week Ahead: April 19-25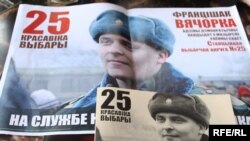 The Week Ahead is a detailed listing of key events of the coming week affecting RFE/RL's broadcast region.


MONDAY, April 19:


Azerbaijan: Turkish Foreign Minister Ahmet Davutoglu visits Azerbaijan.

Uzbekistan/Russia: Uzbek President Islam Karimov visits Moscow (to April 20).


TUESDAY, April 20:


Armenia/Russia: Armenian President Serzh Sarkisian visits Moscow.

Iran: Turkish Foreign Minister Ahmet Davutoglu visits Tehran for talks on nuclear dispute.

Serbia: The foreign ministers of Serbia, Spain and Turkey meet in Belgrade.


WEDNESDAY, April 21:


Azerbaijan: Chatham House hosts a discussion on the geopolitics of Azerbaijan.

Kazakhstan: Kazakh President Nursultan Nazarbayev pays a state visit to South Korea (to April 23).

Russia/Ukraine: Russian President Dmitry Medvedev and his Ukrainian counterpart Viktor Yanukovych meet in Kharkiv.


THURSDAY, April 22:

Georgia: Chatham House hosts a discussion on the Georgia's new strategic approach to conflict resolution.

World: Geneva hosts the sixth World conference on investigative journalism.

World: The 40th anniversary of the birth of Earth Day.

FRIDAY, April 23:


Iran: Iranian President Mahmud Ahmadinejad visits Zimbabwe, Uganda.


SATURDAY, April 24:

Armenia: Armenians worldwide commemorate the mass killings of 1915.

Russia: Russian Prime Minister Vladimir Putin visits Austria (Reuters).


SUNDAY, April 25:


Belarus: Local elections.
Background: Central Election Committee of the Republic of Belarus
About This Blog
Written by RFE/RL editors and correspondents, Transmission serves up news, comment, and the odd silly dictator story. While our primary concern is with foreign policy, Transmission is also a place for the ideas -- some serious, some irreverent -- that bubble up from our bureaus. The name recognizes RFE/RL's role as a surrogate broadcaster to places without free media. You can write us at transmission+rferl.org