Putin Names New Envoy for North Caucasus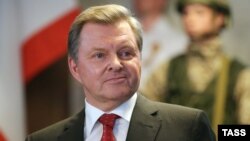 In a move first rumored in April, Russian President Vladimir Putin has appointed Sergei Melikov, an Interior Ministry forces lieutenant-general who for the past two years has served as presidential representative to the North Caucasus Federal District, as a first deputy director of the recently-created National Guard. At the same time, Putin named Oleg Belaventsev, a former career naval officer and Hero of Russia, to succeed Melikov as his representative to the North Caucasus.
For the past two years, Belaventsev, 65, has served as presidential representative to the Crimean Federal District, which Putin has now abolished as a separate entity and subsumed into the Southern Federal District.
Putin established the National Guard only a few months ago, on the basis of the Interior Ministry troops in which Melikov made his career, and appointed to head it First Deputy Interior Minister Viktor Zolotov, one of his former bodyguards. Its personnel number 350,000-450,000.
Although Putin defined the National Guard's primary tasks as combatting terrorism and organized crime, it is clearly intended, as Russia analyst Mark Galeotti points out, to serve as Putin's personal Praetorian Guard, maintaining public security and stamping out disorder and any manifestations of disaffection among either the public at large or within the ruling elite.
Melikov's promotion to serve with the National Guard is interesting for three reasons. The first is the North Caucasus connection. Zolotov has been identified as a former patron of acting Chechen Republic head Ramzan Kadyrov, whose own private security forces have (at least in theory) been subsumed into the National Guard.
Interior Ministry Troops Colonel General Sergei Chenchik, who was named in April as one of Zolotov's deputies, served since 2010 as commander of the Interior Ministry Troops deployed to the North Caucasus. According to the independent Daghestani weekly Novoye Delo, Chenchik is reportedly one of a very small number of top Interior Ministry personnel whom Kadyrov respects. (Kadyrov himself holds the rank of Interior Ministry major general.)Although Melikov focused far less on Chechnya than on Daghestan, he, too, has cordial relations with Kadyrov.
The second is just how little Melikov achieved during his two years in the North Caucasus. True, as he himself has pointed out, the threat of terrorism posed by the North Caucasus insurgency has diminished over that period. But that is primarily the result of two developments for which Melikov cannot claim credit: the eclipse of the insurgency as a military force following the death by accidental poisoning of its long-time commander Doku Umarov, and the parallel exodus of many fighters to Syria.
Basket Case Economy
The region's economy (admittedly the preserve of the federal Ministry for the North Caucasus) remains a basket case: the seven regions' combined state debt increased by 24 percent last year to reach 67 billion rubles ($1 billion). Corruption, too, is on the rise: 1,873 cases were reported in 2015, an increase of 11.6 percent over the previous year, resulting in financial damage to the state estimated at 4.4 billion rubles. Only 57 people -- 7.6 percent of the defendants in North Caucasus corruption trials in 2015 -- received prison terms.
Melikov's one undisputed triumph was his contribution to the preparations for the celebration in September 2015 of the 2,000th anniversary of the town of Derbent that, until he set up a working group to coordinate and expedite restoration work, were months behind schedule. Melikov's father was a Lezgin, the majority ethnic group in Derbent, which may partially explain his success in motivating (or intimidating) the local officials directly involved in the jubilee preparations.
Third, Melikov's new appointment will rekindle speculation about the political future of Republic of Daghestan head Ramazan Abdulatipov. For over a year, pundits have been speculating that Melikov would be named to succeed Abdulatipov, who turns 70 on August 4.
As for Belaventsev, his lack of first-hand familiarity with the North Caucasus may prove a disadvantage, especially in light of what one commentator termed the propensity of some unnamed local leaders to act without regard for either the law or the financial cost. On the other hand, he is said to be skilled at behind-the-scenes bureaucratic maneuvering.
Kadyrov, whom some analysts had earlier identified as a possible successor to Melikov as presidential representative to the North Caucasus, noted Belaventsev's "broad theoretical knowledge" and "considerable management experience." How the relationship between the two will develop remains to be seen.

About This Blog
This blog presents analyst Liz Fuller's personal take on events in the region, following on from her work in the "RFE/RL Caucasus Report." It also aims, to borrow a metaphor from Tom de Waal, to act as a smoke detector, focusing attention on potential conflict situations and crises throughout the region. The views are the author's own and do not represent those of RFE/RL.