Will Anger Over Apparent Rigging Of Constitutional Referendum Revive Support For Armenian Opposition?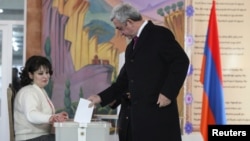 The two opposition groups that campaigned against the passage of sweeping constitutional amendments that will transform Armenia from a semipresidential into a parliamentary republic rejected the official outcome of a nationwide referendum in which, according to the Central Election Commission, voters approved the proposed changes by a ratio of almost 2:1. The two groups said on December 7 that the plebiscite held the previous day was falsified.

Former President Levon Ter-Petrosian's Armenian National Congress (HAK), which spearheaded the "No" campaign, demanded the annulment of the results in light of what its deputy chairman, Levon Zurabian, described as "mass falsification."

A coalition of four NGOs that deployed observers at polling stations likewise rejected the referendum, saying that it was marred by "an arsenal of fraud and abuses" and that the official results were rigged.

The more hard-line New Armenia Public Salvation Front -- which unites Zhirair Sefilian's extra-parliamentary movement 100 Years Without The Regime and the Zharangutiun party headed by U.S.-born former Foreign Minister Raffi Hovanissian, President Serzh Sarkisian's main challenger in the 2013 presidential ballot -- has launched a sit-in protest on Yerevan's Liberty Square.

Whether or not the official outcome of the referendum is a true reflection of voters' preferences, the low voter turnout (50.51 percent, officially) and the poor attendance at rallies convened over the past couple of months by the political forces opposed to the proposed changes testify to a profound apathy that is difficult to reconcile with intense popular dissatisfaction with and alienation from the Sarkisian regime.

At the same time, there were clear similarities between this referendum and earlier ones in 2003 and 2005. In May 2003, turnout was officially given as 52.1 percent, but only 50.5 percent of those who participated approved the proposed changes, less than the required minimum one-third of all registered voters, and the results were annulled.

Eighteen months later, in November 2005, turnout in a repeat referendum was said to be 65.33 percent, of whom 94.5 percent voted in favor. The turnout figure was rejected out of hand by the two dozen opposition parties that aligned to campaign against the proposed changes, who claimed the true figure was just 16.3 percent, and questioned by the handful of international observers present.
Opposition Marginalized

As noted above, this time around two separate opposition alignments campaigned against the proposed amendments. New Armenia called for a boycott of the referendum as part of a broader sustained campaign of civil disobedience that it hoped would culminate in a "revolution" and Sarkisian's resignation.

Attendance at its rallies in Yerevan ranged from a few hundred to a maximum of 1,000 people, whereas the mainstream "No" Front that united a number of opposition parties and groups -- including the HAK, the People's Party of Armenia, Founding Parliament, and the movement No to Plunder, formed to lobby against the energy price hike announced earlier this year -- reportedly attracted up to 1,500.

By contrast, in February 1988, Armenians converged on Yerevan in the hundreds of thousands in support of the popular demand for the Nagorno-Karabakh Autonomous Oblast, as it was then called, to be transferred from Azerbaijani to Armenian jurisdiction. Twenty years later, up to 100,000 people took to the streets to protest the perceived falsification of the presidential ballot in which Sarkisian defeated Ter-Petrosian.

Political analyst Aleksandr Iskandarian has pointed out that the marginalization of the opposition in recent years has proceeded in tandem with the steady entrenchment of President Sarkisian's Republican Party of Armenia, and the latter now dominates national politics to the point that "for the authorities to take demonstrators' demands seriously, you would need to bring at last half a million people out onto the street." That is approximately one sixth of the country's total population of 2.9 million.
Yet none of the various opposition groups currently seems capable of mobilizing more than a few thousand supporters at most.

Several factors have contributed to the current widespread unwillingness to engage in any kind of political activity. The first is that there is no single charismatic opposition figure capable of uniting disparate groups in a broad movement. Those opposition leaders who dominated politics during the first decade of this century, including Ter-Petrosian, Aram Sarkisian (no relation to Serzh), and Zharangutiun chairman Hovannisian, are increasingly perceived as spent forces.

The second is the widely held conviction, partly substantiated by criticisms voiced by successive international election observation missions, that every single election since 1998, whether presidential or parliamentary, was rigged, and that consequently it is impossible to bring about regime change peacefully, by means of a free and democratic ballot.
'People From Facebook'

What Manvel Sarkisian (also no relation to Serzh) of the Center for Strategic and National Research terms the resulting "paralysis of the election process" not only serves to discourage much of the population at large from participating in elections, let alone protests. It also affects opposition parties, which according to former presidential candidate Andreas Ghukasian of the civic movement Rise Up, Armenia see little point in drafting detailed and sophisticated manifestos with which to attract voters in an election whose outcome has, they firmly believe, been predetermined by the authorities.
As a further factor contributing to waning public faith in the opposition, New Armenia's Sefilian identifies its failure on several occasions in recent years to make a resolute push for power despite having mobilized tens of thousands of people, as Ter-Petrosian did in the spring of 2011.

In Ter-Petrosian's case, his forbearance may have been dictated by the desire to avoid a recurrence of the violent post-election clashes in 2008 between his supporters and police, in which at least 10 people died. Whether fear of police brutality still serves as a deterrent against participating in political protests is unclear.

Iskandarian contrasted the marginalization of the "traditional" opposition with the success of the mostly younger, middle class activists -- he calls them "the people from Facebook" -- who mobilized thousands of people in Yerevan in May-June to protest a proposed increase in electricity tariffs.

Iskandarian pointed out that many of those demonstrators were so young they were not personally affected by the planned price rise, as "it's their parents who pay the utility bills." The issue nonetheless served as a catalyst for a broader manifestation of discontent, but the organizers were unable to attract massive support from outside their own social group.
Iskandarian has nonetheless identified one issue that he says could instantly impel Armenians to take to the streets in protest, namely any threat to the current quasi-independent status of the Nagorno-Karabakh Republic. Whether the apparent rigging of the referendum outcome will serve the same purpose remains to be seen.
About This Blog
This blog presents analyst Liz Fuller's personal take on events in the region, following on from her work in the "RFE/RL Caucasus Report." It also aims, to borrow a metaphor from Tom de Waal, to act as a smoke detector, focusing attention on potential conflict situations and crises throughout the region. The views are the author's own and do not represent those of RFE/RL.