Chechen Supreme Court Targets Jailed Activist's Lawyer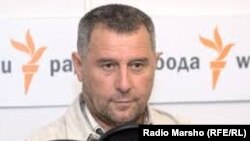 The Chechen Supreme Court reduced by two months on October 31 the four-year prison term handed down by a district court in July to Assembly of Peoples of the Caucasus chairman Ruslan Kutayev on a charge of illegal possession of drugs that human rights organizations are convinced was fabricated. At the same time, the Supreme Court formally requested the Investigative Committee to rule on whether statements made by Kutayev's lawyer Pyotr Zaykin about two senior Chechen officials are libelous.
Both Zaykin and Kutayev had said Chechen Republic Deputy Interior Minister Apti Alaudinov and presidential administration head Magomed Daudov had beaten Kutayev following his arrest in late February to force him to sign a statement admitting to admit to possession of drugs. Kutayev's appeal was based on major discrepancies between the prosecution's indictment and the testimony of witnesses for the prosecution, and the actual circumstances of his detention.
Kutayev, 57, a former aide to Chechen Republic Ichkeria President Aslan Maskhadov, has regularly criticized Moscow's policy towards Chechnya. He incurred the wrath of Chechen Republic head Ramzan Kadyrov by organizing on February 18 a conference devoted to the 70th anniversary of the deportation to Central Asia in 1944 at the behest of then Soviet leader Joseph Stalin of the entire Chechen and Ingush peoples. Kadyrov had decreed two years earlier that the deportation should henceforth be commemorated in early May on the anniversary of the funeral of his late father, Akhmat-hadji Kadyrov.
On the morning of February 19, Daudov telephoned Kutayev twice to demand that he report to the presidential administration building. Alone of the approximately 50 conference participants, Kutayev considered the summons demeaning and ignored it; Kadyrov personally reprimanded the others in no uncertain terms, according to the Moscow-based human rights watchdog Memorial.
The following day, Kutayev was detained at the home of a relative in the village of Gekhi, south-west of Grozny, by men wearing the black uniforms of the Interior Ministry special units. He was not searched before being driven away. He was taken to a cellar where he was beaten for several hours, subjected to electric shocks, and threatened with homosexual rape if he refused to admit to possession of drugs with the intent of selling them. Kutayev later told his lawyer that Alaudinov was present throughout.
Glaring Contradictions
Members of the Committee to Prevent Torture (KPP) who visited Kutayev days later reported that he was badly bruised; a doctor subsequently diagnosed two broken ribs. Formal requests by Kutayev himself, and by the KPP to investigate whether Kutayev had indeed been subjected to torture were rejected.
Zaykin's appeal of the four-year jail term was based partly on procedural violations and partly on glaring contradictions in the accounts given by six witnesses for the prosecution of the circumstances of Kutayev's detention. Those witnesses claim Kutayev attracted their attention by behaving on the street in Gekhi in a manner that suggested he was under the influence of drugs, and that he was wearing outdoor clothing and footwear. Witnesses for the defense say Kutayev was apprehended at a friend's home, and taken away wearing borrowed slippers.
The prosecution witnesses were, moreover, unable to say who authorized Kutayev's arrest or whether they made their way to the spot where he was apprehended on foot or in a police vehicle. They were also unable to describe the packet of heroin purportedly found on Kutayev.
The Supreme Court judge rejected all Zaykin's requests to make available for scrutiny evidence that would demonstrate the flaws in the prosecution's case, including the mobile phone bills of the police officers said to have detained Kutayev that would indicate their whereabouts on February 20.
In his final address to the court on October 31, Kutayev again affirmed his innocence and denied ever having signed the protocol of the search of his person during which the packet of heroin was purportedly discovered in his trouser pocket. He also said he has established the identity of the persons who tortured him, and named the man who had held a knife to his throat and said he would cut off Kutayev's head with pleasure as Daudov's deputy, Tamirlan Musayev.
Freedom House commented with regard to the Supreme Court ruling that it "only confirms that Chechen authorities exercise total control over the justice system and use it to settle scores with dissenters."
-- Liz Fuller
About This Blog
This blog presents analyst Liz Fuller's personal take on events in the region, following on from her work in the "RFE/RL Caucasus Report." It also aims, to borrow a metaphor from Tom de Waal, to act as a smoke detector, focusing attention on potential conflict situations and crises throughout the region. The views are the author's own and do not represent those of RFE/RL.