Prosecutor Demands Lengthy Prison Terms in Kabardino-Balkaria 'Caliphate Trial'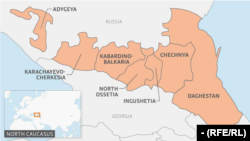 The prosecutor has demanded prison terms of up to 20 years for eight young men from Kabardino-Balkaria on charges ranging from illegal possession of arms and establishing an illegal armed group to the attempted killing of a police officer, the news portal Caucasian Knot reported on May 19.
At the same time, the prosecution proposed dropping the most controversial charge against the eight: that of plotting to overthrow the republic's leadership and establish an Islamic caliphate.
The accused, some of them Kabardians, some Balkars, all pleaded not guilty and said in court that they confessed to the charges against them only after being beaten and subjected to protracted electric shocks. The presiding judge ordered a probe into the torture claims in April that failed to substantiate them. The alleged leader of the group, Oleg Miskhozhev, a keen amateur wrestler, claimed in court that for 18 months he had needed a cane to walk because "they did my back in."
The defense lawyers say the case against the eight men is not backed by hard evidence. They also pinpoint inaccuracies in the indictment, specifically with regard to when and where the eight were first detained, and note that the pretrial testimony of several of the accused is virtually identical in style and content.
Some witnesses for the prosecution fully or partially retracted their initial testimony in court on the grounds they were not permitted to read through their purported statements before signing them, or that they signed only under duress, or that the statements read out in court did not accurately reflect what they said.
The eight young men accused are: Miskhozhev, Akhmed Balkarov, Islam Shogenov, Ruslan Kipshiyev, Kantemir Zholdashev, Artur Karov, Zaur Tekuzhev, and Ruslan Zhugov. Also charged were Zalimkhan Tkhamokov, who died before the start of the trial in August 2016, and Ibragim Gugov, who was reportedly killed resisting arrest. All lived in the same district of Nalchik, the capital of the Kabardino-Balkaria Republic, but not all of them knew all the others, even by sight.
According to the prosecution, following the killing in June 2013 of a group of Islamic militants, Tkhamokov tasked his friend Miskhozhev with recruiting a new group of fighters under the aegis of the so-called and now-defunct Caucasus Emirate proclaimed in 2007 by insurgency leader Doku Umarov. Miskhozhev duly complied and was elected the group's commander. Their objective was allegedly similar to that imputed to the young fighters who attacked police and security facilities in Nalchik in October 2005: to seize control of the Nalchik city hall in August 2014 and proclaim an Islamic caliphate.
The men are also accused of plotting to kill a police officer by blowing up his car. The most bizarre charge, and the only one to which they pleaded guilty, is of disinterring Aleksandr Popov -- a Russian convert to Islam and one of the fighters killed in June 2013, whose family had had him buried in a Russian Orthodox cemetery -- and reburying him according to Muslim rites.
Defense lawyers for the accused take issue with the prosecution's claim that the eight are adherents of the radical Salafi Islam favored by the Caucasus Emirate. They concede that some, including Miskhozhev, were indeed practicing Muslims, but say they espouse the strain of Sunni Islam widely practiced in the northwest Caucasus. (Testifying in Shogenov's defense, one of his childhood friends made the point that Shogenov opted for a civil wedding at which alcohol was consumed, rather than a religious ceremony, which would not have been the case if he were indeed a radical Islamist.)
Miskhozhev, one of the first to be arrested (in January 2014 together with Balkarov while on their way to Friday Prayers), has pointed out that initially he was only charged with the alleged failed attempt to kill a police officer and setting up an illegal armed group. The charge of plotting to seize the Nalchik city hall, he continued, was brought only after the subsequent arrests of Kipshiyev and Karov, and on the basis of their pretrial testimony. (Like Miskhozhev, both say they were tortured to induce them to "confess.")
Miskhozhev's formal denial that he recruited a militant group was substantiated in court by a witness with ties to one of the fighters killed in 2013.
Their lawyers further argued that the charge of possession of marijuana brought against all the accused is incompatible with the claim that they espouse Salafism, given that Salafi Muslims regard the use of narcotics as anathema. Their lawyers also ask why, after Miskhozhev and Balkarov were allegedly found to be in possession of hand grenades, other weapons, and marijuana at the time of their arrest, other members of the purported militant group were rash enough to venture out into the streets with such incriminating objects on their persons, which were allegedly found when they were detained and searched and adduced as evidence against them.
As for the imputed plan by Miskhozhev, Balkarov, and Shogenov to kill police Colonel Artur Tembotov by attaching an improvised explosive device (IED) to the underside of his car, the accused and their lawyers point out that video footage of Tembotov driving up to a Nalchik police precinct where the IED was allegedly removed and rendered harmless has been edited and does not show those crucial episodes. They also argue that a device of the dimensions specified by the prosecution could not have been securely attached to the underside of the vehicle with the type of magnets allegedly used for that purpose.
Shogenov, who was said to have tailed Tembotov's Ford for weeks before the IED was discovered on December 26, 2013, has never learned to drive a car, and has an alibi: he was in college daily in December 2013 studying for an IT exam. Miskhozhev, too, has an alibi for December 26: he was engaged in construction work on an apartment building.
The prosecution has nonetheless demanded a 20-year sentence for Miskhozhev, 19 years for Balkarov, and 15 years for Shogenov.
The views expressed in this blog post do not necessarily reflect those of RFE/RL
About This Blog
This blog presents analyst Liz Fuller's personal take on events in the region, following on from her work in the "RFE/RL Caucasus Report." It also aims, to borrow a metaphor from Tom de Waal, to act as a smoke detector, focusing attention on potential conflict situations and crises throughout the region. The views are the author's own and do not represent those of RFE/RL.