A standoff is looming in Ingushetia between republic head Yunus-Bek Yevkurov and the municipal council of the village of Pliyevo, northeast of Nazran.
Seven council members have complained to
Russian President Dmitry Medvedev
,
Prosecutor-General Yury Chaika
, and the European Parliament after Yevkurov told them the election last week of a new council chairman was invalid and should be annulled, and he would inform them in due course whom they should elect in a repeat ballot.
On July 26, Abu-Sultan Pliyev was elected village council chairman with 10 votes in a direct open ballot. The other candidate, Amirkhan Torshkhoyev, received two votes. Torshkhoyev is a member of the pro-Kremlin United Russia party; Pliyev represents A Just Russia, the nominally opposition social-democratic party established five years ago.
Yevkurov's office immediately began pressuring the Pliyevo council to annul the vote. His staff argued that Pliyev's
election was invalid
because the council should have submitted a list of candidates to Yevkurov beforehand, but failed to do so, and because Pliyev has a criminal record.
On July 28, Yevkurov summoned the council members and ordered them to send him a list of prospective candidates, from whom he would select the new chairman. They say that when they protested that what he was asking was illegal, he reportedly laughed and replied: "I know who to appoint as [council] head. Your job is to collect the garbage."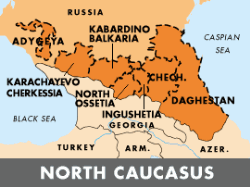 Four days later, on August 1, Yevkurov
reportedly summoned
the council members to a second meeting, the outcome of which is as yet unclear.
Meanwhile, police are preventing Pliyev from entering his office. He says he has been warned to leave Ingushetia if he values his life, but has no intention of doing so, and
has told Yevkurov
to his face that he "is not afraid of anyone."
Pliyev continues to insist he was elected legally. At the same time, he says he does not take Yevkurov's reaction personally in light of reports that council heads have been appointed, rather than elected, in two other villages. Pliyev said he
had not yet verified
whether those reports are true.
Even if Pliyev's election was indeed invalid in light of his criminal conviction (the seriousness of which is not known), Yevkurov is not legally empowered to dictate his choice of council chairman. He may, however, be convinced he is so indispensible in his current position that the Kremlin will turn a blind eye to his errors of judgment.
Eroding Trust
This is not the first time Yevkurov has tried to bend the rules. In late March, he intervened to secure the release from detention of a prominent opposition activist whose arrest during a protest demonstration triggered an
international outcry
.
But while that move may have met with public approval, Yevkurov's heavy-handed intervention this time around is disquieting, for two reasons. First, it is likely to erode even further what vestiges of public trust he still enjoys. A survey of some 1,500 people
conducted in early March
by the independent journal "Dosh" found that just 8.7 percent trusted Yevkurov, 9.5 percent trusted his detested predecessor Murat Zyazikov, while 81.2 percent still trusted Ingushetia's first president, retired general and Afghan war hero Ruslan Aushev.
Second, it raises the question whether his ability to think and act rationally was impaired by the horrific injuries he sustained in a suicide-bomb attack two years ago. True, Yevkurov
assured interviewers
last fall that he was aware of no after-effects from those injuries. But journalists who regularly attend his press conferences say he
is clearly a sick man
.
The Pliyevo crisis was not listed among the topics discussed at a meeting Yevkurov convened today of elders of the republic's various teyps (clans). He did, however,
remind those present
that elected bodies, from the Russian State Duma to municipal councils, exist "to protect your interests, so you should elect worthy candidates who will not disappoint you."