Russian President Dmitry Medvedev's
February 28 decision
to propose Ramzan Kadyrov to serve a second term as Chechen Republic president came as no surprise.
But the fact that no one, either in Russia or abroad, has publicly questioned the wisdom of that decision is perturbing, given the inherent contradiction between Medvedev's professed desire to bring stability, peace, and prosperity to the North Caucasus and giving carte blanche to a man whose authority rests on the brutal suppression of dissent and the misappropriation of massive federal subsidies, and whose clout has extended far beyond the borders of Chechnya over the past few years.
The primary impediment both to Kadyrov's aspirations for pan-regional power and to Medvedev's hopes for peace in the North Caucasus is of course the ongoing low-level war of attrition between federal and local police and security forces and the Islamic insurgency. That violence has its roots in the successive Russian military interventions in Chechnya in December 1994 to "restore constitutional order," and then in 1999 to stamp out "international terrorism."
In the summer of 2000, then-Russian President Vladimir Putin gave the pro-Moscow Chechen leadership headed by Ramzan's father, former Chechen mufti Akhmed-hadji Kadyrov, a free hand to use whatever means necessary to pacify the republic in return for massive infusions of federal funds for postconflict reconstruction. It is Ramzan who has become the primary beneficiary of that Faustian pact: since the assassination of his father in May 2004, he has risen from deputy prime minister of Chechnya with responsibility for the police and security forces to become one of
Russia's most powerful
-- and most feared -- political figures.
Ramzan Kadyrov's leadership style is reflected in this
video clip
in which he contemptuously tells subordinates that it is he who gives orders in Chechnya and that the Kadyrov family alone is in charge. Putin, his patron, first proposed him as Chechen Republic head in February 2007, just months after he reached the minimum age of 30. Curiously, there is no record of the Constitution of the Chechen Republic having been subsequently amended to reduce the presidential term from five to four years, and the text of that basic law is no longer available on the official website, chechnya.gov.ru.
Part Of The Problem
But Putin's policy of "Chechenization" has morphed from being the intended solution into part of the problem. Since 2002-03, indiscriminate gratuitous reprisals by police and security personnel against both suspected insurgents and law-abiding practicing Muslims have driven ever more young men to join the insurgency ranks.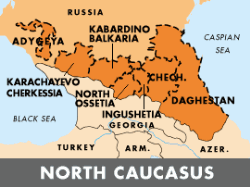 Moreover, the violence has spread from Chechnya to Ingushetia, Daghestan, and Kabardino-Balkaria in what one analyst has dubbed the "Kalashnikovization" of much of the region. If the fighting has not yet reached the northwestern republics of Karachayevo-Cherkessia and Adygeya, it is probably because the militant underground is deliberately holding off while making preparations to open a new front there closer to the start date of the Winter Olympic Games in Sochi in 2014.
At the same time, violence and instability hinder the search for effective solutions to other perennial problems such as economic stagnation, endemic poverty and high unemployment, in that they scare off potential investors. To that extent, the grandiose plans for developing tourism in the North Caucasus formulated by Aleksandr Khloponin, whom Medvedev appointed in January 2010 to head the newly created North Caucasus Federal District, are at best misguided and potentially a massive waste of money.
Yet insofar as Kadyrov has succeeded in creating at least a superficial semblance of stability in Chechnya (even if official unemployment rate remains close to 50 percent), other North Caucasus republic leaders now look to him for inspiration and guidance. Kadyrov for his part is only too happy to oblige, in return for their unequivocal support and allegiance.
In other words, Kadyrov is expanding his political power base even further by capitalizing on the pan-regional instability he helped to create. And he is now in a far stronger position to do so than five years ago, when a tentative proposal by one of his closest associates to reunite Chechnya and Ingushetia in a single federation subject, with the optional addition of Daghestan, met with
outraged protests
from the latter two republics, and was quietly dropped.
Indeed, it is conceivable that Kadyrov's influence within the Kremlin is now such that his opinion is solicited before making decisions that impact on the region. Rashid Temrezov, whom President Medvedev proposed on February 28 as Karachayevo-Cherkessia Republic president, is
reportedly close
to Kadyrov, which raises the question: did Kadyrov lobby for Temrezov's candidacy, and if not, was he at least consulted?
Leading By Example
From the outset, it was the Chechen police and security apparatus subordinate to Kadyrov that spearheaded his incursions on to neighboring turf. In January 2005, Kadyrov and some 150 of his men converged on a police station in Khasavyurt where Daghestani police had detained Kadyrov's sister Zulay and used force
to secure her release
. In September 2006, eight men were killed in a shoot-out on the Chechnya-Ingushetia border between Ingushetian traffic police and a Chechen special detachment subordinate to Kadyrov
returning to Chechnya
after having apprehended a suspected Ingush car thief for questioning.
By 2010, neighboring republic heads had tacitly ceded the field to Kadyrov's security forces: it was Chechen police and security personnel who were deployed to guard Makhachkala's central square when Medvedev
visited Daghestan in April
last year. Kadyrov continues nonetheless to argue that when it comes to fighting the insurgency, the administrative borders between the various North Caucasus republics should be ignored and their police and security personnel
should join forces
and coordinate their activities, meaning that his own security forces should be at liberty to apprehend anywhere anyone who has incurred Kadyrov's displeasure.
A second aspect of the Chechen approach to neutralizing the insurgency that has since been applied in other republics is to appeal to fighters to surrender. In 2003, and again in 2006, the Russian State Duma proclaimed amnesties for militants in Chechnya: those who availed themselves of the offer were offered employment in Kadyrov's various security forces. Ingushetian President Yunus-Bek Yevkurov
claimed in November
2010 to have persuaded 36 fighters to return to civilian life since the start of the year. Daghestan's Magomedsalam Magomedov
created a government commission
in November to offer "assistance" to young militants prepared to admit the error of their ways, and a congress of the Daghestani people in December addressed a formal appeal to President Medvedev to
proclaim an amnesty
for those fighters who agreed to lay down their arms.
Pushing 'Traditional Islam'
Less easy to quantify is the impact of
Kadyrov's efforts to impose
on other North Caucasus republics his own vision of what constitutes "traditional" Islam. The meager circumstantial evidence available suggests that those efforts have met with unquestioning gratitude in the northwestern republics of Kabardino-Balkaria and Karachayevo-Cherkessia where Islam has never been as deeply rooted as in Chechnya and Daghestan. Muslims in the northwestern Caucasus, who were converted by Ottoman Turks, are mostly followers of the Hanafi Sunni rite, generally considered to be "liberal and easy-going."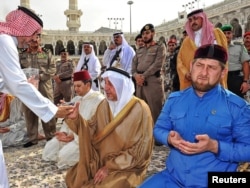 Saudi Prince Khaled al-Faisal (center), governor of Mecca, and Ramzan Kadyrov pray after washing the Kaaba inside the Grand Mosque in Mecca in July 2010
A prominent Cherkess businessman told RFE/RL's North Caucasus Service last year that "Ramzan taught us how to pray." Kabardino-Balkaria Republic President Arsen Kanonov for his part
admitted at a congress
of the republic's Muslims on March 15 that "we are suffering...from religious illiteracy."
Kadyrov offered in January 2008 to finance construction of a mosque in Cherkessk, the capital of Karachayevo-Cherkessia, but the project was
apparently shelved
for reasons that were never made public after Medvedev named former Constitutional Court Judge Boris Ebzeyev to succeed Mustafa Batdyev as Karachayevo-Cherkessia's president.
Daghestan, like Chechnya, is one of the most religious republics of the North Caucasus, and thus poses a bigger challenge. In a poll conducted last year by the Prague-based online
Caucasus Times
, 81 percent of Chechens and 66 percent of Daghestanis said religion plays "a big role" in their lives. In both Chechnya and Daghestan, canonical Sunni Islam, represented by the Shafii legal school, coexists with a local form of Sufism that is sometimes called muridism or tariqatism and that, unlike Salafism espoused by the insurgency, rejects expansionism, exhortations of jihad ,and focus on exoteric aspects of Islamic teaching.
But the similarity between the two republics ends there. In Chechnya, Kadyrov has succeeded in imposing his perception of "traditional Chechen Islam" on
virtually the entire official Muslim clergy
. Dissenters are ruthlessly punished: Movsar Ismailov, imam of the mosque in Gekhi, southwest of Grozny, was recently abducted and savagely beaten for having
dared denounce
as a pagan custom the traditional Christmas tree installed on Kadyrov's orders in central Grozny to celebrate the New Year.
In Daghestan, by contrast, the Muslim clergy is deeply divided. Not only do some imams, especially in the south and in those mountain districts where the population is predominantly Avar,
refuse to acknowledge
the authority of the Spiritual Board of Muslims of Daghestan (DUMD); there are rivalries
among the four sheikhs
recognized as such by the DUMD, between them and those sheikhs who are not officially recognized, and between them and Daghestan's mufti, Akhmed-hadji Abdullayev (seen
here
doing a passable imitation of a stand-up comedian).
Those rivalries between the sheikhs derive less from doctrinal differences than personal rivalries and competition for influence. Of the four recognized sheikhs, Said-Affandi Chirkeisky, an Avar who was instrumental in forcing the passage of Daghestan's controversial anti-Wahhabism legislation, is considered the most influential and reportedly has the largest number of murids (disciples), many of them members of the police and security services.
Daghestan's President Magomedsalam Magomedov conceded during a meeting last summer with Chechnya's mufti, Sultan-hadji Mirzayev, who was born and studied in Daghestan, that the lack of unity between Daghestan's religious leaders had a
negative effect
on efforts to combat terrorism and religious extremism. Mirzayev responded by condemning rivalries among Daghestan's Muslim scholars. He said the republic's Muslims should have one single leader, and called on them to support Abdullayev, whom he described as "a worthy mufti."
Granted, securing the subservience of Daghestan's Islamic clergy is not essential to Kadyrov's consolidation of regional power. But insofar as he is a control freak and chronically incapable of tolerating the slightest manifestation of dissent, he nonetheless seems to feel compelled to try. Recently he has been assiduously courting Said-Affandi, inviting him to Chechnya to witness the revival of "traditional Islam" which is so close to the heart of the elderly sheikh. Whether Kadyrov will try to play the various factions in Daghestan off against each other, or co-opt them one by one, remains to be seen.
Regardless of how Kadyrov's geopolitical ambitions play out, the outlook for his second term remains bleak, both politically and economically. If
recent rumors
that Chechen Deputy Military Prosecutor Said-Magomed Kakiyev and Bislan Elimkhanov, Kakiyev's successor as commander of the GRU's Zapad (West) Battalion, fled Russia in
fear of their lives
after Medvedev proposed Kadyrov for a second term prove to be true, who in the North Caucasus can feel safe?