Tajikistan's President Emomali Rahmon clearly seems to be annoyed by the international media's blanket coverage of the
British royal wedding
.
He suggested the global media should instead focus on more serious issues, such as the economic crisis and growing food prices.
Rahmon criticized journalists for covering "some wedding or other," as if there were not enough problems in the world.
"Some journalists don't notice the climate-change problems, the natural disaster in Japan, droughts, the growing price for oil and food, and instead they put reports from the weddings of princes and princesses on their front pages," Rahmon said during a meeting with government officials in Dushanbe on April 29.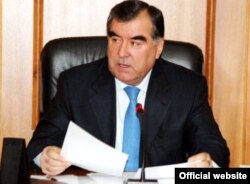 Emomali Rahmon was not on the Royals' guest list, it seems.
Rahmon also didn't sound particularly impressed by the lavish wedding ceremony.
If anything like this happened in a former Soviet state, he said, "Everyone would immediately say this was a totalitarian regime."
Rahmon has banned lavish weddings and other private functions in Tajikistan, setting a cap on the number of guests and the length of the ceremonies.
According to his instructions, you are not allowed to invite more than 150 guests, the wedding party cannot last for more than three hours, and the wedding convoy shouldn't involve more than four cars.
So if you are planning a wedding on a shoestring budget, Tajikistan could be just the right place to have it.
-- Farangis Najibullah