Maksat Kakabayev -- best known by his stage name Maro -- and Murad Ovezov, just possibly the two most popular rock musicians in Turkmenistan, have run afoul of the state. And in Turkmenistan that's usually not a good thing.
There's a lot about the story that remains unclear. But unofficial reports suggest that these two singers, Maro and Ovezov, were first summoned to a branch office of the Interior Ministry in the capital, Ashgabat, on January 28. There they were given 15 days of temporary detention.
But then the jail term was extended by another two years. While Maro's whereabouts remain unknown, Ovezov is reported to have turned up in a labor camp in the Tejen district.
Officials aren't talking. But some informed sources suggest that the two men's arrest was due to a recent interview Maro gave to TMB, a Turkey-based satellite music channel that is also watched in Turkmenistan. Apparently, certain people in the government were not amused.
The Vienna-based NGO Turkmen Initiative for Human Rights (TIHR) reports that their arrest may have more to do with their style of music, which, unlike the state-approved brand of Turkmen ethno-pop, steers clear of all ideological messages (not to mention formal dress codes).
"Initially, Maro was the one who was interrogated at the ministry," the report says, "but later, five other young pop singers, who had been seen filmed in various music clips together with Maro, were summoned and forced to submit explanatory statements."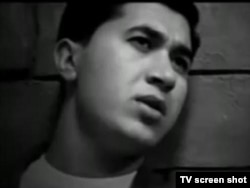 Murad Ovezov
Citing local sources, the report notes, "Authorities at the Ministry of the Interior did not even show mercy to female pop singer Gozel Annamukhamedova, who was pregnant at the time of her arrest."
According to unconfirmed reports, all the rest -- except for Maro and Ovezov -- were released after the first 15 days. Since then security officials went on to round up Maro's father, brother, and even his brother-in-law, all of whom ended up in jail with the singer.
Back To The Bad Old Days
This isn't the first time that pop musicians have gotten into hot water with the government in Turkmenistan.
Previous leader Saparmurat Niyazov banned almost all forms of Western art, claiming that they were at odds with the "Turkmen mentality," notes the opposition website Gundogar. "President Niyazov was a champion of such bans. He signed a decree in 2001 banning opera, ballet, the circus, and a variety of other stage acts."
Niyazov passed away in 2006. These days the country is ruled by his successor, the current President Gurbanguly Berdymukhammedov. He eased up a bit, at least at first. But then, in January of this year, he reportedly issued a decree requiring female performers to wear traditional Turkmen dress on stage.
Some sources say that this order could be one reason for the pop singers' problems. They refuse to follow the state-approved version of the dress code. It's said that other Turkmen pop stars are on a government blacklist, and that the arrest of the two could be a warning.
An observer familiar with the situation says, "This is usually considered an early warning, which means that whenever they give any excuse to the authorities -- like Maro did with his interview to Turkish television -- it's only a matter of time before they find themselves in trouble."
There is reason to believe that Maro has been blacklisted for a while. Despite being one of the most watched Turkmen singers on YouTube, his video clips never found a place on Turkmenistan's main music video channel, called "Turkmen Owazy."
One expert, who insisted on anonymity, told Chaikhana that the two singers' imprisonment was a deliberate message. "Once a clip of another disgraced pop singer, Lachin Mamadova, was broadcast on the Turkmen music channel on New Year's Eve," the expert says. "Reprisals against the television executives reportedly followed immediately."
While the Turkmen authorities remain mum, people are starting to wonder what's going on. TIHR suggests that the recent pressure on young musicians has to do with the president's desire to reinforce the ideological purity of Turkmenistan's youth -- as insurance against the rising tide of revolt in the Middle East.
-- Muhammad Tahir