Circassian, Ossetian, Chechen Minorities Solicit Russian Help To Leave Syria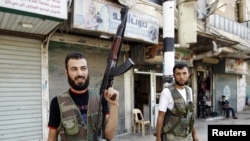 Representatives of Syria's Circassian minority have been lobbying the Russian leadership since late last year for help in resettling in the three north-west Caucasus republics (Adygheya, Kabardino-Balkaria, and Karachayevo-Cherkessia) in which Circassians are a titular nationality. In recent weeks, some members of the smaller Ossetian and Chechen communities in Syria have launched similar appeals for help.
The Khases -- the unofficial Circassian political organizations that defend national interests -- began lobbying Moscow in January on behalf of their co-ethnics. But according to the chairmen of the Khases in Kabardino-Balkaria, Karachayevo-Cherkessia, Adygheya, Krasnodar Krai, and North Ossetia, those appeals have had little impact.
The signatories to the statement argue that Russia has a moral obligation to undertake "urgent measures" to save their compatriots, and that doing so would boost Russia's international prestige and further mutual understanding among its various nationalities.
About This Blog
This blog presents analyst Liz Fuller's personal take on events in the region, following on from her work in the "RFE/RL Caucasus Report." It also aims, to borrow a metaphor from Tom de Waal, to act as a smoke detector, focusing attention on potential conflict situations and crises throughout the region. The views are the author's own and do not represent those of RFE/RL.