Faced with the galloping jihadization of Daghestan and Kabardino-Balkaria, Russian experts are ever more frequently calling for the adoption of a new state policy for the North Caucasus. But such calls are misguided insofar as they fail to take into account that, to paraphrase Leo Tolstoy, all unhappy North Caucasus republics are unique and sui generis.
In other words, there can be no one-size-fits-all set of measures, but only individually tailored solutions for specific regions. What is more, those individual programs would need to be carefully calibrated to ensure that no single republic is favored to the detriment of the others, and that measures to address a specific problem in a specific republic do not have unintended negative knock-on effects elsewhere.
This is not to deny that there are serious problems -- economic stagnation, dependence on subsidies from the federal budget, high unemployment, corruption, clan politics, social disenfranchisement and polarization, Islamic radicalism -- common to most, if not all, the seven republics in question. But there are still huge local differences in the scale and relative seriousness of those trends.
For example, in contrast to Daghestan, the two western-most republics (Adygeya and Karachayevo-Cherkessia) have made modest headway in recent years in improving economic and social conditions and reducing unemployment and their dependence on federal subsidies, as has Kabardino-Balkaria. Adygeya and Karachayevo-Cherkessia similarly remain the two republics where the North Caucasus insurgency has to date made only minimal inroads.
Failure Of 'Kadyrovization'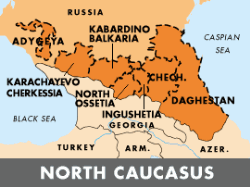 It is a truism that the catalyst for the spectacular deterioration of the political and security situation across the North Caucasus since the mid-1990s was the ill-advised decision in December 1994 to dispatch the Russian Army to Chechnya to "restore constitutional order." The political, psychological, and economic damage inflicted on the Chechen nation by that intervention was then compounded by Moscow's failure in 1997-99 to provide support for elected Chechen President Aslan Maskhadov against the radical Islamist wing that set about undermining him.
That Islamist faction, headed by maverick field commander Shamil Basayev, launched two successive incursions into Daghestan in August 1999, thereby furnishing the Russian authorities with the excuse they needed to launch a second war and paving the way for the election of Vladimir Putin to succeed the ailing and ineffective Boris Yeltsin as Russian president.
Putin's plan for "stabilizing" Chechnya hinged on tasking pro-Moscow Chechen officials headed by former mufti Akhmed-hadji Kadyrov with stamping out the last vestiges of resistance and providing virtually unlimited funds for postconflict reconstruction. When Kadyrov was killed in May 2004 (by whom remains unclear), Putin continued to back his son, Ramzan Kadyrov, who since his formal confirmation as Chechen Republic head in March 2007 has successfully overseen large-scale reconstruction that has transformed Grozny from a rubble-strewn battlefield to a functioning city.
But giving both local and federal security forces carte blanche to target anyone suspected of sympathizing with the Islamic insurgency led to systematic and gratuitous reprisals against civilians not only in Chechnya, but in neighboring Ingushetia and Daghestan and also in Kabardino-Balkaria. And this impelled ever more angry and alienated young men to join the resistance ranks.
In that respect, Putin's policy of "Kadyrovization," intended as the solution to the region's problems, has only exacerbated and compounded them. Specifically, it has assisted Ramzan Kadyrov's emergence as the most powerful (and feared) man in the entire North Caucasus, and one of the most powerful in Russia.
Failed Development Strategy
Six years ago, Dmitry Kozak -- Putin's intelligent, perceptive, and indefatigable point man for the North Caucasus -- drafted a detailed memorandum enumerating the problems facing the North Caucasus and
urging decisive and effective measures
to avert economic collapse and the region's inexorable slide into bloody chaos.
Yet little was done, except to decide to build a huge new oil refinery in Chechnya (from which Kadyrov could skim off the profits in the same way, as one of the WikiLeaks cables claims, he pockets one-third of the subsidies Chechnya receives from the federal budget) rather than in Kabardino-Balkaria, where it could have provided badly needed jobs.
Since he succeeded Putin as Russian president in the spring of 2008, Dmitry Medvedev has pursued a similar policy of relying on brute military force to stamp out the insurgency, combined with economic incentives to address social and economic problems.
A year ago, Medvedev appointed former Krasnoyarsk Krai Governor Aleksandr Khloponin as his new administrator for the region. Unfortunately, the grandiose 15-year development strategy Khloponin unveiled in September is both unrealistic and utopian. It envisages the creation of 400,000 new jobs and steady annual economic growth of 7.7 percent, predicated largely on inducing Russian businesspeople to invest in luxury winter-sports resorts and small-scale businesses.
Winning By Not Losing
What's more, if just one insurgent with a shoulder-launched surface-to air missile (see the first of the four video clips
here
) managed to down a helicopter-load of tourists, the region's chances of becoming a tourism paradise would plummet. And the planned resorts in the northwest Caucasus and southern Chechnya will do nothing to address unemployment in Daghestan, where an estimated 25,000 high-school graduates enter the labor market every year.
The January 24 terrorist bombing at Moscow's Domodedovo airport has demonstrated that the insurgency operating under the aegis of Doku Umarov's Caucasus Emirate is still a potent force to be reckoned with. What is more, it will inevitably fuel calls by radical Russian nationalists either to let the entire region (or the eastern republics of Daghestan, Chechnya, and Ingushetia) secede or, at the very, least slash the funding they receive from the federal budget.
The North Caucasus has, in effect, become a battleground between two powerful forces, "Kadyrovization" and "jihadization." And Khloponin's long-term proposals for economic development cannot substitute for the former in the battle with the latter.
Moreover, time is not on Moscow's side. As U.S. counterinsurgency expert Robert Schaefer has argued: "Kadyrov and the Russians have made progress over the past 15 years, but the insurgency has not been defeated, and in the paradox-ridden world of counterinsurgency warfare, the insurgent wins if he does not lose and the counterinsurgent loses if he does not win."
Liz Fuller is an editor and analyst at RFE/RL and author of the "
Caucasus Report
" blog. The views expressed in this commentary are the author's own and do not necessarily reflect those of RFE/RL